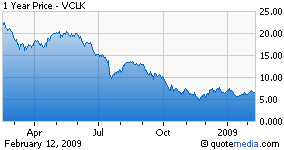 ValueClick (VCLK) Thursday afternoon posted better-than-expected Q4 results.
For the quarter, the online advertising company reported revenue of $150.1 million and non-GAAP profits of 16 cents a share. Guidance had been for $140 million to $145 million and 15-16 cents. The Street consensus was $142.3 million and 15 cents. Revenues were down 14.6% from a year earlier. On a GAAP basis, the company lost $261.2 million or $3.01 a share, including a pre-tax $327 million goodwill writedown.
For Q1, the company sees revenue of $126 million to $132 million, with non-GAAP profits of 17-18 cents a share. The Street has been looking for $132.7 million and 13 cents. ValueClick sees GAAP EPS for the quarter of 11-12 cents a share, with adjusted EBITDA of $29 million to $31 million, down from $38.2 million in Q4.
After hours Thursday, VCLK was down 5 cents, at $6.67.