Insiders (10% owners) at iGATE Corporation (NASDAQ:IGTE) made large purchases last week. After reviewing the company, the stock appears to be undervalued due to strong fundamentals, increasing margins, large contracts beginning this year, and a chart breakout, I believe it can be bought here. Let's take a closer look at the company.
iGATE Corporation is an outsourcing provider of integrated IT and IT-enabled operations services. It provides services for a variety of industries, including manufacturing, insurance and healthcare, retail and logistics, banking and financial services, and more. The IT services involve data warehousing, enterprise solutions, business intelligence, application development and maintenance, infrastructure management, and cloud computing services. Basically, like other outsourcing companies, iGATE can provide skilled IT services based out of countries that have lower pay scales. Therefore, it has a competitive advantage against domestic American and European firms.
Buys
| | | | |
| --- | --- | --- | --- |
| Purchaser | Price | Value | Date |
| Apax Europe VII GP Co. | $17.70 | $154,663 | Feb 13 |
| Apax Guerney Holdco | $17.70 | $214,170 | Feb 13 |
| Apax Europe VII GP L.P. | $17.70 | $154,663 | Feb 13 |
| Viscaria Ltd. | $17.70 | $214,170 | Feb 13 |
| Apax Europe VII-B L.P. | $17.70 | $98,483 | Feb 13 |
| Apax Partners Euro Mgrs | $17.70 | $214,170 | Feb 13 |
| Viscaria Ltd. | $17.49 | $287,081 | Feb 12 |
| Apax Europe VII GP L.P. | $17.49 | $196,640 | Feb 12 |
| Apax Guerney Holdco | $17.49 | $272,284 | Feb 12 |
| Apax Europe VII-B L.P. | $17.49 | $196,640 | Feb 12 |
| Apax Partners Euro Mgrs | $17.49 | $272,284 | Feb 12 |
| Apax Europe VII GP Co. | $17.49 | $196,640 | Feb 12 |
| Apax Europe VII GP Co. | $17.55 | $250,403 | Feb 11 |
| Apax Europe VII GP-B L.P. | $17.55 | $159,442 | Feb 11 |
| Apax Guerney Holdco | $17.55 | $346,753 | Feb 11 |
| Apax Europe VII GP L.P. | $17.55 | $250,403 | Feb 11 |
| Viscaria Ltd. | $17.55 | $365,602 | Feb 11 |
| Apax Partners Euro Mgrs | $17.55 | $346,753 | Feb 11 |
Finances
| | |
| --- | --- |
| | iGATE Corporation |
| Forward P/E | 9.49 |
| PEG | .99 |
| LT Debt-to-Equity | 2.31 |
| Cash per Share | $10.53 |
| EPS Past 5 Years | 42.71 |
| EPS (expected) Next 5 Years | 19.50 |
| ROA | 5.66 |
| ROE | 78.47 |
iGATE has solid financials, and the only glitch in the metrics I looked at is the long-term debt. The company has a reasonable forward P/E of 9.49 for a growth company. The company's PEG is under 1, which means that compared to its expected annual growth going forward, the stock is rather inexpensive. iGATE uses its debt well, which is apparent from the very high return-on-equity (ROE). The company does have substantial cash, which makes the long-term debt more palatable.
The company's quarterly revenue came in basically flat Q/Q [$271.6 v $271.1 in the previous quarter], but its EPS increased, showing benefits of margins improvement [40.6% v 39.8% in the previous quarter].
Going Forward
What do iGATE and its investors have to look forward to? This is one of the key areas that might prompt insiders to buy shares, and for "10% Owners" to increase their stakes. The CEO mentioned two large deals in the recent conference call:
Phaneesh Murthy - President and CEO: ... I'll just give you a little bit of color on iGATE rather than the industry right now and what we're seeing is that we're seeing the two large deals, extremely large deals that we were talking about, both of which were north of $200 million. The first deal that we won will start translating into revenue from Q2 onwards. The second deal will start translating into revenue from Q3 onwards. So, that's where we will see potentially some little jump up in revenue in addition to the other deals. In addition to that our pipeline actually is quite comfortable now, our pipeline compared to the same period last year is 75% higher and in terms of pipeline, the quality of our pipeline is also being significantly improved.
That sounds like good news. Now, is there any potential bad news related to these big contracts? Well, the implementation will boost revenues, but as the CEO describes in the next paragraph, this may decrease margins temporarily.
Let me try and provide a little bit of color on the way I am looking at margins. These deals large deals, iTOPS deals typically what happening is that year one is zero margin potentially may be marginally negative margin too but really they are zero margin deals in the first year.

And then from the second year, they start ramping up in margin as we put the systems in place and so on. And in the latter years obviously the margin subject is very much higher to give you an average gross margin in our acceptable range. Now, so you will find I think three things, Q2 margins will be somewhat deflated because of three reasons, the first one is salary increases which we typically do in April, the second one is as the deal comes on you are adding a chunk of revenue but at no margin. And the third one is we anticipate again like last year there to be a bubble of visa cost only in the quarter.
So, while revenues will likely increase this year, there will be pressure on margins, which might mean earnings aren't stellar. That doesn't mean earnings will miss analyst estimates, because analysts should be figuring in the margins compression, but it means that earnings growth might be less likely to beat expectations.
Chart
In the chart below, you can see that the stock blew right through resistance near $18.75, and is currently right near the October highs. If the stock closes above that high, it could continue rising. If not, it might take a few days. Either way, the stock price is acting very strong.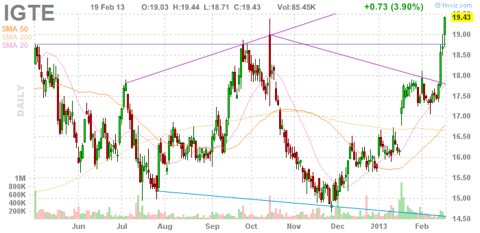 The Play
iGATE has solid numbers and revenue increases on the horizon due to two major deals that it signed at the end of 2012. These deals will start to show up in the top line in Q2. The bottom line might take more time to play out -- maybe a few quarters -- but the company may be able to compensate and maintain margins through other cost controls. When I look at the purchases from last week, it strikes me that they come from European funds. With Europe economically weak, do these funds know something about the economy "turning the corner?" I don't know. I do know that iGATE is in a good place and looks like a strong stock going forward, at least until protectionism -- restrictive trade policies for goods and services produced abroad -- makes an appearance. That would potentially mean higher tax rates or fees for iGATE's services, but I don't see that happening anytime soon.
The company competes against companies such as Infosys Technologies (NASDAQ:INFY), Cognizent Tech (NASDAQ:CTSH), Wipro (NYSE:WIT), Syntel (NASDAQ:SYNT).
Disclosure: I have no positions in any stocks mentioned, and no plans to initiate any positions within the next 72 hours. I wrote this article myself, and it expresses my own opinions. I am not receiving compensation for it (other than from Seeking Alpha). I have no business relationship with any company whose stock is mentioned in this article.