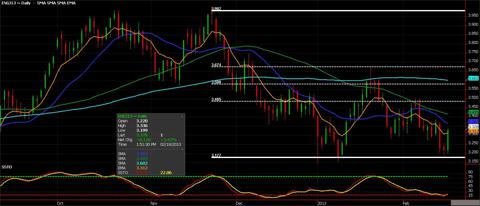 Click to enlarge
I was waiting for further evidence to see if traders should be positioned in bullish or bearish trades in natural gas. At least from a technical perspective, I think longs are warranted, though the fundamental picture is anything but bullish. Inventories are extremely high, and looking back at a calendar, this is not the time of year where we generally see any significant upside. As we all know, past performance is not indicative of future results, but I think we need to pay attention to seasonality whenever weather is in the picture and could be a component in the trade.
An interim low may have been established last week, as lower trade was rejected, and as of this post on the day, prices are higher by 3.42%. If we see consecutive settlements above the 8 day MA -- identified by the orange line in the chart above -- that would be a further sign of a low being established. I suggest using the Fibonacci levels as your upside targets. My favored play is bullish trade in May or June futures while simultaneously selling out of the money calls 1:1.
From a risk to reward perspective, selling the option would provide a mild cushion. However, if we were to make a new low, I would cut losses on the futures and close out the option hedge at a profit. Looking at a new low vs. a 50% retracement on a trade back near the 100 (light blue line) day MA, which I feel is probable… I see 18 cents of futures risk minus the hedge and a profit objective of 25-30 cents.
Risk Disclaimer: The opinions contained herein are for general information only and not tailored to any specific investor's needs or investment goals. Any opinions expressed in this article are as of the date indicated. Trading futures, options, and Forex involves substantial risk of loss and is not suitable for all investors. Past performance is not necessarily indicative of future results.
Disclosure: I have no positions in any stocks mentioned, and no plans to initiate any positions within the next 72 hours. I wrote this article myself, and it expresses my own opinions. I am not receiving compensation for it. I have no business relationship with any company whose stock is mentioned in this article.