Investors have been waiting patiently - almost two years - for an upside catalyst for shares of Tessera Technologies (NASDAQ:TSRA). While every rumor and successive announcement by management has led seemingly closer to the company unlocking shareholder value, the stock has provided little return since trading began in 2004. Recent management incentives put the odds strongly in favor of near-term upside in the shares and investors have several ways to play the potential.
Like the sands of an hour glass
The market has been following the developments and chatter around Tessera Technologies for quite a while. The story has unfolded like a daytime soap opera with brief periods of drama followed by tense investor anticipation.
In April 2011, the company laid out a set of strategic initiatives and hired GCA Savvian Advisors to assist in planning. One alternative announced was a spin-off of the Imaging and Optics segment from the company. Tessera is principally in two lines of business, an intellectual-property division with a great deal of cash flow and an unprofitable digital optics division. The shares surged 9.6% in April 2011 to $19.50 on the possibility of a spin-off only to end the year 15.3% lower when no action materialized.
In January 2012, the Starboard Value fund, an activist institutional investor, sent a letter to the company's board stating its intent to nominate candidates to the board and push for strategic initiatives to unlock value. The fund backed off its push at the March annual meeting but there is again talk of institutional pressure leading up to this year's meeting in May. Shares jumped 18.2% to $19.53 through January on the release of the letter from Starboard Value but have since come back down to $17.30 per share as investors wait.
Does anyone NOT want a spin-off?
Starboard Value is not the only institutional investor pushing for a strategic alternative. Institutional ownership is extremely high at 94.6% of shares outstanding. Other top holders include Porter Orlin (9.7%), S.A.C. Capital Advisors (3.2%) and Seizert Capital Partners (8.0%), all funds that take an activist role in undervalued companies.
Now management has a vested interest in seeing a spin-off materialize as well. The company filed a form 8-K with the SEC in October structuring the equity portion of CEO Dr. Robert Young's compensation contingent on the successful completion of a spin-off before March 31, 2015. In the event of a spin-off, Mr. Young will be eligible for the immediate vesting of 550,000 stock options with an exercise price of $13.71, the closing price on October 2, 2012. CFO Richard Neely, appointed in August of last year, has also been vocal about the company's goal of building up the optics division for an eventual sale.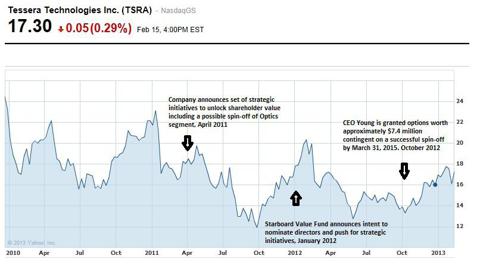 Click to enlarge
Longer-term is less clear
Revenue has grown by an annualized 27% over the last ten years but fell by 15% in fiscal 2011 on weakness in the semiconductor industry. The industry could rebound in 2013 on next generation technology and depleted inventories but there is really no synergistic benefit to holding the IP and Optics segments together in one company.
The Intellectual property segment accounts for 80% of sales and 70% of the company's operating margin. The Digital Optics segment has seen increasing losses over the last three years representing only 20% of total sales and an operating loss of $100 million in 2011. Operating costs for the intellectual property segment are extremely low (38%) making the division a great cash generator. Seeking Alpha contributor Syvain Joly recently outlined several catalysts including success of the optics MEMS actuator and arbitration, but the real impetus behind the stock remains a successful spin-off. Until that happens, shares will most likely be range bound between $16 and $19 per share.
Investment strategies at varying levels of risk
The risk to investment is the uncertainty in timing of a possible spin-off. CEO Young has just over two years left on the expiration on his options and activist investors have yet to win a formalized plan. The shares have only briefly traded below $14 per share since 2004 and have been mostly range bound between $15 and $20 since 2010.
While details of a spin-off could send the shares well above $20, the current price of $17.30 and uncertainty around a plan to unlock shareholder value does not merit a long-term buy recommendation. The company's annual meeting is set for May 23rd where we could get an update and a strong upside catalyst. There is significant value as a short-term speculative play with several different strategies at varying degrees of risk.
Investors with the least amount of risk tolerance may want to stick with a long position in the shares and a covered call strategy using the June options. The out-of-the-money $19 calls trade for a midpoint of $0.47 per share. Selling calls against a long stock position effectively caps gains at $19 per share but also reduces risk if plans of a spin-off do not materialize at this year's annual meeting. If the shares close above $19 by expiration, the investor realizes a 12.9% return. If shares fail to reach the exercise price, the investor keeps the call premium and effectively lowers their cost to $16.83 per share. While this is still above the lower bound on the stock's range, the investor will have the opportunity to sell new call options on the position and lower the cost basis further.
Investors with a moderately high risk tolerance but wanting to limit potential losses might look at a bull spread strategy. Using the June options, an investor can buy the $15 calls while selling the $17 calls for a net cost of just $1.25 per share. Your ultimate cost for the shares if they trade below $17 on June 21st is $16.25, a discount of six percent on the current price. If shares trade above $17 on the expiration, the contracts close each other out with a return of 60% on the investment. Downside risk is limited to the $1.25 per share invested in the spread and the strategy will show a profit at any price above $16.25 at expiration.
Investors with a higher tolerance for risk might look at a simple investment in the June call options. The $15 June call options trade at a midpoint of $2.55 per share, setting your basis for the shares just over the current price. The $16 and $17 June calls cost significantly less, $1.85 and $1.30 per share, but require the shares to increase significantly to realize any profits. If any progress is made on a spin-off and the shares increase to $20, an investment in the $15 calls would have an intrinsic value of $5 per share for a return of 96% on the initial investment. While it is doubtful that the shares would drop to $15 and wipe out the entire investment, the strategy has the highest risk and loses money at any price below $17.55 on expiration.
I have chosen the June expiration in my options strategies given the possibility for an announcement at the May 23rd annual meeting. Investors may choose other expiration dates or exercise prices according to their own risk tolerance and outlook on the shares. Using longer-dated options at further in-the-money strike prices will decrease both risk and return but should still provide for attractive annualized returns.
Disclosure: I have no positions in any stocks mentioned, and no plans to initiate any positions within the next 72 hours. I wrote this article myself, and it expresses my own opinions. I am not receiving compensation for it (other than from Seeking Alpha). I have no business relationship with any company whose stock is mentioned in this article.