Generac Holdings, Inc (NYSE:GNRC) is a designer and manufacturer of generators and engine powered products for residential, light commercial, industrial and construction markets.
On February 8, 2012 Generac closed at a new high of $40.54. So the recent pullback in share price to $37.05 as of close on February 15, 2012 could be your entry point into this growth stock.
The latest natural disaster Superstorm Sandy, which wreaked havoc on the east coast at the end of 2012, helped create a surge of sales for Generac Holdings.
During the fourth quarter of 2012 residential product sales increased 28.9% compared to the fourth quarter of 2011. This shows more and more people are wanting and understanding the need to be prepared when the power goes out. Not only that, Commercial & Industrial product sales also increased 29.4% compared to the prior year fourth quarter. This is a sign that businesses understand they also need to be prepared. They see it as the first one back up and running after a power outage or natural disaster, is the first one rewarded with customers and sales.
Generac has really turned things around since 2009. Here is a table of Net Income from 2009 to 2012:
| | | | | |
| --- | --- | --- | --- | --- |
| Quarter Ending | 2009 | 2010 | 2011 | 2012 |
| March 31st | $-21.3M | $-152.40M | $4.84M | $30.06M |
| June 30th | $-17.05M | $12.83M | $15.29M | $9.34M |
| September 30th | $-14.74M | $23.00M | $37.38M | $25.54M |
| December 31st | $-18.36M | $18.61M | $267.13M | $28.30M |
GROWTH:
Generac has nearly doubled the size of its business in the past two years. This growth for Generac is being created with strategic acquisitions and, as described above, the general publics (residential, commercial & industrial) recent demands for more convenient and reliable power.
In 2012, Generac increased its global expansion efforts by acquiring Ottomotores' businesses which included all shares of Ottomotores UK Limited; including Ottomotores Mexico and Ottomotores Brazil for $46.5 million in cash. This acquisition gives Generac exposure in Mexico by buying a leading manufacturer of power generation equipment. Generac also entered Brazil in the acquisition, which Ottomotores had recently entered and had steadily gained traction in what is one of Latin America's fastest growing markets.
Reasons Generac Holdings will give you future growth:
While speaking about the acquisition in a press release Aaron Jagdfeld, President and Chief Executive Officer of Generac said "This acquisition is directly in line with our powering ahead strategic plan and positions Generac to participate in the significant global market that exists for commercial and industrial backup power generation by offering products tailored to the needs of customers in individual international markets."
Net sales for Generac have increased year-over-year by 28.0% to $342.0 million as compared to $267.3 million in the fourth quarter of 2011. For 2013 Generac expects net sales to increase approximately 10% compared to prior year. That would push 2013 net sales to $376.2 Million ($342.0M +10%). This is just the company's conservative 2013 outlook which assumes no material change in the current macroeconomic environment and no major power outage events for the remainder of the year.
Looking at 2013 Mr. Jagdfeld said, "We expect to bring more new products to market in 2013 than at any other time in the history of Generac which we believe will both add to our leadership positions in markets for portable and home standby generators and significantly broaden our commercial and industrial product lines."
Dividends: Generac has shown it will reward shareholders with dividends. On June 29, 2012 they paid a dividend of $6, based on a stock close price that day of $24.06, that was approximately a 25% yield. Future dividends are not guaranteed, however, if the company's growth continues you are sure to expect them.
Conclusion:
Generac seems to still be in the beginning stages of its growth. The recent up and to the right price movement of Generac stock (see Google chart below), outlook for 2013, 2012 dividends paid, and the comments from the President and CEO Aaron Jagdfeld are why I see the recent pullback in share price as a chance to start a position in this stock.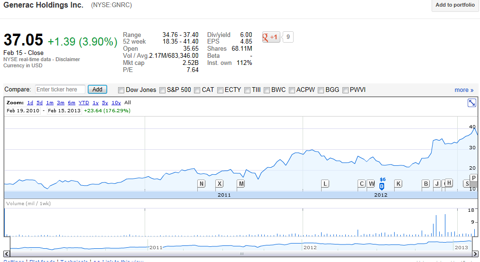 Disclosure: I have no positions in any stocks mentioned, and no plans to initiate any positions within the next 72 hours. I wrote this article myself, and it expresses my own opinions. I am not receiving compensation for it (other than from Seeking Alpha). I have no business relationship with any company whose stock is mentioned in this article.