The Canadian banking system ranks #1 in the world for soundness. Royal Bank of Canada (NYSE:RY), also known as RBC, is the #1 bank in that country.

Canada's largest bank by assets and market capitalization
A leading diversified financial services company in North America
11th largest bank globally based on market capitalization
80,000 full-time and part-time employees
15 million clients worldwide
RBC is the most recognized trademark in Canada
For an overview of Canadian Banking, please see Sound Canadian Banks Offer Opportunity.
This article provides an in depth look at Royal Bank. It reviews its organizational structure, strategy and performance. The bank has a strong balance sheet, which exceeds all global capitalization standards. We believe that Royal Bank deserves a core position in many portfolios. You may confidently add this stock to your holdings for growth, income and stability.
Corporate Goals
In

Canada

, to be the undisputed leader in financial services
Globally, to be a leading provider of capital markets and wealth management solutions
In targeted

markets

, to be a leading provider of select financial services complementary to the bank's strengths
The direction taken by the bank in 2012 was consistent with the moves since 2010 to focus on key markets and businesses, while deemphasizing less profitable areas. In 2011, the divestiture of U.S. retail banking was begun; the process was completed in 2012, which means the charges for discontinued operations have all been taken. 2011 showed record profits, 15% higher than those of 2010. The trend continued and 2012 was another record year. (Royal Bank's fiscal year ends October 31st.) Continuing acquisitions of wealth management resources globally and retail banking assets in Canada are contributing to the fulfillment of goals. The ongoing definition of Group Structures reduces duplication of efforts and cost, and the bank is increasing business through advice based cross selling its products. Royal Bank continues to excel compared to its Canadian peers and in the context of its top global competitors.
Leadership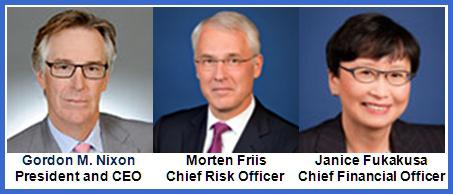 I believe that Royal Bank of Canada has an outstanding leadership team. Gordon (Gord) Nixon is President and CEO of Royal Bank and its subsidiaries. He is chairman of Royal Bank's Group Executive, which consists of eight senior executives who run the day-to-day business of the bank. Nixon began his career in 1979 with Dominion Securities, which Royal bank acquired in 1987. He became president and CEO of Royal Bank in 2001. Mr. Nixon is 55.
Morten N. Friis is the Chief Risk Officer; he oversees the strategic management of risk on an enterprise-wide basis. Mr. Friis joined RBC in 1979 and became Chief Risk Officer in 2004. Janice R. Fukakusa is the Chief Administrative Officer and Chief Financial Officer. She joined the bank in 1985. The remainder of the Group Executive consists of the Chief Human Resources Officer, Zabeen Hirji, and the executives who head the operating groups.
Governance
Royal Bank has an independent chairman leading a board composed of independent directors who give priority to strategic planning, risk management and executive leadership. Gordon Nixon is the only bank employee who is a member of the board. However, he is not the chair. In addition to him, there are 16 members with diverse backgrounds. David P. O'Brien, a Canadian businessman, is the Chairman of the Board. Additionally, he serves as Chairman of the Board of EnCana and serves as a director of Molson Coors Brewing Company, TransCanada Corporation, Inco Limited and the C. D. Howe Institute. He was the Chancellor of Concordia University in Montreal, Quebec, from 2006 to 2010.
We count the quality and depth of executive leadership and the form of governance among the strengths of Royal Bank.
Operating Groups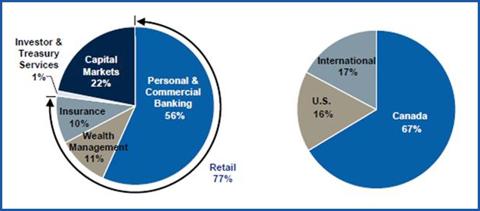 Royal Bank consists of five operating groups, which represent the diversified financial services it offers. Each of these is a significant entity in its own right. Together, the total is more than the sum of its parts, due to economies of scale and synergy. Below are the financial results for each group and some highlights from 2012.
Personal And Commercial Banking - Revenue $12,643 Income $4,088
Personal And Commercial Banking provides a broad suite of products and financial services to individual and business clients.
RBC is the largest and most profitable retail bank in Canada
2nd largest bank by assets in English Caribbean
Cross-border banking for Canadian clients and U.S. wealth management clients
Grew earnings by 9% with ROE of 31.5%
Net Interest Margin of 2.86%
Volume growth (loans and deposits) up 8.4%
Announced plans to acquire Canadian auto finance business of Ally Financial
Wealth Management - Revenue $4,835 Income $763
Wealth Management serves affluent and high net worth clients globally with a comprehensive suite of investment, trust, banking, credit and other wealth management solution.
Top 6 Global Wealth Manager by assets
Ranked #1 in Canada in both retail asset management and high net worth market share
AUA and AUM up 10.1%
Acquired Latin America, Caribbean and African assets of Coutts, the wealth division of the Royal Bank of Scotland
Insurance - Revenue $4,897 Income $714
Insurance provides a wide range of life, health, home, auto, travel and wealth accumulation solutions to individual and group clients across Canada. RBC offers reinsurance solutions for clients around the world.
A market leader with a broad suite of products and strong distribution
Canadian market leader in living benefits and one of Canada's largest bank-owned insurance companies
Achieved highest ever marks for "Likelihood to Recommend" and "Ease of Doing Business"
Grew earnings by 19% with ROE of 46.8%
Investor And Treasury Services - Revenue $1,325 Income $85
Investor and Treasury Services offers global custody and fund administration, as well as an integrated suite of products and services to institutional investors worldwide. Cash management, correspondent banking and trade finance services, are offered as well.
A top 10 global custodian with an integrated client offerings
Ranked Best Custodian Overall (Global Investor, 2012)
Funding and liquidity management for RBC
Capital Markets - Revenue $6,188 Income $1,581
Capital Markets (Investment Banking) provides a wide range of products and services including corporate and investment banking, equity and debt origination and distribution, structuring and trading to public and private companies, institutional investors, governments and central banks.
Grew earnings by 22% with ROE of 13.5%
10th largest global investment bank by net revenue
Best Investment Bank in Canada across Equity, Debt and M&A for 5th consecutive year
In 2012, the bank received Retail Banker International's Award for the Best Retail Bank in North America. In Wealth Management, they received a number of recognitions including Best Overall Fund Group by Lipper. Along with all the superlatives listed in the above summary of the bank's businesses is the fact that the bank leads its peers in cross selling. This will continue to contribute to the organic growth of the bank, which also makes strategic acquisitions.
This month, Royal bank received permission from the governmental competitive watchdogs to proceed with its purchase of Ally Financial's automobile loans in Canada.
Canada, and to a lesser degree the Caribbean, are the primary markets for retail and commercial banking, and the focus of the insurance business is Canada. However, Royal Bank is a global leader in Wealth Management, in Investor and Treasury Services and in Capital Markets. They continue to grow share in these areas and are among the healthiest of their global competitors.
The Canadian Market
It is in the news lately that there is the possibility of a weakening in the Canadian housing market, even speculation that there could be a bubble forming in some areas. There are several reasons why it is not appropriate to compare what happened in the U.S. to the situation in Canada.
First, Canadian Banks have been much more conservative in writing mortgages; in households, there is proportionally more income available to pay mortgages. Second, unlike in the US, one cannot simply walk away from a mortgage and in effect give the house to the bank and be done with the matter. In Canada, the fact that the bank has foreclosed does not end the matter. The mortgagee is still responsible for the balance of the loan and future wages can be garnisheed in order to satisfy the debt to the bank. While demand for home loans may grow more slowly than in the past, this will affect the number of new mortgages written, but not be an economic disaster. For more detail concerning the fundamental differences between the US housing and mortgage system and the Canadian system, please see "Sound Canadian Banks…" linked above.
The other newsworthy concern of businesses, banks and rating agencies is the increasing leveraging of the Canadian consumer. This is mostly in the form of credit card debt. The consensus seems to be that this will impact future economic growth to some degree. In calendar 2013, the Canadian economy will grow by about 2.4%, mainly driven by business investment, consumer spending and improved net exports.
In the medium term, the bank expects its profit growth to be in the mid-single digits. That is a reasonable expectation. Analysts are looking at earnings growth of 7% for the next 5 years, which I would put at the high end of a range of perhaps 4% to 8%.
Summary of Financial Results
To a large degree, Royal Bank measures its financial success by measuring Total Shareholder Return.
"TSR aligns to our three strategic goals and we believe represents the most appropriate measure of shareholder value creation. TSR is a concept used to compare the performance of our common shares over a period of time, reflecting share price appreciation and dividends paid to common shareholders. The absolute size of the TSR will vary depending on market conditions and the relative position reflects the market's perception of our overall performance relative to our peers over a period of time." Gordon Nixon
The peer group, 20 global financial institutions for comparison purposes, includes seven Canadian financial institutions, five from the US, five European financial institutions and two Australian banks. Royal Bank's 3-year Total Shareholder Return was 5% compared to its peers' 1%; the 5-year TSR was 5% compared to -5% for the global peers. Royal Bank exceeded quantitative goals for FY 2012 and key results for continuing operations were,
Diluted EPS growth of + 9.0%
ROE of 18% +
Strong capital ratios, Tier 1 capital, 13.1
This $91 B Market Cap bank has a Yield of 3.8%, a Payout ratio of 45% and a Dividend Growth Rate of 5.7%. The P/E is 12.4 and the 5-year Forecast EPS Growth rate is 7.3%.
The below chart illustrates a responsible level of dividend growth that currently meets the bank's payout ratio goals. It is important to note that unlike many U.S. companies, it does not have a policy that would require it to increase dividends without regard to increases in earnings. Online records are available for the past 20 fiscal years and show increases in dividends every year, except for 2008, 2009, 2010 when they remained the same. The dividend statistics are based on Canadian Dollars and annual increases are calculated on the bank's fiscal year, not the calendar year. There have been no dividend cuts. Sources that report dividends for calendar years or in U.S. dollars differ slightly. However, the trends and patterns are clear. This is a very sound and very profitable bank, increasingly so, and steady through unfavorable economic times. It is a shareholder friendly company.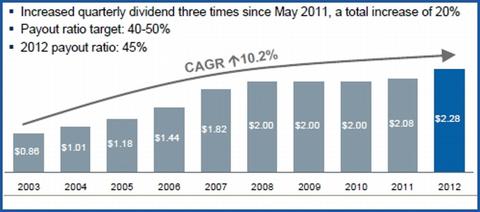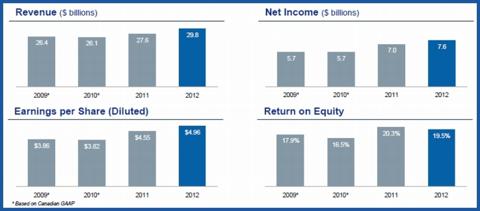 While other Canadian banks are also sound and profitable, Royal Bank has reached a significant size, with a strong balance sheet, which enables it to compete exceedingly well in the Canadian and global areas it targets. For the past two years, it has performed increasingly better than its Canadian peers perform, as it benefits from its economies of scale and leadership's focused strategic plans. The last six months the stock performance clearly illustrates this.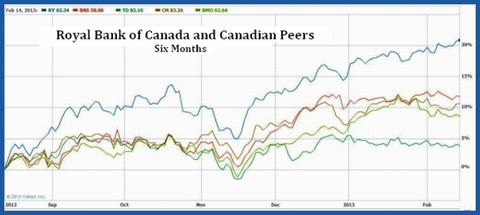 Risks
All business entities and most especially all banks are exposed to many kinds of risks. Royal Bank takes management of risks seriously. They have a well-defined Enterprise Risk Appetite, and all operating groups collectively manage risk. The identification and monitoring of top risks and evolving, emerging risks is part of that. The Annual Report provides an unusual amount of transparency in the area of risk, and following a 2 page, (p. 43-44) discussion of Off Balance Sheet Arrangements, devotes 42 pages directly to risk and risk management. From 2007 to 2010 while other banks in the US and Europe failed, Royal Bank continued to be profitable. That is probably the best evidence of their ability to avoid undue risks and manage acceptable risks. However, the transparency of their reporting on risks and methodology of risk management affirms their practices.
For the investor, understanding the bank's risk requires an awareness that the leverage of the Canadian consumer has increased and that there is a slowing in the home mortgage market. This portends that lending will proceed at slower rates of increase than in the past. Therefore, increases in Retail Banking business and profitability may not continue at the rate they did in 2011 and 2012, but be in the mid-single digits. Greater revenue increases may be made in the areas of Capital Markets and Wealth Management, somewhat mitigating the possible softness in Retail Banking.
FAST Graphs Presentation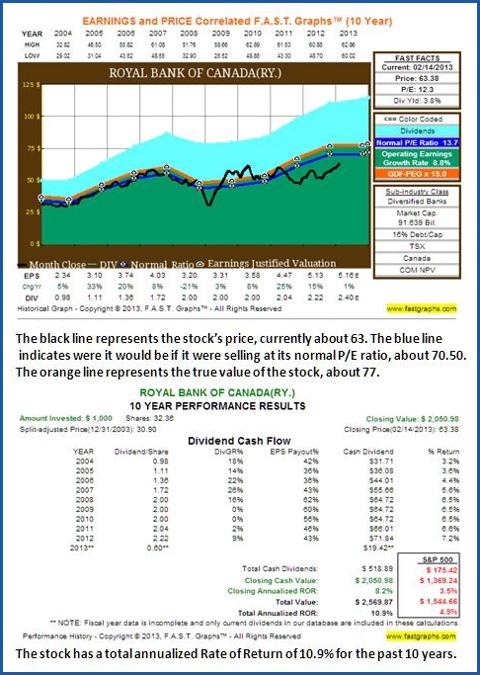 Valuation
At 62.98, Royal Bank is trading near its 52 week high. Morningstar gives the stock a fair value of 56 and rates it with 3 stars (Fairly Valued). However, at today's price it is trading at a P/E of 12.3, well below its historic P/E of 13.7. FAST Graphs indicates that it is undervalued and may have a fair value of 77. A discounted cash flow model using a growth assumption of 5.5% and a discount rate of 9% yields a fair value of $69. The current analyst consensus rating is 2.3, which is in buy territory.
I would not hesitate to open a partial position at this price. However, the stock's beta of 1.25 indicates that movement, either up or down, will be greater than the market in general. I would rather buy it on a dip to 60 or lower at the price level where it yields the "Tweed Model's" 4%.
Recommendation
The leadership of the bank is executing a well-defined strategy and in doing so is increasing profit and market share both in Canada and worldwide. It is a steady and stable performer and suitable as a long-term core holding, which will provide significant dividend income and continuing share appreciation.
Note: The bank will release its FY 2013 Q1 figures on February 28th.
Sources
The primary sources of information for this article were Royal Bank's 2011 and 2012 Annual Reports, and other bank publications. Other information is courtesy of Yahoo Finance, FinViz and FAST Graphs.
Disclosure
I hold Royal Bank of Canada in my Dividend Growth Portfolio and intend to add to my position.
Disclosure: I am long RY. I wrote this article myself, and it expresses my own opinions. I am not receiving compensation for it (other than from Seeking Alpha). I have no business relationship with any company whose stock is mentioned in this article.