This week, the focus is on four small-cap biopharmas that offer an excellent upside catalyst trade opportunity. Sometimes, when biopharmas have catalysts coming up in the short term, their stock prices tend to run up higher. However, if the catalyst is a minor event, and/or the company and/or its developmental drugs are not very good, the stock price often times does not move higher or falls to a lower price.
My last catalyst trade list did rather well - let's see how this week's list performs.
Cyclacel Pharmaceuticals (CYCC)
Cyclacel is expecting safety data this quarter from its Phase III "SEAMLESS" study of its clinical drug Sapacitabine, designed for front-line treatment of acute myeloid leukemia.
The SEAMLESS trial is an ongoing registration-directed trial in elderly patients aged 70 years or older with newly diagnosed AML who are not candidates for or have refused induction chemotherapy. The Food and Drug Administration (FDA) has granted Cyclacel Special Protocol Assessment ((NYSE:SPA)) for the drug.
In October 2012, the company reported that its Phase II randomized trial of oral Sapacitabine capsules in older patients with intermediate-2 or high-risk myelodysplastic syndromes ((NYSE:MDS)) saw good median overall survival rates - the median survival for combined arms was 291 days.
Cyclacel CEO Spiro Rombotis stated at the Lazard Healthcare Conference in November 13, 2012, "We will have Phase II data MDS fully published in early 2013." This adds additional short term catalyst trade value to the stock that both traders and investors should consider.
Also worth consideration is Cyclacel's patent infringement lawsuit against Celgene (CELG) which will begin a Markman patent construction hearing on March 16th, 2013. While the final result from this litigation might not be known until the middle of 2014, the case looks favorable for Cyclacel so far. It's possible that Cyclacel could receive damages upwards of $70M, at least according to a fellow Seeking Alpha author.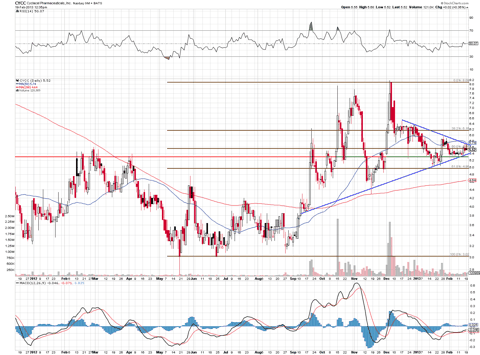 The chart has been in an uptrend and after forming a wedge, it looks to be set to break out again. The first price level to watch is $6.16-$6.20, and then a test of the highs in the $8s could be in range.
With a market cap coming in at a little over $52M, Cyclacel might be one of the most undervalued speculation investments around. FDA approval of any of its pipelined drugs could mean 10 times that amount in revenue or more - AML is a hard form of Leukemia to treat.
DARA BioSciences (DARA)
Dara is expecting to hear soon on the status of its orphan drug application submitted to the FDA in November of last year for its drug KRN5500, which is being studied for the treatment of chronic chemotherapy-induced peripheral neuropathy (CCIPN).
KRN5500 is a spicamycin-derived, non-opioid-non-narcotic intravenous pain therapeutic treatment with promising clinical trial results in patients with chemotherapy-induced peripheral neuropathy (CIPN).
More than 70% of patients are treated with taxane-class or platinum-class chemotherapeutic agents, and at least 25% of those are treated with vinca-class agents. A significant number of those treated with these drugs and a variety of other cancer drugs experience CIPN, which can be disabling and adversely affect quality of life.
There is presently no FDA-approved drug for CIPN.
In October, 2011, the U.S. FDA granted KRN-5500 Fast Track designation for CIPN, an indication with a market potential estimated at $2.5B.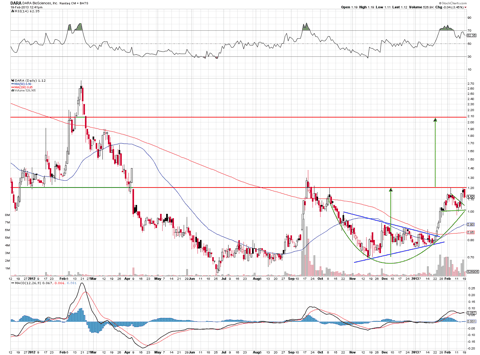 The above chart is forming a cup and handle breakout pattern with resistance at $1.20. Once past this level, the near term price target indicates a test of the prior high of $1.38. Measuring the cup and handle break indicates a move over $2 in the coming months. I predicted a move to $0.98 on my live online show as a good entry point before beginning to break out. The price hit $0.97, and then began to move back upwards. I am setting a price target opinion of $1.35 to $1.45 for the short term - 1 day to 3 months.
Though Dara is still early on with this treatment, the speculative value should provide for a substantial price driver moving forward. Receiving orphan status provides certain benefits such as reduced taxes from the federal government. It does not mean the drug is safe and effective and legal to manufacture and market in the United States. Furthermore, the company would have the opportunity to sell it without competition for seven years.
Trius Therapeutics (TSRX)
Trius is expecting top-line data from its 2nd Phase III trial of Tedizolid (TR-701) vs. Linezolid for the treatment of acute bacterial skin and skin structure infections (ABSSSI) by the end of the current quarter.
Tedizolid is an antibiotic designed to treat infections caused by methicillin-resistant Staphylococcus aureus (MRSA).
MSRA can cause deadly infections in the skin and blood, which can infect the heart and lungs as well.
MRSA is also found in a variety of common place areas including locker rooms, schools and meat/poultry plants. 25% or more of the entire meat and poultry available for consumption in the U.S. could be infected with MRSA. Needless to say, an effective combatant of this disease would be welcome in the market place, although the company might receive stiff competition from other companies who presently market, and/or develop treatments for MRSA.
The company recently announced in January a public offering of seven million shares. Often, the best time to buy a small cap biotech is right after it engages in the kind of offering Trius did. Dilution is no longer a fear factor for investors, and normally when a company shows promise, the price goes up.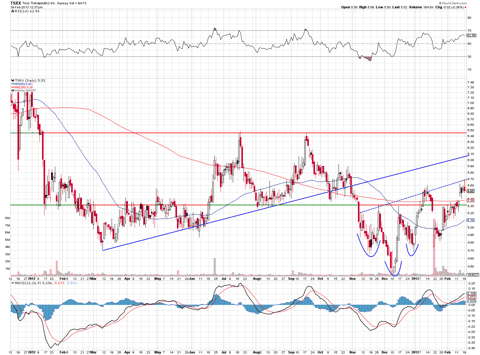 The chart has formed a small inverted head and shoulders pattern with a possible measured move target to $6.20, which just happens to be very close to its prior top at $6.40 - there could be strong resistance at this range.
Sarepta (SRPT)
Sarepta has requested an end of Phase II meeting with the FDA, which is likely to occur before the end of this month. The focus of this meeting will be the company's request for accelerated regulatory approval on its experimental drug Eteplirsen, which is designed to treat
Duchenne Muscular Dystrophy ((DMD)).
There are many Sarepta bears who believe the drug will not receive early approval, and in my opinion, they are not considering the ever changing political landscape surrounding the FDA. Lawmakers have been putting additional pressure on the FDA to get drugs to market which are designed to treat rare diseases. DMD is a very rare disease that affects children - providing additional pressure for the FDA to grant accelerated approval here.
I wonder if the bears have read Section 902 of The FDA Safety and Innovation Act - "Breakthrough Therapies."
According to author Michael Mccaughan;
The provision creates a new section of the FD&C Act, and inserts it directly before the "Fast Track" and Accelerated Approval sections also included in FDASIA. That symbolic position indicates the intent: something that happens even earlier in drug development than the existing FDA mechanisms.
Also, it will be hard for the FDA to ignore Jenn McNary, mother of a child who suffers from DMD, who has been one of many strong advocates petitioning the organization to allow accelerated approval of Eteplirsen.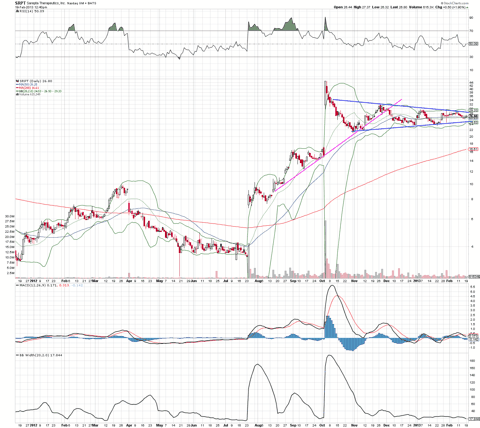 The chart has just begun making a couple of reversal candles indicating a higher move is possible once it breaks out of its current wedge. After this point, the stock could retest its former high of $45.
Short sellers in Sarepta could get severely burned for failure to recognize the ever changing regulatory environment in the FDA these days. With Obama Care coming into sharp focus in 2014, we can also expect to see more small-cap biotechs rally on the speculation that they might receive more government support for their new treatments for terrible and deadly diseases. I also expect merger and acquisition activity to increase in the next year because of these factors. Biotech might very well be the best trading and investment sector for the next few years.
Disclosure: I am long DARA, CYCC. I wrote this article myself, and it expresses my own opinions. I am not receiving compensation for it. I have no business relationship with any company whose stock is mentioned in this article.
Additional disclosure: Disclaimer - This article is intended for informational and entertainment use only, and should not be construed as professional investment advice. They are my opinions only. Trading stocks is risky - always be sure to know and understand your risk tolerance. You can incur substantial financial losses in any trade or investment. Always do your own due diligence before buying and selling any stock, and/or consult with a licensed financial adviser.