Gun stocks have really gone through the ringer as of late. Critical media attention and public outcry for bans on assault weapons has led gun makers lower. What most investors forget is that when emotions and media-led fear-mongering beat stocks down, there is an opportunity to make some great returns as the stock recovers.
Shorts Must Buy to Close Position
Smith & Wesson (SWHC) is a heavily shorted stock. Currently, around 24% of outstanding float is being shorted. Many investors hear that and think the stock must be going down or must be extremely unpopular. Unpopular may be true, but I tend to think of it as a positive attribute in certain cases. Shorts must buy the stock to eventually close their position. Therefore, as Smith & Wesson increases in value, short investor cut loss and buy the stock to close the position. This causes a further increase in price, leading to more shorts buying, again leading to a pop in price.
The thing I love about this is people that hate the stock and want it to go down, still have to buy it. Investors can make exceptional returns by being on the right side of this pop and recognizing when a stock is set up for shorts to frantically cover to limit loses.
Anti-Assault Weapon Bill Set Up to Fail
Although I have not read the entire assault weapon ban legislation, I do know one key part of the bill that makes it essentially dead in the water. Along with banning assault rifles, shot guns, and even certain types of pistols, the proposed bill bans any kind of gun with a pistol grip. yes, you heard it right. A GRIP. I can't think of any firearm that doesn't have a pistol grip. That bill, in its current form, would be essentially impossible to enforce. So although tweaking of the bill may happen in the future, investors can at least rest easy knowing that nothing is passing the house in the immediate future. We also know that quickly changing tides in Washington make changes extremely difficult and time consuming.
Record Sales and Buying in a Panic
Gun enthusiasts are buying firearms like it's going out of style. Assault rifles, as well as just about any other gun on the Smith & Wesson website have been sold out for months. Article after article on rifle and ammo shortages indicates that sales for S&W this next quarter are going to be fantastic and well above estimates. Permit registration data back up word of mouth claims as well. FBI data suggests 2.78 million gun checks occurred in the last month of 2012. That is a substantial increase from only 1.86 million checks just one year earlier. Of course, this kind of buying is not sustainable at current levels, but it makes Smith & Wesson a great buy at current prices.
Why Smith & Wesson Over Strum Ruger (NYSE:RGR)?
When evaluating gun makers with potential upside, Smith & Wesson is clearly a better value play. The S&W price-to-earnings ratio of 10.67 is well below not only the industry average of ~16, but Strum Ruger's 17.17. Secondly, Strum Ruger's current payout ratio of 33% limits growth potential. Smith & Wesson pays no dividend. Therefore, revenue growth translates into capital appreciate returns more effectively. Finally, the charts below show S&W currently breaking up through its 200 day moving average. This indicates further potential upside. Ruger on the other hand, is far above its 200 day SMA. This indicates a possible correction in the near future.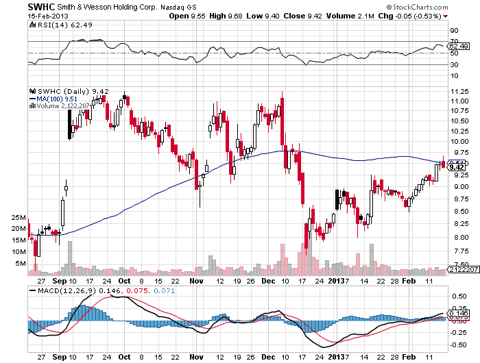 Disclosure: I have no positions in any stocks mentioned, and no plans to initiate any positions within the next 72 hours. I wrote this article myself, and it expresses my own opinions. I am not receiving compensation for it (other than from Seeking Alpha). I have no business relationship with any company whose stock is mentioned in this article.