Among the many attributes that make ETFs superior to traditional mutual fund structures is the availability of information related to shares outstanding that is updated on a daily basis. Two asset classes which I favor currently are High Yield and Preferred Stocks. Both carry significant risk as we muddle through the recession. However, the steady increase in shares outstanding suggests net accumulation in these two downtrodden asset classes.
click to enlarge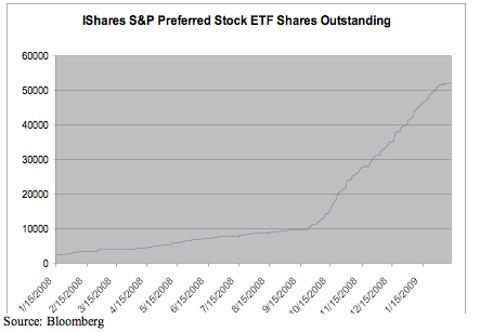 The I-Shares Preferred Stock ETF (NYSEARCA:PFF) traded as high as 50 in early 2007 and now rests below 25. There seems to have been a modest growth in shares outstanding up until about the pinnacle of the credit crisis (October and November of 2008). Since that time the rate of growth of outstanding shares has spiked sharply, suggesting accumulation. My suspicion is there are some serious bets being made on recovery in this beaten down asset class.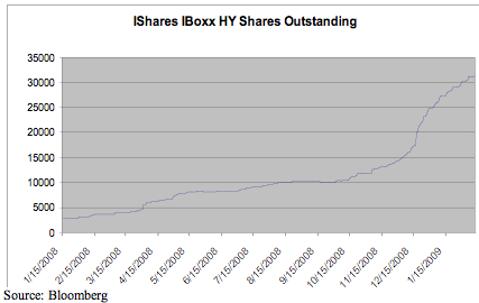 The same type of accumulation appears to be happening in the shares of I-Shares IBoxx High Yield ETF (NYSEARCA:HYG). Notice the increased rate of growth for the shares outstanding this ETF experienced after its shares dropped from 100 in May to below 65 in late 2008.