On February 15, 2013, a day after its earnings release, General Motors (NYSE:GM) filed its Annual Report with the SEC. Again, by looking in the footnotes an investor can see the credit quality of customers it sells vehicles to.
It can be found under "GM Financial Finance Receivables, Net (Notes)." GM North America grew sales 3.56% in the fourth quarter, but sales to customers with a credit score less than 540 still grew faster than this at 4.77%. The data for GM's subprime lending is shown in the tables below: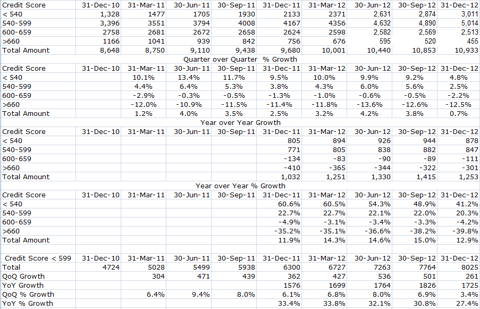 Click to enlarge
Note: Amounts are in millions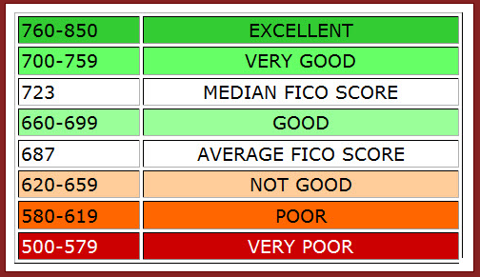 Click to enlarge
Source: credit-score-range.blogspot.com/
In the GM's conference call the company even stated:
"... GM Financial percentage of GM's U.S. consumer subprime financing and leasing was 20% on the quarter."

[and]

"Our U.S. subprime penetration in the fourth quarter has increased over the prior year to 7.2%"
What is interesting about the first quote is that it would appear that this GM Financial data is only 20% of "GM's U.S. consumer subprime financing and leasing." Could this mean that GM's total subprime lending is 5 times larger? From the way this is stated it would appear so, but I think it would be best to ask for clarification on this subject from GM. Any "sell-side" analysts, who have access to the conference call, have the guts to ask this next quarter?
(crickets...)
Another question is related to subprime penetration, is this just auto or all subprime lending?
Also in the fourth quarter GM securitized over $1 billion in receivables

Click to enlarge
During the conference call GM also stated:
"I'd also like to highlight the GM Financial announcement in January, the pricing of $1 billion asset-backed securities offering with the weighted average amount of 1.2%. This is the lowest cost of funds in GM Financial's history."
It would appear that investors are coming back to the asset backed securities (ABS) market in reaching for very low, historically, 1.2% nominal yield. Unfortunately, from this annual report we do not know the mix of prime and subprime in the ABS.
What about the credit risk involved with these receivables? It is climbing, 1 percent greater than last year, and this is an economy showing a recovery (measured in nominal GDP).

Click to enlarge
This rise in delinquencies is not very surprising considering the credit mix of GM Financial's credit portfolio as shown in the table below:

Click to enlarge
Credit scores below 600 increased from 54.6% of the receivables two years ago to 73.4% today. Those under 540 increased from 15.4% to 27.5%. As shown in the first table that is over $3 billion in accounts receivables with credit scores less than 540. Just who will take the losses from this toxic tranche of receivables? Most likely GM Financial (GM's subsidiary), since they still sit on the balance sheet. Of course tucked away in the footnotes.
This is because as White, Sondi, & Fried write:
... most such receivable sales and/or securitizaitons provide that the seller retains the effective credit risk ...
Source: The Analysis and Use of Financial Statements, page 378.
If GM financial is not on the hook for these receivables then the ABS investors are. An investor needs to find out what credit protection is provided in the covenants of the ABS. If the ABS does contain the credit risk then possibly a credit default swap could be used to take advantage of decreasing credit quality, if one doe not have shorting constraints.
Disclosure: I have no positions in any stocks mentioned, and no plans to initiate any positions within the next 72 hours. I wrote this article myself, and it expresses my own opinions. I am not receiving compensation for it (other than from Seeking Alpha). I have no business relationship with any company whose stock is mentioned in this article.