Market Recap:
The market continued to strengthen on Tuesday after a long weekend on the back of some solid data from Germany's ZEW Survey. The survey, which gauges business climate, came in at 48.2 vs. 35 expectations. That beat helped set the market up for some positive movement, which was furthered by light volume and continued bullishness surrounding stocks as commodities weaken on a strong dollar and bonds continue to remain a low-yield security. The market was able to rise despite the NAHB Housing Market Index coming in lower than expected at 46. Weakness in housing could spell trouble for the market, and more about the housing market will be revealed throughout this week.
The Dow finished up 54 points, while the S&P finished up eleven points.
Stocks to Trade:
Today, we are looking at longs in Intuitive Surgical (NASDAQ:ISRG) and JPMorgan Chase (NYSE:JPM) and shorts in Tesla (NASDAQ:TSLA) and PulteGroup (NYSE:PHM).
We believe that ISRG looks primed for a strong breakout after flagging after great earnings. Earlier this year, we posted a concerned position on ISRG. That opinion arose out of cloudy vision for demand and guidance for 2013. The company outperformed many expectations, gapping up strongly on earnings as well as solid guidance for 2013. We believe the earnings also squashed a published Citron report that took a solid chunk off the stock's price, and ISRG looks ready to go.
The company's latest earnings showed very healthy business for ISRG. The company reported 23% growth in revenue as more "da Vinci" surgical units and operations were performed. On top of that, ISRG reported a 15% rise in net income as well with EPS at 4.25. The results blew away most estimates, but what was even better for the company was its forecasting. The company announced that it expected to see operations rise as much as 23% in the coming year, which will continue to power strong growth. Analysts, overall, are expecting the company to see 17-18% growth in revenue. The concern for ISRG has been that the company would see a drop in operations and demand for the expensive systems due to rising health care costs and underperformance of macroeconomics. So far, the company has outpaced expectations and proven many wrong.
Can shares continue higher? Right now, future PE sits north of 25, so shares are fairly rich. Price/sales is at 10.5 as well, which shows strong valuations. Therefore, we believe the best approach is a bull put spread to take advantage of a bullish trend in the stock, but we can also own the share at a lower price if it were to decline strongly. Additionally, we believe shares could break higher due to some upside being held back by a Citron report that came out claiming that ISRG combined lofty numbers with tons of lawsuits and a product that had no clinical testing at all. That report hurt shares, and we believe that the last bit of earnings also not only shushed some question marks (that we had) but also shushed those believe ISRG was up to no good. Now, with the stock breaking out, it's a great time to add.
Trade: ISRG, Mar16, 550/545 Bull Put Spread
Max Gain: 14%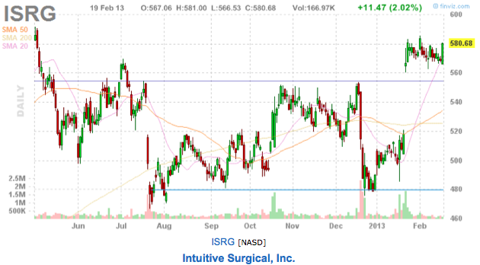 Another long that looks very interesting right now is JPMorgan Chase. We have been bullish on JPM for several weeks now, and we continue to believe that this stock is bound for a solid 2013 along with many American financial institutions. We like the stock as a long into Investor Day on Feb. 26 and believe that shares have tons of value still in them despite early gains this year. Right now, JPM sits with an 8.5 forward P/E along with 3.3 price/sales ratio. The P/S ratio is fair valued, which means that upside will come from revenue growth not earnings growth. Banks have been printing more earnings with less money as margins have grown since the financial crisis. Can JPM start to produce more sales?
Analysts are expecting the company to have flat sales growth in 2013 and about 3% growth in 2014. Are they wrong? We believe so. We expect several things to lead to more growth than anticipated -- strong housing recovery, demand for automobiles, and declining credit losses. First off, JPM will benefit from mortgages as Alex Cho mentions:
Economists estimated that there is pent-up demand and that household formation will return to 1.2 million a year as job conditions continue to improve (unemployment rate is currently 7.9%). During 2007-11 only 845,000 housing units were built annually per year, with demolition and destruction of homes from natural disasters (Katrina, Sandy, etc.) has resulted in a 250,000 decrease in the number of homes over a four-year average (basically 1,000,000 homes were lost). The growth of households is likely to absorb pre-existing housing supply, this implies growth in JPMorgan Chase's lending division, and that new loans may be able to offset losses from its pre-existing lending portfolio.
Additionally, we believe JPM will benefit from auto sales. New car sales are expected to grow around 5%-7% this year, but new sales are outpacing those expectations already as demand was around 14% in January for the U.S. We believe that this is due to continued pent-up demand for larger ticket items. Low spending for those with money on big-ticket items as well as a solid ratio of old cars on the road. Finally, we also believe that declining credit losses will help. JPM reported 3.37% credit losses in January vs. 3.54% in December as well as a drop in its delinquency rate. If this trend continues, sales and earnings expectations are well under what they should be.
Trade: JPM, Long
Entry: Over 50.00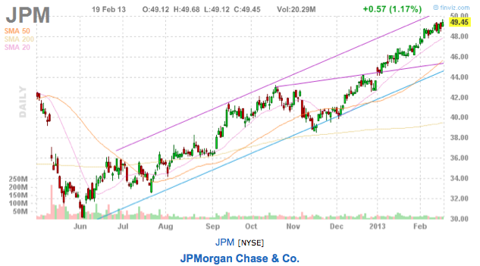 One stock that we are bearish on (or at least believe is limited in upside) is Tesla Motors. We recently downgraded TSLA to Hold from Buy and maintained at a $39 price target. You can see the report here. The reason for this was due to our belief that TSLA lacks upside until it can improve its performance metrics and prove to the investment community that it can execute at the levels it says it will. The problem we have right now with TSLA is that current valuations place the stock at an ultimate premium despite no actual execution yet. Future PE sits above 200 and price/sales sit at 29. We look for below 3 for value and 3-5 for fair value. So, if you are investing in TSLA, you are investing in speculation. That is fine, but we believe investors need to realize this. Further, we believe because of speculation, shares will be fairly limited in upside until actual execution is seen. Here is a bit from our report:
Chairman, Product Architect, and CEO Elon Musk recently reassured TSLA customers and enthusiasts that production is on an incline. Some of the recent lull in production, Musk attributes to first-time full-body manufacturing with a new team through new suppliers. During the third quarter, TSLA saw 359 cars manufactured with 250 delivered to customers. TSLA forecasts 2,500 to 3,000 Model S vehicles produced in Q4 and over 20,000 in the year 2013. All this investment could pay off but most likely not in the next fiscal year.
Therefore, we believe TSLA is great for a bear call spread. Without a lot of catalyst for near term upside with valuations very high and no ability to speed up execution, shares should stand still. We like the 45/47 bear call spread as it is worth 14% and do not believe shares will reach that level even with earnings.
Trade: TSLA, Mar16, 45/47 Bear Call Spread
Max Gain: 14%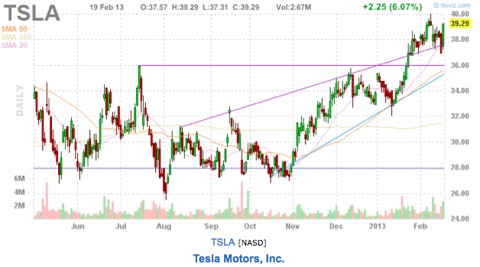 Finally, we are looking at PHM bearishly right now. The housing industry has a make-or-break week ahead for it. With new home sales, existing home sales, and building permits all to be released this week, it could be a bust or a great week. Right now, housing stocks are signaling a bust, and we like shorting PHM is New Home Sales come out below expectations tomorrow. The problem for PHM and most housing stocks is that valuations have skyrocketed back up without a lot of profit taking. PHM has 38 P/E, and while future P/E is at 15, the stock would definitely suffer from any signs that 2013 would be weaker for housing recovery. This idea is not stating that we know housing sales will be weak, but we do know that PHM and others will suffer if they are. The key line to watch is the 50-day MA. That line has not broken since November, and we could see significant downside if it's lost.
On top of this, the company's earnings last quarter while good were just above expectations with EPS at 0.34 vs. 0.31. The stock has been dropping since that report, and the stock does not have a solid report to support it if data is weak this week. PHM is definitely a stock to watch right now that could breakdown on some data weakness.
Trade: PHM, Short
Entry: Break of 50-day MA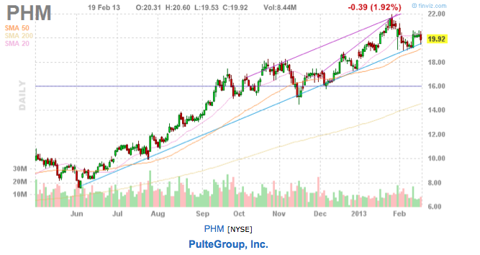 Tomorrow's Outlook:
The market started the week off on a good note, but the key to tomorrow will be housing data. New Home Sales and Building Permits will be released tomorrow for the 2013 annualized rate through January. It will be the first data point for the market of the year, and if it is good, it could help stocks continue to move higher. A weak reading though would be detrimental to the market and could easily push the market down triple digits. In addition to the housing data, the market will be reacting to British employment reports, eurozone consumer confidence, and FOMC minutes. With the market toppy, it will need very solid reports to continue higher. Weakness in the headlines will create selling.
Disclosure: I have no positions in any stocks mentioned, and no plans to initiate any positions within the next 72 hours.
Business relationship disclosure: The Oxen Group is a team of analysts. This article was written by David Ristau, one of our writers. We did not receive compensation for this article (other than from Seeking Alpha), and we have no business relationship with any company whose stock is mentioned in this article.