Along with last week's World Gold Council (WGC) report on gold demand trends (as previously detailed here) came an updated detailed breakdown of how central bank gold reserves changed around the world in 2012.
This information is available on the Government Affairs: Gold Reserves page for anyone interested in this subject, as any gold investor should be (they actually have gold reserve statistics going all the way back to 1845).
Given that last year saw the biggest net central bank gold purchases since 1964, it seemed like a good idea to put this data into chart form and, as a result, a graphic based on the available WGC detailed data as shown below.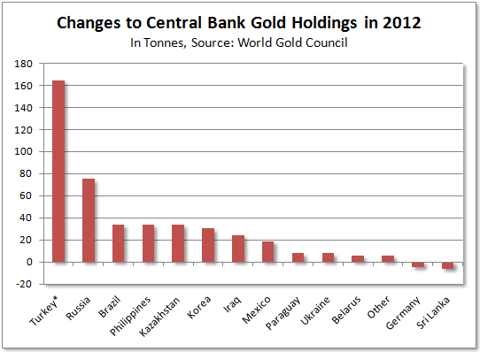 Note that Turkey's big increase comes with an asterisk that, as detailed by the WGC, stems from a late-2011 decision by their central bank to count gold from commercial banks as official reserves.
This was part of an effort aimed at improving the banking system's liquidity management by increasing their overall gold reserves, so, technically, some portion of the 164 tonnes added to Turkey's official holdings last year really weren't central bank "purchases."
Russia's addition of 75 tonnes of gold, however, was very real and it leads all other reported purchases by national central banks that were surprisingly broad.
It seems central banks almost everywhere but in the West were buying gold last year. All told 23 nations added to their gold reserves including Moldova with an increase of just 0.07 tonnes.
Germany, the world's second largest holder of gold, behind only the U.S., sold five tonnes of gold from their reserves in 2012, all of which was used to mint coins.
As you may have noticed, the red bars above don't add up to the 535 tonnes of gold that the WGC reported central banks purchased last year - it's about 100 tonnes short.
A big part of the reason why is that the WGC source data from Reuters Thomson/GFMS and the IMF also included an increase of 37 tonnes in the gold reserves of the Bank for International Settlements that didn't show up on the WGC data (for more on this, see this report).
The rest, presumably, is a result of final data not being reflected in the current WGC figures and it will likely be updated in the months ahead.
But the message in the above chart is clear - there was widespread gold buying last year everywhere but in the West and the West has stopped selling gold. Western central banks are surely still leasing out gold, but as detailed here last week, official sales have come to a halt.
Of course, the real problem with the chart above is that it doesn't include purchases by China's central bank.
Despite not adding to their "official" reserves last year (or in 2010 or 2011), one of the world's worst kept secrets is that the People's Bank of China was likely the world's biggest buyer of gold last year.
A fairly conservative estimate of 250 tonnes in gold purchases for China last year is shown below and, along with an added entry for the BIS and a reduction for Turkey, this is probably a much better picture of what happened in 2012.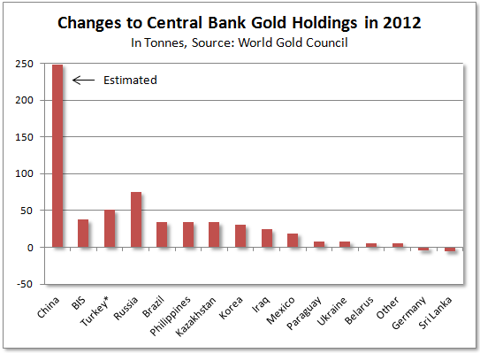 Now, I don't know if 250 tonnes is correct or not for China - it could be 500 tonnes or more, but, I doubt that it's less than 250 tonnes.
Recall that their official holdings are just 1,054 tonnes, but that's only because during the summer of 2009 they announced to the world that they'd moved 400 tonnes of the yellow metal they'd bought in recent years onto their "official" gold holdings.
In no small part due to this announcement, the gold price went on to nearly double over the next two years and, since China has made it clear they intend to keep buying more gold, you can understand why they've been rather tight-lipped about what they've been doing.
From what I've read, the consensus estimate of China's gold reserves is somewhere between 2,000 and 3,000 tonnes, meaning that the 250 tonne estimate above could be quite low.
When they do someday tell the world what they've been doing, the gold price will undoubtedly surge.
When that will be is anyone's guess.
Holders of physical gold and such exchange traded funds as the SPDR Gold Trust (NYSEARCA:GLD) and the iShares Gold Trust (NYSEARCA:IAU) would do well to consider these factors when contemplating whether, amid the metal's recent price weakness, it is time to buy or sell gold.
Disclosure: I am long GLD. I wrote this article myself, and it expresses my own opinions. I am not receiving compensation for it (other than from Seeking Alpha). I have no business relationship with any company whose stock is mentioned in this article.
Additional disclosure: I also own gold coins