The Dividend Achievers list just got a new addition: Occidental Petroleum (NYSE:OXY). And not just by a few pennies, either. At their last meeting, Occidental's board agreed to raise dividend by a whopping 18.5% from $2.16 to $2.56, marking its tenth consecutive dividend increase and placing it on Mergant's Dividend Achievers indices.
Occidental Petroleum is an energy company operating in Chemicals, Midstream and Oil and Gas, the latter being its dominant segment. The company is mostly an oil producer, but also has some Natural Gas Liquid [NGL] and natural gas interests. It is one of the biggest energy producers in North America, with large holdings in both California and the Permian Basin in Texas.
In my previous article, I singled out Occidental as a favorite energy producer of mine due to its great production growth, reasonable returns on capital and commitment to grow its dividend. In this latest quarter, Occidental has lived up to all three of those characteristics: hitting its production growth targets, aggressively improving efficiency and finally increasing its dividend.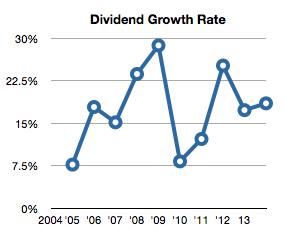 Chart by Author
Raising the dividend is an important goal for management. Looking at the above chart, most of Occidental's dividend increases over the last ten years have been above fifteen percent.
This is much more than what most energy companies are able to do. Oxy should continue to enjoy double-digit dividend growth for at least a few more years, and in this article I will explain why.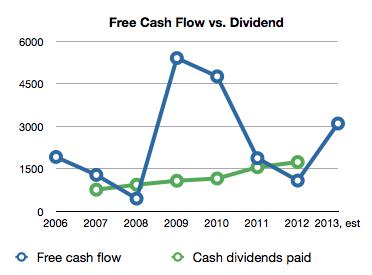 Chart by author, data by Morningstar
Producing oil and gas is a very capital intensive business. It requires a lot of machinery and effort to set things up and finally get the oil or gas flowing. Capital Expenditure (CapEx) is usually the biggest user of cash in an energy company and this is especially true for those involved in exploration like Oxy is. In any energy company, dividends must compete with a big CapEx budget. Free Cash Flow, which is operating cash flow minus CapEx, is the remainder from which dividends can be paid.
Oxy foresees a major jump in Free Cash Flow in 2013 which secures the dividend and sets the stage for continued increases. There are three factors driving the jump in cash flow this year, and today we will look at all three of them: improvement in drilling efficiencies, CapEx reductions, and finally production growth.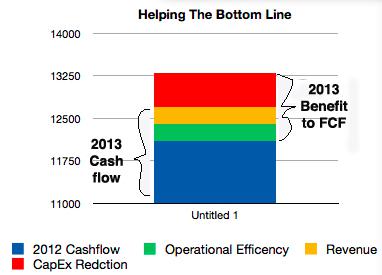 Above chart illustrates how efficiency improvements (green), revenue growth (yellow) and CapEx reduction (red) have benefited both 2013 Cash Flow estimates and 2013 Free Cash Flow. 2013 Cash Flow is estimated to be at $12.9 billion and Free Cash Flow is estimated to increase by $1.8 billion.
Chart by author, data from Credit Suisse 2013 Energy Summit, Goldman Sachs Global Energy Conference 2013
Drive For Efficiency Has Reduced Costs Across The Board
Starting in October 2012, the company set off to improve operational efficiencies in all categories, including capital. The plan was to reduce operating expenses and drilling costs to 2011 levels. The company is well ahead" of schedule, and plans to achieve a minimum of $300 million of savings in operating costs.
The savings came from ideas from employees and management alike. They stem from reductions in surface operations, curtailment of uneconomic down-hole maintenance, workover activity and the downtime associated with that. It has not affected production.
In simplifying well design, focusing on fewer geologic play types and favoring higher return conventional activity, Occidental will be able to reduce drilling costs by 15% in 2013. We are already seeing the effects.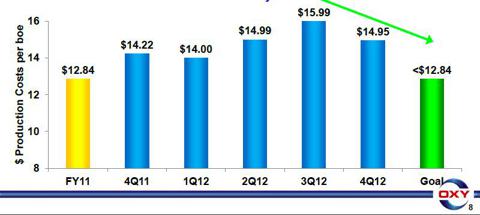 Credit Suisse 2013 Energy Summit
Production Growing 5-8%
In 2012, Oxy hit the low end of its 5-8% production volume growth with California and the Permian leading the way. Domestic oil production increased eleven percent, outpacing the rest of the company.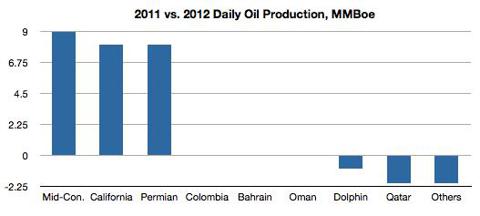 Chart by author, data from 4th Quarter 2012 Earnings Presentation Supplemental Schedules
Virtually all of the growth in oil production is coming out of the US, where Oxy owns production rights entirely and does not need a partner firm. As such, it is free to drill, develop and exploit on its own, which is not the case for the international geographies. With a reserve replacement ratio of over 140%, we have every reason to believe production will continue to grow.
CapEx is Coming Down
One of the biggest challenges for oil and gas companies is balancing growth with returns on capital. In the recent quarters, Occidental has decided to focus on improving efficiency while maintaining its level of production growth. Part of this plan included focusing on more profitable geographies, methods of drilling and rock formations while scaling back on those which were less profitable.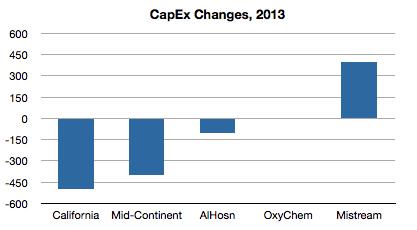 Chart by author, data from 4th Quarter 2012 Earnings Call
By both improving efficiency and the outright cutting of less efficient segments, CapEx has dropped from 10.2 billion to an expected 9.6 billion in 2013 without affecting production growth. In the chart above, only the Midstream segment increased in CapEx due to the building of the BridgeTex Pipeline. Reductions in spending in California and the Mid-Continent (mostly the Bakken Shale) shouldn't be a surprise to those familiar with CEO Steve Chazen's plan. Two quarters ago he singled out these two geographies as opportunities for improvement:
On Elk Hills Field Production
You know, the only way I can assure that they are getting the squeal out of every dollar that they spend is to tighten their capital rather than give them more money.
On The Williston Basin
Our production in the basin has tripled since we entered the area over a year-and-a-half ago. We have recently slowed our drilling activity, and significantly reduced our rig count in the basin as a result of cost pressures.
Source: Occidental Q3 2012 Earnings Conference Call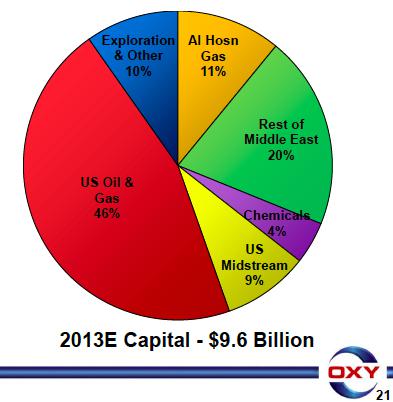 Credit Suisse 2013 Energy Summit
Al Hosn Gas Project Will Drive Dividend Growth
Construction of a Liquid Natural Gas [LNG] plant in the UAE has been a large consumer of capital for Occidental in the past few years. As of the last report, the Al Hosn Gas Plant is 65% complete and set to use over $1 billion in capital for 2013.
Once Al Hosn is operational in late 2014, it will produce NGLs and condensate and will begin to contribute to free cash flow. At current oil prices and "conservative" sulfur prices it should provide $600 million in free cash flow annually. Based on the 2013 capital spend for the project, the result will be a $1.6 or $1.7 billion increase in free cash flow. This should be another catalyst for dividend growth in the future.
Summary
Oxy's last quarter results were everything we should have expected. CEO Steve Chazen is substantially improving efficiencies while maintaining growth levels above all major oil companies. I suspect that returns on capital should also remain high. The company has been unabashedly biased to crude oil over natural gas and has substantial oil production growth. Most of all, dividend investors will continue to enjoy outsized increases.
Stay Tuned
I intend on following Occidental and writing update articles when relevant and material.
Disclosure: I am long OXY. I wrote this article myself, and it expresses my own opinions. I am not receiving compensation for it (other than from Seeking Alpha). I have no business relationship with any company whose stock is mentioned in this article.