Shares of Under Armour (NYSE:UA) jumped higher following a record year of revenue and earnings in 2012. Additionally, the company posted its 11th consecutive quarter of 20+% revenue growth. Under Armour is firing on all cylinders and continuing to increase sales in apparel, footwear, and accessories. One could certainly argue that the company deserves high price multiples given its current positioning in the marketplace. However, investors who want to hold rapidly growing companies in their portfolios are due to experience significant volatility. It appears shares of UA offer a high level of risk at current levels, and I believe investors belong on the sidelines until we see a pull back in price.
Under Armour management provided a great deal of guidance for the current year during the latest earnings announcement. Throughout this article, I will reflect on what management estimates in the coming year and provide my thoughts on the fair valuation of this stock's shares.
Current Valuation
Shares of Under Armour currently sit near the highest valuation since this company became publicly traded. Short interest has been building in Under Armour and just over 20.8% of the shares are sold short (Yahoo Finance as of January 31, 2013). The charts below show quarterly trailing twelve month Price-to-Sales and quarterly trailing twelve month Price-to-Earnings ratios. As you can see, we are slightly off the highs, but still trading at very lofty valuations. The current TTM P/S ratio is 2.91x while the current TTM P/E ratio is 41.5x.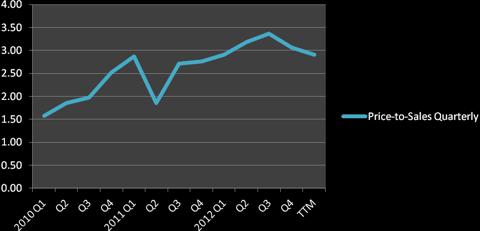 Source: UA SEC Filings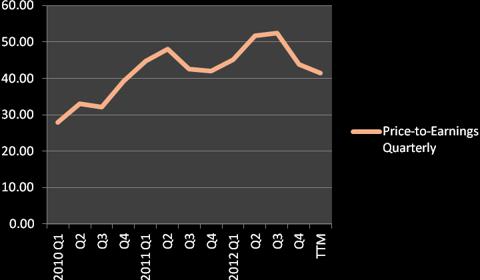 Source: UA SEC Filings
How does Under Armour stack up when compared to competitors? Nike (NYSE:NKE), although at a very different stage of corporate growth from Under Armour, is the best fit competitor. Shares of Nike trade at just over 24x TTM earnings. Similar competitors such as Columbia Sportswear (NASDAQ:COLM) and VF Corporation (NYSE:VFC), which owns the NorthFace Brand in addition to multiple other labels, trade at roughly 17x earnings each. Although these companies may not capture the same consumer that Under Armour is striving for, they provide a good proxy for athletic retail competition. Another comparison would be the rapidly growing LuluLemon Althletica (NASDAQ:LULU). Shares trade at 42x TTM earnings and offer similar volatility to that of UA.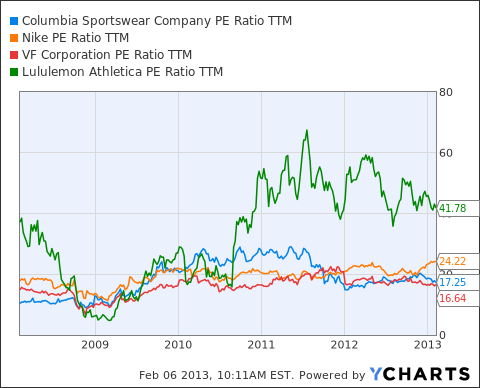 COLM PE Ratio TTM data by YCharts
My Thoughts on the Future
Management provided further clarity on the current year during the recent earnings call. Quarterly estimates will be provided during future earnings announcements, but for now we have a blueprint to model out the current year. Below are some relevant points I factor into my estimates:
Management is projecting full year revenue of $2.20-$2.22 billion, representing 20-21% growth year over year. My estimates assume the low end estimate of 20% growth.
"We expect modest gross margin expansion from 2012." I estimate 8 basis points of gross margin improvement, from 47.92% to 48%.
Management anticipates marketing expenses to remain flat as a percentage of revenues from 2012.
Management anticipates modest operating margin expansion year over year. I estimate 25 basis points of operating margin improvement from 11.37% to 11.62%.
Management anticipates operating income of $255-$257 million. My estimates are in the middle of this range, roughly $255.9 million.
An effective tax rate of 39.5%
Diluted share count of 108-109 million (I use 109 million in my model)
Please note that the estimates below are not guaranteeing any of the results will be met. These estimates are strictly based upon management's guidance, the company's SEC filings, press releases, and historical data.
| | | | | | | |
| --- | --- | --- | --- | --- | --- | --- |
| | 2013 | | | 2014 | | |
| | Full Year Estimate | CS | YOY Growth | Full Year Estimate | CS | YOY Growth |
| Revenue | $2,201,905,200 | 100.00% | 20.00% | 2,598,248,136 | 100.00% | 18.00% |
| Cost of Revenue | $1,144,990,704 | 52.00% | 19.82% | 1,348,490,783 | 51.90% | 17.77% |
| Gross Profit | $1,056,914,496 | 48.00% | 20.20% | 1,249,757,353 | 48.10% | 18.25% |
| Selling, General and Admin Exp | $801,000,000 | 36.38% | 19.44% | 940,000,000 | 36.18% | 17.35% |
| Operating Income | $255,914,496 | 11.62% | 22.63% | 309,757,353 | 11.92% | 21.04% |
| Interest Expense | -$6,165,335 | -0.28% | 18.95% | -7,275,095 | -0.28% | 18.00% |
| Pretax Income | $262,079,831 | 11.90% | 28.82% | 317,032,448 | 12.20% | 20.97% |
| Provision for income taxes | $103,521,533 | 4.70% | 38.66% | 125,227,817 | 4.82% | 20.97% |
| Net Income | $158,558,297 | 7.20% | 23.13% | 191,804,631 | 7.38% | 20.97% |
| | | | | | | |
| Basic Shares Outstanding | $107,000,000 | | | 109,000,000 | | |
| Basic EPS | $1.48 | | | $1.76 | | |
| Diluted Shares Outstanding | $109,000,000 | | | 111,000,000 | | |
| Diluted EPS | $1.45 | | | $1.73 | | |
Source: Under Armour SEC Filings, Under Armour Management Guidance, and my estimates based upon historical data and future expectations. Estimates given above are no guarantee of future results, please evaluate the company in greater detail before making investment decisions.
Estimated Valuation
As mentioned earlier, shares of Under Armour currently trade at just under 42x trailing twelve month earnings. Assuming the company can continue to grow revenue at +20%, improve operating margins, and grow EPS just under 20% (which management projects), a high multiple is likely warranted. Assuming my projections above lean towards the conservative side, and the stock trades at 37x TTM earnings (12% below current valuation levels) in FY13 and 34X TTM earnings (19% below current valuation levels) in FY14:
End of Fiscal year 2013 value = $1.45 diluted EPS X 37x P/E ratio = $53.65 per share, roughly 6.23% from current levels
End of Fiscal year 2014 value = $1.73 diluted EPS X 34 x P/E ratio = $58.82 per share, roughly 16.48% from current levels
Note that my assumption does not include any dividends. The company currently does not pay a dividend, and I anticipate no distributions for the next few years as earnings and cash flow are reinvested in the company's growth. However, any change in this policy will affect the returns mentioned above.
Another metric to value shares is the discounted free cash flow analysis. It appears the company's operating cash flow will begin to stabilize moving forward. Assuming this assumption is correct, we can begin to estimate future free cash flow. Free cash flow in 2012 was $149 million, assuming this grows at 18% annually, the values are as follows:
| | | | | | |
| --- | --- | --- | --- | --- | --- |
| | 2012 | 2013 | 2014 | 2015 | 2016 |
| FCF | $149,000,000 | $175,820,000 | $207,467,600 | $244,811,768 | $288,877,886 |
Using a discount rate of 10% and a terminal growth rate of 6%, we arrive at a current share price of $56.43, roughly in line with our earnings multiple valuations.
Please note that all valuation techniques are estimates only. Changing assumptions regarding the price multiple, discount rate, or growth rate can alter your estimated share price.
Gross Margin Concern
As Under Armour continues to grow operations, there are minor stumbling blocks along the way. One concern the company has experienced over the past few quarters is gross margin compression. Part of this is being handled by better inventory management control, however, issues still remain. A few reoccurring problems were reiterated during the recent earnings call:
"Our sales mix was adversely impacted by moving through a higher rate of excess inventory at our Factory House stores, as well as a higher mix of Footwear which carries lower margins than other product categories. Combined, these factors negatively impacted gross margins by approximately 80 basis points."
"Given our previously outlined supply chain challenges, we had to air freight some product which negatively impacted gross margins by approximately 50 basis points."
Again, these are minor challenges which I believe the company will be able to overcome. Remarkably operating and net profit margins have been unaffected by the gross margin compression (see chart below). This shows the strength of Under Armour's management team's ability to control expenses and not lead to profit deterioration.

Gross Margins-right hand scale, Operating and Net margins-left hand scale
Source: UA SEC Filings
Conclusion
While I am a fan of the Under Armour brand and a believer in the growth potential of this company, current valuations suggest patience is the best course of action. I would need to see either a pull back in share price or a major catalyst to change my rationale. While catalyst could come from various sources (further international expansion, greater acceptance of new shoes, or unanticipated new product launches, to name a few), given the high level of risk at current valuations, taking a position in the stock today while being hopeful of something materializing appears somewhat irrational.
Consider your investment goals and objectives before initiating a position in Under Armour and please remember that the value of investments in equity securities, like UA, will fluctuate in response to general economic conditions and to changes in the prospects of particular companies and/or sectors in the economy. Since I attempt to tailor my estimates above conservatively, any upside surprises would be beneficial, however, my investment position remains cautious.
Note: All data reported and graphed is pulled directly from Under Armour's SEC Filings and Investor Presentations
Disclosure: I have no positions in any stocks mentioned, and no plans to initiate any positions within the next 72 hours. I wrote this article myself, and it expresses my own opinions. I am not receiving compensation for it (other than from Seeking Alpha). I have no business relationship with any company whose stock is mentioned in this article.