There's been a battle brewing over the last couple of days over Amarin (NASDAQ:AMRN), with SA Contributor Alex Heisenberg in one corner squaring off against TheStreet.com's Adam Feuerstein. I'll review the tussle, both the bullish and bearish arguments here, and also show why I'm in the middle and investigating a relatively safe way to play Amarin going forward.
From its website, "Amarin Corporation is a biopharmaceutical company focused on the commercialization and development of therapeutics to improve cardiovascular health. Amarin's product development program leverages its extensive experience in lipid science and the potential therapeutic benefits of polyunsaturated fatty acids. Vascepa® (icosapent ethyl) is Amarin's first FDA approved product and is available in the United States by prescription."
Heisenberg vs. Feuerstein
Heisenberg and Feuerstein took noticeably different stances on Celsion (NASDAQ:CLSN) recently, whose Phase III results released last month wound up crippling both the share price and (presumably) the company. Heisenberg thought he had the Phase III results pinned for success and was dead wrong. Feuerstein was cited for his Feuerstein-Ratain rule in a Motley Fool article; a rule that both Heisenberg and I still take with a huge grain of salt. However, Feuerstein's rule was dead on, yet again. The rule is explained as follows:
Although the ranks of extremist biotech investors don't like to admit it, the Feuerstein-Ratain Rule has a perfect record when predicting micro-cap phase 3 oncology trial success. The rule is named after Adam Feuerstein, a senior columnist at TheStreet.com, and Dr. Mark Ratain, an oncologist from the University of Chicago, who published a study in JNCI in October 2011 explaining their observations. After looking at the outcomes of 58 phase 3 cancer trials over the past 10 years, the pair found that companies with a market cap less than $300 million several months before the release of trial results were 0-for-21, whereas companies with a market cap exceeding $1 billion were a respectable 21-for-27. Ouch.
The rule was one of the four big signs I ignored as I searched for clues into the potential outcome for Celsion's results. I noted in a previous article:
TheStreet's Adam Feuerstein first came up with a rule for micro-cap biotech stocks, which states that biotechs with a market cap under $300 million have had a 100% failure rate with Phase III cancer studies. Going into this trial, the F-R rule was 22 out of 22. I was banking on Celsion to be the exception to this rule.

Call me hard headed, but I still don't believe in the validity of this rule. I'm from the same school of thought as Alex Heisenberg on this rule and its application to Celsion. Alex offers up several concrete, logical reasons as to why this rule could have not applied to Celsion. Turns out, it was another item that we were both seemingly dead wrong on.

This rule is up for investors to look at and judge whether it's a worthy instrument. I cannot, for the life of me, find any kind of direct correlation between a company's market cap 120 days prior to data being released and the actual scientific data contained therein. This could also be why I'm not a biotech stock picking expert.

For whatever reason, I acknowledge that it held true here and offer up a congratulatory pat on the back to Feuerstein for continuing to find success with his model.
The War Over Amarin
The tussle over Amarin started with Heisenberg putting out an article that started with :
It is finally official now. One-trick pony Amarin Corporation finally has its Vascepa "drug" available for prescription and sale and is 100% depending on its sales reps to push it (as opposed to a partner or sale of the company). I say "drug" in quotes because even though it's only available by prescription, Vascepa is simply an omega-3 fatty acid supplement. Omega-3 fatty acids are also marketed by other companies as non-prescription dietary supplements. As a result, Vascepa would be subject to non-prescription competition and consumer substitution. What supposedly distinguishes Vascepa from other fish oil pills is that it is "not less than 96%" ethyl eicosapentaenoic acid (EPA) while other fish oil pills contain a significant amount of docosahexaenoic acid (DHA) which is said to raise "bad" cholesterol as a side effect with traditional fish oil pills.
The article, after making some cogent points (such as the fact that Vascepa and Lovaza have not been compared in head-to-head trials), sparked intense outrage from a lot of Amarin supporters. Troves of Amarin longs left scathing commentary on Heisenberg's article. One comment by a long called Heisenberg "a disgrace to humanity" for writing such an article -- the comment was subsequently removed.
Feuerstein, the unlikely hero for Amarin longs, was quick to fire back:
I found Heisenberg's takedown of Amarin (AMRN) posted to Seeking Alpha on Wednesday night to be riddled with errors and faulty logic. I've done my share of stating the bear case on Amarin but Heisenberg gets a lot of stuff wrong.

Heisenberg's base assumption is that Amarin's prescription-grade fish-oil pill Vascepa is no different from the fish-oil supplements available in grocery stores. That's not true. Vascepa contains ultra-purified ethyl-EPA, an omega-3 fatty acid. The FDA reviewed and approved Vascepa as a pharmaceutical product, available by prescription only. Vascepa is a drug, just like GlaxoSmithKline's (GSK) Lovaza is a drug.

The fish-oil supplements available over the counter contain lesser amounts of EPA and at a degraded purity. These supplements have not been reviewed by FDA and are not drugs.
Heisenberg then penned an Instablog in which he says:
Though I grown to respect your research and viewpoints, Adam Feuerstein, you didn't critique a single thing properly in this instance. Perhaps I should have made my points more clear, and you wouldn't have made the sloppy misreads that you did.
Heisenberg then asks for a retraction from Feuerstein:
Yes, you completely misread my point to the opposite polar extreme, and I'd appreciate a retraction in a future article.
At which point Feuerstein deftly and concretely states that it's not happening:
You need a better editor, and no, you won't be getting a retraction from me.
Feuerstein finally concludes:
Vascepa appears better than Lovaza. The biggest advantage being Vascepa maintains or lowers LDL-c while Lovaza causes an increase.

Alex is correct, however, when he says Vascepa and Lovaza have never been tested directly against each other.
Investing in Amarin
So, if you're looking for drama and you're tired of the Icahn vs. Ackman debate, why not take a position on Amarin here and watch the fun unfold?
Amarin has fared well over the last year -- after its FDA approval, the stock rocketed to upwards of $16 before falling recently after not being bought out and not finding a major pharmaceutical partner to go with for sales and distribution.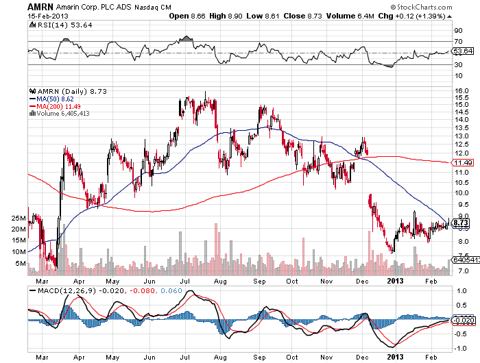 The Bullish Case:
The bullish case on Amarin is really simple -- they've got what looks to be the most effective prescription based Fish Oil product on the market in Vascepa.
1. In its trials, Vascepa significantly lowered triglyceride levels in patients with extremely high baseline levels.
2. Feuerstein thinks the poor launch and DIY sales strategy is already priced into Amarin's share price, as it's off 60% already from its highs.
3. If executed correctly, Vascepa could be looking at sales of $1-$2 billion annually.
4. There is still a chance of a buyout at this stage.
The Bearish Case:
1. The launch of Vascepa is going to be tough. Without a major pharmaceutical partner, Amarin is going to have a small budget to try and compete with GSK's Lovaza. They're going to have a small sales force and not have the advertising and branding power that a company like GSK has.
2. Heisenberg feels like there's going to be competition from over the counter fish oils, despite the radical EPA content difference.
3. Feuerstein admits :
Amarin may have trouble turning the drug into a blockbuster. On this point, I agree with Heisenberg.
4. Heisenberg points out substantial insider selling and lack of buying since the FDA approval.
How I'd Play Amarin Going Forward:
A great way to make some safe money off of Amarin going forward is with a January 2015 options spread. By that point Amarin will have most likely fulfilled the bearish or bullish argument one way or another and we'll have a serious gauge as to the marketable success of Vascepa and Amarin's pipeline going forward.
If you're long the company, you can simply buy stock, write covered calls, scoop up the big premiums and go long puts for further insurance.
Buying an $8 options straddle for January '15 offers you potentially unlimited upside and also keeps a stop-loss in place with a breakeven of a little over two bucks if things go horribly wrong for Amarin.
January '15 $8 calls are priced at $3.05 and $8 puts are priced at $2.50. This makes breakeven points of $13.55 and $2.45. With substantial time in between now and expiration, this is a safe way to make some money while following the Amarin story going forward.
Disclosure: I have no positions in any stocks mentioned, and no plans to initiate any positions within the next 72 hours. I wrote this article myself, and it expresses my own opinions. I am not receiving compensation for it (other than from Seeking Alpha). I have no business relationship with any company whose stock is mentioned in this article.