American International Group (NYSE:AIG) is recovering from the debacle of 2008. Many are wondering whether or not American International Group is a company worth investing back in to. The company has a lot of potential for those who are willing to commit a long-term position in the stock.
Qualitative Analysis
The company has a rather large and generous margin of safety. Furthermore, this is an investment for those who want to invest strictly based on the balance sheet of the business. In 2012, the tangible book value improved due to share repurchases.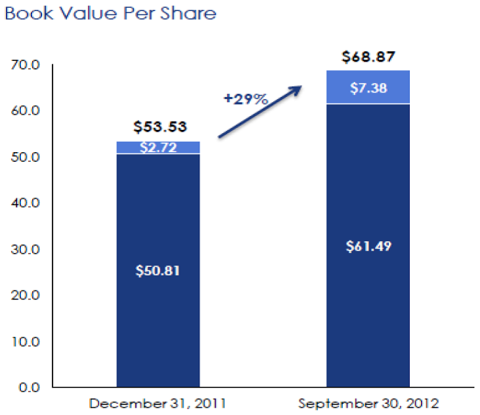 The company has been able to increase the book value of its balance sheet by 29% over the previous year. This occurred because of a share repurchase worth $13 billion. The stock currently trades at $38.60. I anticipate the stock to trade near its tangible book value of $68.87. Therefore the stock could have 80% upside based upon the book value of the stock.

In 3Q 2012, the company was able to increase the net premiums written by 4%, this further backs the assumption that the company is self-sustaining. The operating income improved from -$175 million to $578 million. A small improvement in sales drastically improved the amount of income generated from operations.

Furthermore the loss ratios declined from 66.6% down to 58.5%. The expense ratio gradually increased but the losses from claims declined enough to offset the increases in expenses. This means that AIG is doing a better job of underwriting its insurance claims. Insurance is a very sustainable and predictable business when the business is managed properly.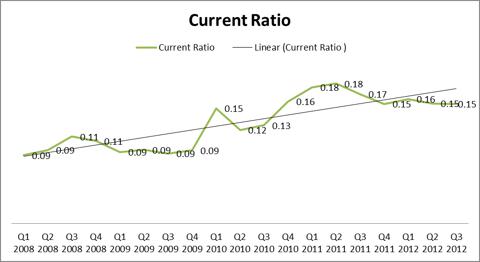 The balance sheet risk seems to have been reduced over the past four years. The current ratio improved from 0.09 to 0.15 over the period analyzed. The amount of current assets relative to current liabilities have improved by 66% over the period. The linear trend line shows that the current ratio has been on an uptrend. The company has been better about setting aside cash in order to meet its short-term obligations. This type of trend can be seen as a positive because it means that AIG is reducing its immediate risk of defaulting on its short-term obligations, which should reassure investors that AIG's financial position has been consistently improving over the past four years.
If investors can stomach volatility, this is a good investment to be in.
Technical Analysis
The stock has been on a continuous uptrend since November 2011. I believe that the stock will be able to sustain this momentum based on market sentiment and the underlying fundamentals of the stock.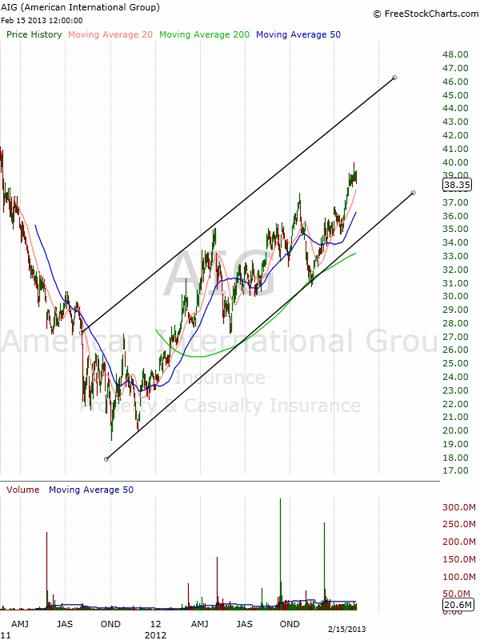 Source: Chart from freestockcharts.com
The stock is trading above the 20-, 50-, and 200- Day Moving Averages. The stock will experience further upside through 2013, as investors have underestimated the value and growth prospects of the company.
Notable support is $23.00, $27.30, and $32.00 per share. Notable resistance is $46.00, $50.00, and $60.00 per share.
Street Assessment
Analysts on a consensus basis have high expectations for the company going forward.
| | | | | |
| --- | --- | --- | --- | --- |
| Growth Est | AIG | Industry | Sector | S&P 500 |
| Current Qtr. | -113.40% | -99.90% | -93.80% | 9.50% |
| Next Qtr. | -48.50% | -99.80% | -92.70% | 15.30% |
| This Year | 266.70% | 99.80% | 23.30% | 7.20% |
| Next Year | -6.70% | 20.80% | 6.90% | 13.10% |
| Past 5 Years (per annum) | -42.91% | N/A | N/A | N/A |
| Next 5 Years (per annum) | 21.93% | 13.20% | 10.60% | 8.72% |
| Price/Earnings (avg. for comparison categories) | 9.41 | 19.56 | 13.83 | 14.69 |
| PEG Ratio (avg. for comparison categories) | 0.43 | 1.67 | 0.95 | 1.41 |
Source: Table and data from Yahoo Finance
Analysts on a consensus basis have a 5-year average growth rate forecast of 21.93% (based on the above table). This growth rate is above the industry average for the next 5-years (13.20%). Analysts anticipate higher growth based on its ability to manage costs better. A slight decrease in insurance losses can have a drastic affect on profitability. Analysts assume that AIG's reduction in costs plus an increase in the number of policies written can generate substantial earnings growth that beats its peer comparisons. The assumptions analysts are making can be backed by the 4% increase in policies written, and the 8.1% reduction in its loss ratio that was mentioned earlier in the article.
| | | | | |
| --- | --- | --- | --- | --- |
| Earnings History | 11-Dec | 12-Mar | 12-Jun | 12-Sep |
| EPS Est | 0.63 | 1.12 | 0.57 | 0.86 |
| EPS Actual | 0.82 | 1.65 | 1.06 | 1 |
| Difference | 0.19 | 0.53 | 0.49 | 0.14 |
| Surprise % | 30.20% | 47.30% | 86.00% | 16.30% |
Source: Table and data from Yahoo Finance
The average surprise percentage is 44% above analyst forecast earnings over the past four quarters (based on the above table).
Forecast and History
| | | |
| --- | --- | --- |
| Year | Basic EPS | P/E Multiple |
| 2003 | $ 3.10 | 21.38 |
| 2004 | $ 3.77 | 17.42 |
| 2005 | $ 4.03 | 16.93 |
| 2006 | $ 5.38 | 13.32 |
| 2007 | $ 2.40 | 24.29 |
| 2008 | $ (37.84) | - |
| 2009 | $ (93.69) | - |
| 2010 | $ 14.75 | 3.27 |
| 2011 | $ 8.60 | 2.7 |
| 2012 | $ 3.74 | 9.41 |
Source: Data from shareholder annual report
The EPS figure shows that throughout the 2003-2006 period, earnings were growing due to favorable economic conditions. Following that, AIG was adversely affected by the great recession. Between 2007-2009, net income rapidly declined. AIG eventually logged the biggest loss in corporate history. During 2010, the company was able to generate a profit by restructuring the company; this involved selling business units, which inflated earnings by $17.7 billion. Once the United States economy exited the recession in 2010-2012, the company's earnings have improved, albeit gradually.
In 2011, the abnormal earnings of $8.60 were due to a provisional benefit from taxes worth $18.03 billion. The improvements in net income for 2010-2011 were one-time events and should not be considered a part of the long-term earnings growth trend. So in essence, 2012 is likely to be the most normal year for AIG out of the past 5 years.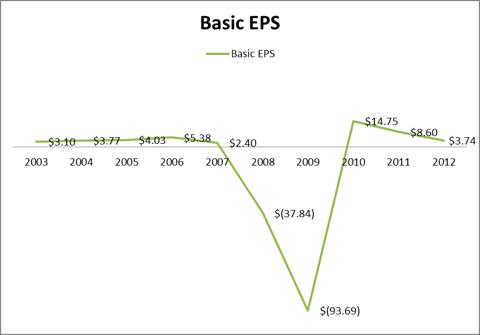 Source: Data from shareholder annual report
By observing the chart we can conclude that the business is somewhat cyclical and is affected by macroeconomics. Therefore one of the largest risk factors to AIG is the slowing of international gross domestic product growth. So as long as the global economy continues to grow, the company will generate reasonable returns over a 5-year time span based on the forecast below.

By 2018, I anticipate the company to generate $10.19 in earnings per share. This is because of earnings growth, improving global outlook, earnings management and continued development overseas.
The forecast is proprietary, and below is a non-linear chart indicating the price of the stock over the next 5-years.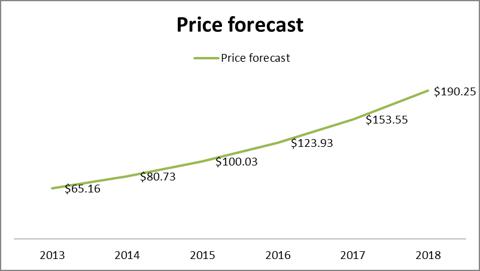 Below is a price chart incorporating the past 10 years and the next 6 years. Detailing 16 years in pricing based on my forecast and price history on December 31st of each year.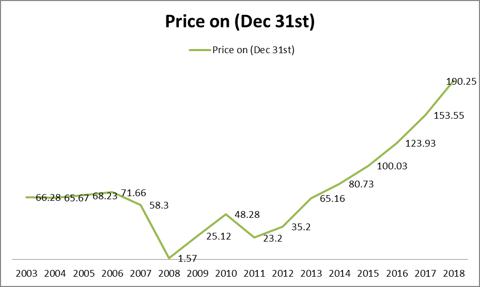 Source: Data from shareholder annual report, and price history is from Yahoo Finance.
*The period 2003-2008 were price quotes based on pre-split stock prices (multiply by 20 to accurately calculate the price of the shares between 2003 and 2008). On 7/01/2009 the stock had a 1:20 split (reverse split).
Investment Strategy
AIG currently trades at $38.35. I have a price forecast of $65.16 for December 31st, 2013. I anticipate the stock will experience a sudden rally based on historic valuation and book value. I factored that into my price forecast, making it an important component behind the sudden jump in stock valuation despite the gradual improvement in anticipated earnings.
Short Term
Over the next twenty-four months, the stock is likely to appreciate from $38.35 to $65.16 per share. This implies 70% upside from current levels. The technical analysis indicates an uptrend. While the previously mentioned price forecast using fundamental analysis further supports the trade set-up.
Investors should buy AIG at $38.35 and sell at $65.16 to pocket short-term gains of 70% between 2013 and 2014. This return on investment is exceptional for short-term investors.
The LongTerm
The company is a decent investment for the long term. I anticipate AIG to deliver upon the price and earnings forecast despite the risk factors (competition, regulation, economic environment). AIG's primary upside catalyst is international expansion, growth, share buy-backs, and managing costs. I anticipate the company to deliver upon my forecast price target of $190.25 by 2018. This implies a return of 396% by 2018. This is a phenomenal return for an insurance stock.
A higher yielding investment opportunity- albeit having higher risk- is to buy the Jan 17, 2015 calls at the $45.00 strike. The call premiums trade at $3.81. The price forecast for the end of 2014 is $80.73. The rate of return if the calls expire at $80.73 is 837.95%, the option will break-even when the stock trades at $48.81.
The call premiums are cheap because investors who are short AIG calls do not anticipate the stock to trade near tangible book value over the short-term. Furthermore the risk-to-reward is high, but so is the risk (3.5 beta).
AIG has a market capitalization of $56.6 billion; the added liquidity makes this an investment opportunity appropriate for larger institutions that require added liquidity.
Conclusion
The company is resilient. AIG's balance sheet continues to improve while the stock is heavily undervalued. The stock is a great investment for those who have the risk appetite for it.
The conclusion remains simple: buy AIG.
Disclosure: I have no positions in any stocks mentioned, but may initiate a long position in AIG over the next 72 hours. I wrote this article myself, and it expresses my own opinions. I am not receiving compensation for it (other than from Seeking Alpha). I have no business relationship with any company whose stock is mentioned in this article.
Additional disclosure: I may consider opening a naked option on AIG over the next several weeks.
Source: Information pertaining to AIG came from the shareholder annual report, shareholder quarterly report, investor presentation, along with YCharts.