There is no argument that Netflix (NASDAQ:NFLX) has been one of the best performers so far this year. The streaming giant rallied strongly after an impressive earnings report, and shares have continued higher and higher. When it comes to certain names like Netflix and Amazon (NASDAQ:AMZN), there are plenty of non-believers who look at each company's price to earnings ratio. With those ratios being sky high in recent years, investors have tried to play the short side. In recent times, that trade has not worked. Currently, Amazon doesn't even have a trailing twelve month price to earnings ratio because the company lost money in 2012.
That's why I've been arguing at times that you have to value Amazon using the price to sales ratio. The same can be true for Netflix. Netflix's earnings bounce around like a ping pong ball depending on if the company expands internationally. When the stock was below $100, the company actually looked cheap on a price to sales basis. However, the recent rally has pushed the valuation to the point where even the price to sales ratio doesn't work. Today, I'll explain why at this point, the risks for Netflix outweigh the potential rewards.
Why use price to sales?
When it comes to a company like Netflix, the business strategy isn't always to generate the highest level of profits. Netflix is concerned with growing its subscriber base, which is the same as growing their revenues. But to do this, the company must spend more on content, both domestically and internationally. As Netflix expands into more and more countries, they need to build up their content libraries in those countries, as well as spend heavily on marketing. Thus, when Netflix has expanded internationally in recent quarters, profits have sometimes been lower than they could have been.
I described this phenomenon in my most recent Netflix article, describing why shareholders were paying 6 bucks for a penny. In terms of price to earnings, Netflix shareholders were paying almost six dollars for each penny of Netflix earnings over the past twelve months. That number is actually getting closer to seven bucks at this point. Amazon saw the same trend. In late 2011, investors were paying about $1.50 for every penny of Amazon earnings. That number went over $2, then $3, and so on. Like I mentioned above, Amazon has actually lost money over the past year, so the price to earnings multiple doesn't even work anymore. If Netflix were to lose money, the same would be true.
I mentioned in that past Netflix article that the company's net income in 2012 was at its lowest point since 2003. Back in 2004, Netflix had yearly revenues of just $500 million, but produced a profit of about $21.6 million. In 2012, the company had revenues of more than $3.6 billion, but a profit of just $17.15 million. During 2012, Netflix expanded into the UK, Ireland, and four countries in Scandinavia. That has helped to boost revenues, but send profits lower and lower.
That's why those that are bullish in Netflix point to its growing revenues (and subscribers). Current estimates call for the company to grow revenues by 18% this year to $4.26 billion and another 15% next year to $4.9 billion. The table below shows how Netflix's revenues have grown and are expected to. Dollar values in thousands.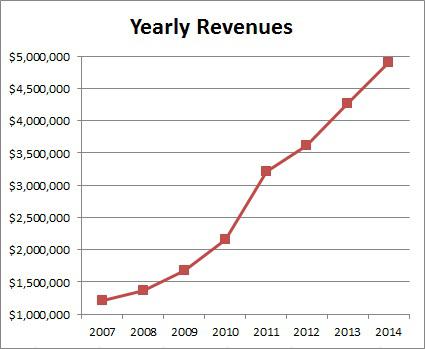 The DVD ceiling:
Netflix does have a partial limit to its growth for the next couple of years, as the company abandons its DVD segment. We believe that this is their plan, although as I'll detail in a minute, we really aren't sure. The table below shows Netflix's DVD revenues by quarter, in millions. They have come down tremendously already, although the pace of their fall has lessened a bit.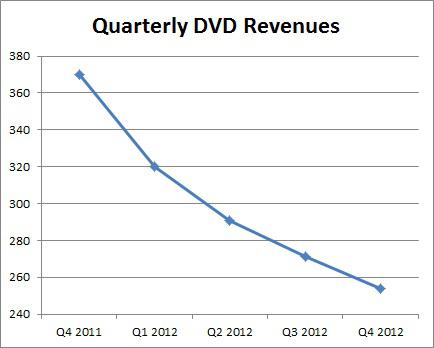 However, there is still plenty of room to fall. In the fourth quarter, Netflix's DVD revenues still were 27% of the company total. When you eliminate that chunk of your revenues, you have to make it up somewhere else. Netflix is doing that as they grow their subscriber base both domestically and internationally, but still, it does provide a bit of a ceiling.
The real question though is do they actually want to eliminate the DVD segment? As everyone knows, the DVD segment is the much more profitable one. Segment contribution margins for DVD were running around 50% compared to about 20% for domestic streaming. It appeared that Netflix was all set to abandon the DVD segment completely. However, in the fourth quarter, they actually decided to focus on it again. The company actually made an effort to market the DVD segment a little, which I'm guessing is due to the continued delays in launch of Redbox Instant, the DVD/streaming service powered by Coinstar (NASDAQ:CSTR) and Verizon (NYSE:VZ). I'll have more on Redbox Instant later in this article. As the chart below shows, Netflix's DVD marketing expense was higher than in the year ago period, despite several million less subscribers. I would have liked to take this chart back another year or so, but only in Q4 of 2011 did Netflix start providing this data. Dollar values in thousands.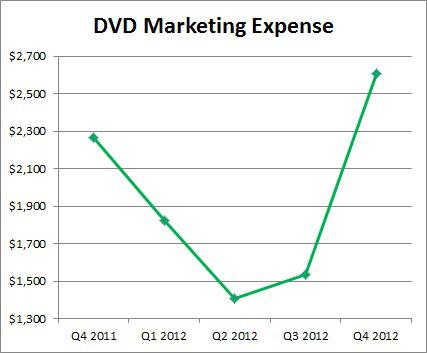 Price to sales comparisons:
With the recent strong rally in Netflix shares, the company's valuation has stretched way too much, even on a price to sales basis. The following table shows Netflix against Amazon, Apple (NASDAQ:AAPL), and Coinstar. The table shows both projected revenue growth for each year, along with the price to sales ratio based on those currently expected revenues for each.

*Fiscal year growth, which ends in September. Also, the 2013 figure is adjusted for the extra week in previous fiscal year.
Other than Coinstar trading at a really low valuation, does Netflix's valuation fit against Amazon and Apple? Not really in my opinion. Netflix trades at a premium to Amazon, and offers a lot less revenue growth. Netflix and Apple have comparable revenue growth, but Apple is also an extremely profitable company, has tons of cash and financial flexibility, a dividend, and is buying back stock. Going into Netflix's Q4 report, the company was trading at about 1.42 times expected fiscal 2013 revenues. Revenue expectations have come up a bit, from $4.07 billion to $4.26 billion, but the stock has gone from $103 to $196. That's a little too far, too fast.
Ever increasing competition:
Netflix cannot argue that competition is not increasing. Amazon just launched Prime Instant Video two years ago, and Redbox Instant is also working on launching. These aren't Netflix's only competitors, as you could also include Hulu Plus, HBO GO, and even any movie package available along with your cable package.
In its fourth quarter investor letter, Netflix included a comparison between its service, Prime, Hulu Plus, and Redbox Instant. Netflix looked at its top 200 titles - the 100 most popular movies and 100 most popular television shows. Netflix bragged that they had the most content, because Prime only had 73 of those 200 titles and the other two services had much less. The three services combined only represented 87 of those 200 titles, with significant overlap. Netflix provided the following comment on this matter:
In other words, when it comes to the most popular content with members on Netflix, none of these services are good substitutes to Netflix.
In addition to this being pure arrogance in my opinion, Netflix doesn't provide any historical data on this! That's right, this was only during Q4 of 2012. Does Netflix state what these numbers were like 6 months ago? No. Do they say what these numbers were like a year ago? No. Do they mention that just about two years ago, Prime Instant Video did not even exist. No. So while Amazon only has 73 of the Netflix top 200, they might have had just 50 a year ago, or even less! Just to highlight my point, the following chart shows the growth in Prime Instant's library over the past two years.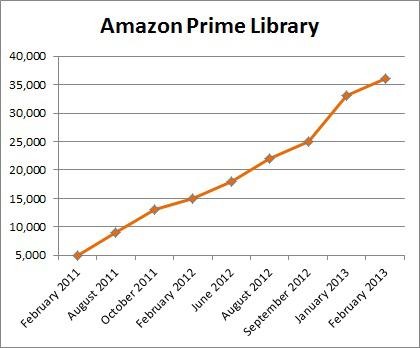 In February 2011, Amazon started this service with about 5,000 titles. When Amazon announced their most recent content agreement, they stated that the collection was up to 36,000 titles. A year from now, that library could be 50,000, 60,000, or more. Will Netflix provide a comparison again if Amazon is then at 100, 125, or even 150 of Netflix's top 200? Probably not.
The moral here is that competition is increasing fast, and Netflix seems to laugh off that fact at times. The fact that they are boasting about having a lot more content than Redbox Instant, a service that has not even officially launched yet, shows that they have no clue. As a comparison, this would be like the New York Yankees stating they have won about 10,000 games in their history while the Tampa Bay Rays have won just about 1,100. Sure, the numbers are true, but the Yankees have been around a lot longer. Amazon will continue to build their content library, and so will Redbox Instant.
The big risks right now:
Obviously, the biggest risk right now is increased competition from current players. Prime is getting stronger, and I don't think Amazon will stop purchasing content anytime soon. Redbox Instant will launch fully soon, which not only adds another streaming player, but could hurt Netflix's DVD segment as well. Part of the Redbox Instant plan includes credits for DVDs or Blu-rays, which could accelerate Netflix's DVD subscriber losses if Netflix stops marketing that segment again. You also have international competitors such as HBO Go in Scandinavia and BSkyB's service in the UK.
The second big threat is that a huge name could enter the market, someone such as Apple or Google (NASDAQ:GOOG), which owns YouTube. Either of these large names entering the space would probably cause Netflix shares to drop overnight, because either of these names could crush Netflix if they truly wanted to. Apple has enough cash right now that they could make Netflix's content pile look small if they wanted to. I stated in a recent Apple article that Netflix has been rumored to be a potential takeover target for Apple, but that I didn't think it would occur. My reasoning was that Apple doesn't make large acquisitions, and wouldn't want to pay north of $200 now for a company that was at $75 or so a couple of months ago. I thought Hulu could be a better acquisition for Apple. Apple is expected to launch a streaming music service at some point, so it is not out of the question that they could enter Netflix's space at some point either.
The third big risk right now is the hedge fund / institutional money trade. By this, I'm referring to any of the big boys, Carl Icahn, David Einhorn, etc. Netflix shares spiked when it was announced that Icahn had built a position, and part of the reason they continue to rise is that Icahn still holds that position. What happens though if we find out Icahn has exited his position, since he bought around $58 and we are now almost at $200? Well, I think Netflix stock could easily lose 10-15% overnight if we find out that Icahn has sold. I think we could also see a similar reaction if a big short were to enter the fray. We've seen the impact David Einhorn has had on names like Green Mountain Coffee Roasters (NASDAQ:GMCR). If Einhorn were to go short, Netflix would most likely drop.
Conclusion - a drop coming soon?
At this point, the Netflix rally has become even more stretched than it already was. I don't see a lot of reasons for the stock to continue rising in the short term. You might think that a further short squeeze could occur, but at the end of January, just 9.7 million shares were short. That's about half of the 17.2 million at the end of October, and I figure more have been covered since the end of January. There always will be short sellers involved in the name, so I can't see the number going too much lower.
Netflix certainly had a great quarter, so the stock deserved a bit of a rise. But a more than 90% rise in less than a month seems to be a bit much, wouldn't you agree? Netflix now trades at a more expensive valuation than Amazon, a company with faster revenue growth, and Apple. Apple has similar growth, tons of profits and cash, a dividend, and a buyback. Netflix may have looked reasonably valued on price to sales a few weeks ago, but it does not any more.
Disclosure: I have no positions in any stocks mentioned, but may initiate a short position in NFLX over the next 72 hours. I wrote this article myself, and it expresses my own opinions. I am not receiving compensation for it (other than from Seeking Alpha). I have no business relationship with any company whose stock is mentioned in this article.
Additional disclosure: Investors are always reminded that before making any investment, you should do your own proper due diligence on any name directly or indirectly mentioned in this article. Investors should also consider seeking advice from a broker or financial adviser before making any investment decisions. Any material in this article should be considered general information, and not relied on as a formal investment recommendation.