B&G Foods, Inc. (NYSE:BGS), a manufacturer, seller and distributor of shelf-stable food and household products, continues to be a great story that has emerged out of the recent recession. I started buying a few shares here and there back in 2009 and it has been net income growth and dividend increases ever since.
You may have wanted to add more shares for a couple years now, however, each time you would get close to an entry point they would report higher sales or increase the dividend, thus shooting the stock price higher. The recent stall on Friday February 15, 2013 could be an excellent opportunity to start a position or add to one.
A Reason for the Stock Price Decrease:
After paying an all-time high quarterly dividend in Q1 2013, B&G Foods stock saw a 6.82% decrease in Friday's stock price. This is probably because the net income just reported for Q4 2012 shows a YOY decrease from 12.26M in Q4 2011 to 9.56M for Q4 2012, a 22% decline.
But this shouldn't be cause for alarm; you have to look at the big picture which is that net income increased 17.97% in 2012, compared to the prior year.
The Big Picture:
If you look at B&G Foods over the last 5 years you see nothing but acquisitions, net income growth and dividend increases.
Recent Acquisitions:
Net Sales for 2012 increased $89.9 million or 16.5% to $633.8 million compared to $543.9 million for 2011. B&G Foods' acquisitions over the last couple years contributed significantly to this number.
2011: On November 30, 2011, B&G Foods acquired Culver Specialty brands. In 2012 this acquisition alone contributed $81 million in net sales.
2012: In October 2012, it purchased the New York Style and Old London brands from Chipita America, Inc. This recent acquisition right at the end of 2012 contributed $8.4 million in net sales. B&G Foods expects this acquisition to contribute to even higher gains in 2013.
Future Acquisitions:
B&G Foods runs on an acquisition model, where they buy strong brands with stable margin structures and manage those brands as cost effectively as possible, all the while looking for the next beneficial acquisition.
David L. Wenner, President, CEO and Director of B&G Foods affirmed the company's stance on acquisitions when he said this in the Q4 2012 conference call about B&G Foods' recent stock offering,
We also completed a stock offering that reduced our leverage in the business to a pro forma number right around 3.6 times adjusted EBITDA at year-end. This of course positions our company to execute any perspective acquisition that may arise in 2013 with speed and surety.
Net Income and Dividend Growth:
| Year | Net Income | YOY Inc/Dec | Dividends Paid | YOY Inc/Dec |
| --- | --- | --- | --- | --- |
| 2012 | $59.27M | +17.97% | $1.04 | +30% |
| 2011 | $50.24M | +55.16% | $0.80 | +17.65% |
| 2010 | $32.38M | +85.67% | $0.68 | no change |
| 2009 | $17.44M | +79.23% | $0.68 | -19.04% |
| 2008 | $9.73M | -- | $0.84 | -- |
Even with no increases to the current dividend of twenty-nine cents per quarter, 2013 will see an increase to dividends of 11.5% over prior year. Given the growth trend of the company in net income (see chart above), I would estimate that dividends in 2014 and 2015 would increase conservatively by 10% each year; this is assuming no major acquisitions are made. This would make yearly dividends $1.27 and $1.39, respectively.
The chart below shows how B&G Foods' stock has continued to grow since the recession, while offering very few pullbacks in stock price to start or add to a position.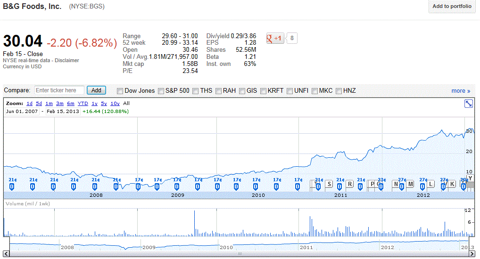 I see B&G Foods as a stable dividend growth stock for the future, one that would be great in any portfolio, and this may just be the time to buy for any of the numerous reasons mentioned.
Disclosure: I am long BGS. I wrote this article myself, and it expresses my own opinions. I am not receiving compensation for it (other than from Seeking Alpha). I have no business relationship with any company whose stock is mentioned in this article.