The market makes geniuses of contrarians who buck the trend against logic and sentiment in an environment that is supposed to be uber efficient. It then turns around and call these geniuses "rogue investors" if they fail on similar positions. Contrarians and/or rogues are necessary to break the groupthink mentality that very often causes so much euphoria in the market. Sooner or later everyone is bound to be infallibly wrong about a stock and hopefully get a chance to live and try another day. After all, it is the willingness to try and fail that influences how we perceive the market.
Market reaction on Apple (NASDAQ:AAPL) epitomizes this herd mentality that I am referring to. When things were great, which it relatively still is, everyone was in awe of the unstoppable freight train Apple had become. When margins and sales showed the first signs of stress all previously researched assumptions seemed to suddenly become irrelevant and the stock has been in a tailspin ever since. I read an article about Amazon (NASDAQ:AMZN) unseating Apple to become the most reputable company in America. Instead of being happy for Amazon it made me wonder if this crown was going to contribute to the gravitational pull that will eventually bring Amazon back to the ground. In this article I will explore what it could take for Amazon to get in the zone where it does not seem foolish to short it.
Amazon
Amazon is a very perplexing company. It is a company that requires a lot of science and art, mostly art, in its valuation. The behavior of its stock defies analytics and logic especially its resistance to metrics that usually drag down other stocks. There is a lot of potential in Amazon and the fear to miss out on this potential immobilizes investors as they watch in awe. It provides the perfect challenge to the different schools of thought that believe in top line revenue growth versus those that believe in net income. While it has grown revenue by a staggering average rate of 33.82% since 2010 to $61B in 2012, net income growth has declined by an average of 75.7% while the stock has appreciated by 43.09% over the same period (see chart and table below).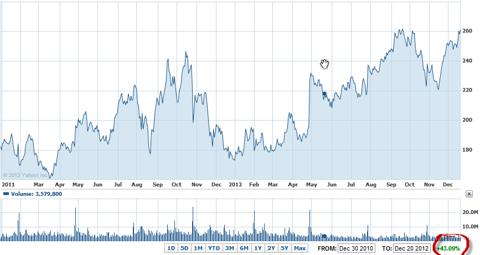 (Numbers in 000s)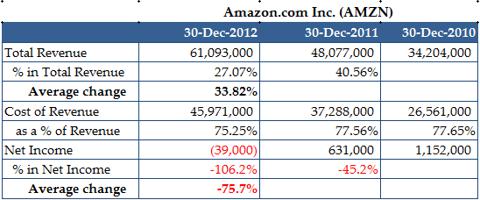 Source: Yahoo Finance
So, revenue goes up, net income and margin goes down, cost of revenue stays flat as a percentage to total revenue but the stock appreciates. This scenario is a short trader's dream because the only variable that needs to be affected for the cards to crumble is a decline in revenue growth. The question then is why do the Amazon bears have so little vested in terms of commitment to Amazon's supposed downside? Incredibly Amazon has a paltry shares short count of 7.16M to eBay's (NASDAQ:EBAY) 10.20M, Netflix (NASDAQ:NFLX) at 10.12M, and Wal-Mart (NYSE:WMT) at 16.96M. The logical interpretation is that even the bears see the potential in Amazon. It also means that until there is adequate proof of sustainable headwinds the juggernaut of Amazon is going to keep moving.
Headwinds:
I could not think of one single event or announcement that will change sentiments on Amazon since it has been very forthcoming with its ambition and challenges. Amazon has already had its fair share of challenges with margins, net income and in some instances press coverage. I will use the segment below to outline areas that could chip away at Amazon's armor.
Revenue Growth:
Part of the mystery in understanding Amazon's revenue is the inability to separate organic from inorganic, new and old sources of revenue growth. Traditional retailers report same store sales to indicate how previously existing revenue channels are faring, Amazon does not. Amazon lumps product/services launches like Kindle, cloud services and Prime into annual and quarterly revenue. This lumping approach of reporting revenue contributes to Amazon's ability to report continuous annual revenue growth. Total revenue has been a key contributor to the performance of the stock.
Quarterly revenue, however, has seasonal components and could fluctuate from one quarter to another without necessarily always showing net percentage change gains from the previous quarter. If you factor in seasonality and the occasional slow quarters any chance of finding a bad sales report will probably come from quarterly results and the quarter after holiday period is possibly the most vulnerable quarter.
Quarterly Results (Three Months Ended March 31, 2013)
I went on a perilous journey to figure out the level of revenue that could be disastrous enough to cast real doubts on the prospects of Amazon. As noted above Amazon's rapid expansion makes revenue growth an almost certain assumption so the goal is to get to a net income number that translates to EPS that could alarm the street. The Q4 2012 numbers are added for guidance on numbers that are relatively fixed so they can be added to Q1, 2013 assumptions.
Assumptions:
Quarterly consolidated sales of $16.17B from average expected quarterly revenue from Yahoo. This is a growth rate of 23% from previous quarter which is below average of 36% from previous quarters
North American Q1 Revenue split of 57% of total per historical trend on table below
International Q1,2013 revenue split of 43% of total
North American segment operating expense growth at 35% which is lower than the average of 42% from previous quarters (this should be higher due to new warehouses but I am erring on the low side)
North American loss of $338
International sales is 43% of total with operating expenses growing at 30% instead of 35% the last 2 similar quarters
Stock based compensation and other operating expense is the average between Q4 2012 and Q1 2012
The other items are averages, percentages to net income and numbers derived from combining numbers from previous quarters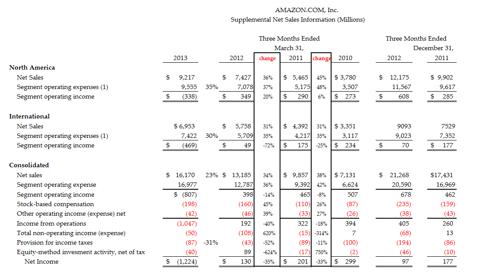 I started off with the assumption that Amazon will meet average analyst estimated revenue of $16.17B (Per Yahoo Finance) and used other expense variables at slightly less than historical growth rates. With these assumptions Amazon's net income comes in very depressed and much lower than should be expected. This alone might not be the catalyst but as previously mentioned it might be one of the many catalysts that might finally dampen sentiments on the stock.
The Shorts:
Short positions are the only true way to quantify negative sentiment on a stock. When traders feel that a stock is growing on fumes they reflect that sentiment in short positions which could drag a stock down. The silver lining with short positions is that if the price keeps going up short traders may have to buy to cover their positions which push the price even higher. I am not going to get into much detail about this but this "short squeeze" phenomenon contributed to the last Netflix rally (short ratio: 1.50) after Netflix announced better customer net gains than expected.
Contrast this to a company like Apple which as of as of January 31, 2013 had a short ratio of 0.80. The lack of short interest exposed Apple to the full breadth of any market reaction. An unmitigated exposure fuels rapid rises or drops depending on sentiment. Amazon is in this boat with Apple and any downward momentum can have a multiplied effect on the stock. This brings us back to the issue of "courage". When is a good time to get courageous about "shorting" Amazon? The stock is trading comfortably above its 50 and 200 day averages and the logic of the 50 and 200 day averages is to indicate if a stock is ready for a cool off.
Competition
Amazon is in a zone where competition, partners and facilitators coexist in a tangled web. This unique positioning allows Amazon to facilitate and compete with businesses at the same time without the need to win or push them out of business. Amazon Prime does well even if Netflix continues to grow its customer count because Prime also facilitates customer retention and drives sales for other business lines. The issue with this position is that Netflix as a service will eventually have an impact on the allure of Prime Instant videos. Netflix, as a company, will at some point also hedge against complete reliance on Amazon for its storage services. Target (NYSE:TGT) did that with fulfillment services once it decided to get serious about differentiating its online business to mimic its stores.
Traditional retailers, like Best Buy, have also become more dogged in their fight against show rooming as Amazon expands warehousing to compete with them on shipping times. With this expansion and taxation Amazon is effectively trading a distinct advantage on a bet that fast delivery times will allow it to pressure its traditional competitors even more. There is bound to be an infraction point where Amazon does poorly when Wal-Mart or Best Buy does well and we are starting to see shades of this in how the stocks of these companies react when they grow sales. If Best Buy is able to report better than expected sales because of price matching and show credible data to support that the sales are due matching online prices the dynamics might change.
Conclusion:
I am an admirer of Amazon. I get the business model and it does enough to keep the flames of hope burning in my mind. It is a business model unlike anything we have seen and no one wants to be caught on the wrong side of its potential. It is evident that Amazon has already been successful in painting the big picture and making misses and near misses seem like bumps on the road to greatness. It seems almost wrong to judge Amazon on margins, net income, EPS or revenue growth because there is supposed to be a grand plan. It is futile trying to correlate the behavior of the stock to that of another company because it is truly unique.
I wish I would have had the chutzpah after positing that net income might miss and that the competitive environment was getting more intense to recommend a short position on the stock. I just don't have the conviction to do that. I could, however, recommend a "hold" and be bold enough to say it will end the year at about $260.00 which is a slight decline from current levels. With a historical surprise factor of 300.00% for the quarter ending March 31st this is not the quarter to try to be brave.
Disclosure: I am long AMZN. I wrote this article myself, and it expresses my own opinions. I am not receiving compensation for it (other than from Seeking Alpha). I have no business relationship with any company whose stock is mentioned in this article.