If you ask beer drinkers, some prefer drinking from a can and some prefer the bottle. Cans are often looked down upon because people claim that the aluminum can alters the taste of the beer. The Boston Brewing Company (NYSE:SAM) set out to fix this problem before it would even think about putting its product in a can. After testing out different shapes and features such as cans with rough edges, they finally figured it out. I will explore the company's findings and also the added growth that cans can provide for The Boston Brewing Company.
The problem with current beer cans is that the can traps the aroma of beer and the consumer is only tasting the beer and not getting the smell. To change this, Sam Adams worked with a design team to come up with a can that would allow for the full taste of the beer. They finally settled on a can with an hourglass shape top and a wider opening. These features would cause the consumer to open their mouth wider and make the drinking experience similar to that of a bottle or a glass. Roy Desrochers, their hired beer tester had this to say, "I was very skeptical at first. I've seen lots of can changes over the past 30 years and not a lot has had a true effect on the drinking experience… But there is a meaningful difference here."
Now that The Boston Beer Company has figured out the new can, we can find out what it means for the future of the company. There is a new trend in craft beers and that trend is converting to cans. Of the new craft beer packages ranked in terms of sales, 2 out of the top 3 are canned beers. The amount of craft beer cans offered has over tripled in the last three years. The 12-pack, 6-pack and 4-pack craft cans are all up over 100% in sales from last year alone. The amount of craft beer sold in a can compared to bottles was .2% in 2008 and that number is now up to 2.6%. The Boston Beer Company is ready to hit this new market running with the best can available. The craft beer market is growing so fast, imagine what adding cans to the lineup could do for growth!

The canned market allows for the company's products to go places that it has never been before, literally. Beer bottles are not allowed at most parks or public places in a lot of cities. The canned beer will allow for Sam Adams to be enjoyed while on the beach or tailgating for those fans that like to show up early and drink all day. Not to mention the percentage of can sales are higher than bottle sales in the past few years and they are less expensive to purchase.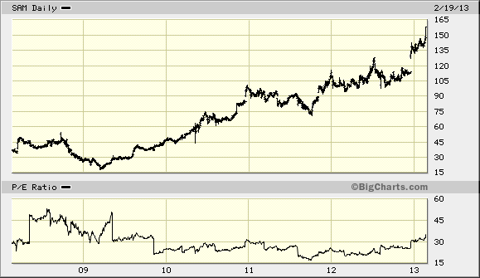 Click to enlarge
The Boston Beer Company has been on a tear since the hiking of guidance from $3.80 to $4.20 to a $4.30 to $4.60 for full-year 2012 guidance. The company currently sits at a P/E ratio of about 35 which is half way between a low of about 20 and a high of about 50 in the last 5 years. Growth companies trade at a higher P/E than value companies and there is certainly plenty of room for The Boston Beer Company to grow. At this current valuation, if SAM hits the high end of its EPS, the stock would be worth $161 (4.60EPS*35P/E). If SAM exceeds this range or gives guidance for full-year 2013, the stock could be sent much higher. I am expecting the canned beer sales to add revenue to full-year guidance although with the extra costs to retool a manufacturing plant to produce the cans, EPS might suffer. I will be watching for any updates on the Angry Orchard line in the upcoming earnings report. So far, the line had exceeded expectations and could be the reason for an earnings beat for full-year 2012.
Disclosure: I have no positions in any stocks mentioned, and no plans to initiate any positions within the next 72 hours. I wrote this article myself, and it expresses my own opinions. I am not receiving compensation for it (other than from Seeking Alpha). I have no business relationship with any company whose stock is mentioned in this article.