We were disappointed that CenturyLink (NYSE:CTL) recently reduced its annualized dividend from $2.90/share to $2.16/share for 2013. Although we only had a 20bp position in CenturyLink, we enjoyed analyzing and evaluating the company because it was the best performing non-wireless carrier. Granted, that's the equivalent of being the best house in a bad neighborhood, but we had seen encouraging trends from CenturyLink during 2012 that made us ponder creating a special portfolio dedicated to dividend stocks and including a larger allocation to CenturyLink. We were disappointed because we analyzed its dividend coverage back in September and saw no reason for CenturyLink to cut its dividend. Another reason why the dividend cut was a shock was because Morgan Stanley rated it as one of its top dividend plays in telecom. We were also surprised that CenturyLink announced the dividend cut because it reported decent results in 2012 and is improving its revenue trends.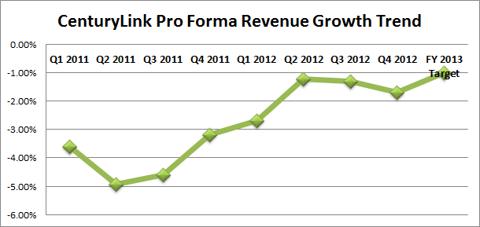 Click to enlarge
Source: CenturyLink's last eight quarterly reports
Because CenturyLink's 25.5% dividend cut was totally unexpected by investors, its share price dropped by 22.6% on February 14th, 2013. CenturyLink's dividend had previously increased on an annual basis for 37 straight years before leveling off in 2011. The company's dividend payout ratio of 53.66% based on its 2012 YTD FCFs was comparable to the dividend payout ratios of three of its peers. We would have thought that Windstream (NASDAQ:WIN) would have been the one to have cut its dividend because of the following factors:
Windstream's 2012 dividend payout ratio was 87%
Windstream's digital television customer count declined by 3.4%
Windstream's 2012 pro forma revenue declined by 1.33% versus a decline of 25bp in 2011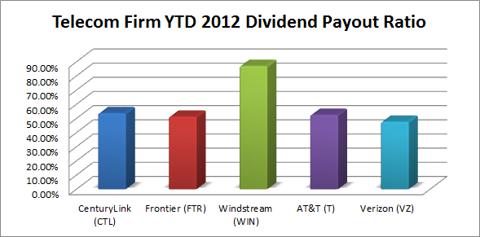 Click to enlarge
Source: Morningstar Direct
CenturyLink made the decision to reduce its dividend by 25.5% because of concerns that it would be utilizing all of its net operating loss tax assets by 2015 and its payout ratio would be higher than management was comfortable with once it became a full cash taxpayer. CenturyLink's dividend cut would reduce its dividend cash payments by $460M annually and this was offset by a $2B, two year share buyback authorization.
CenturyLink was willing to sacrifice its investment grade credit rating in order to provide an immediate return of cash to its shareholders through a $2B repurchase program. On balance, we would have preferred it to maintain its investment grade credit rating and use its free cash flows after dividends towards reducing its outstanding indebtedness so as to reduce interest expenses. While the $2B share buyback would have offset nearly 5 years of reduced dividends in terms of returning cash to shareholders, we would have preferred the certainty of CenturyLink maintaining its dividend instead of buying back shares.
While CenturyLink's credit profile was not as strong as AT&T's (NYSE:T) or Verizon's (NYSE:VZ), it was still an investment grade company. AT&T and Verizon were larger and stronger than CenturyLink because those companies operate their own wireless communications network. While CenturyLink does not operate its own wireless network, it has a smaller wireless presence due to its reseller agreement with Verizon Wireless and its wireless backhaul operations. Although CenturyLink's Net Debt/EBITDA of 2.7X was above the 2.5X that the credit rating agencies wanted in order to maintain the investment grade rating, it was better than the 3.3X and the 3.7X EV/EBITDA ratios that its rural telecom peers Frontier (NYSE:FTR) and Windstream have.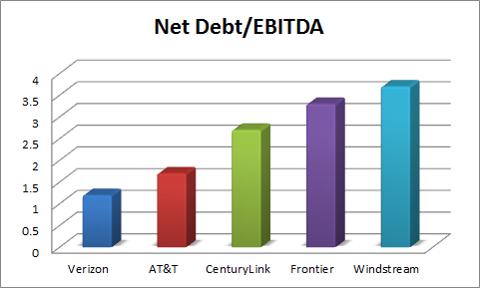 Click to enlarge
Source: Morningstar Direct
While CenturyLink is not as strong as AT&T and Verizon because AT&T and Verizon have gargantuan wireless operations, the company's performance stacks up nicely versus the wireline divisions of AT&T and Verizon. We were stunned that CenturyLink's EBITDA Margin was actually higher than AT&T Wireline and Verizon Wireline. Before CenturyLink announced its dividend cut, we were actually publishing reports comparing CenturyLink versus AT&T Wireline and Verizon Wireline because we felt that CenturyLink was showing progress in stabilizing its revenue and diversifying its product mix away from legacy wireline telephone services and towards strategic communications services. When we refer to CenturyLink's strategic communications products, we're referring to private line, Broadband, Multi-Protocol Label Switching; data center hosting, video and satellite digital TV through its partnership with DIRECTV, IPTV (Prism TV) Voice over Internet Protocol and Verizon Wireless resale services.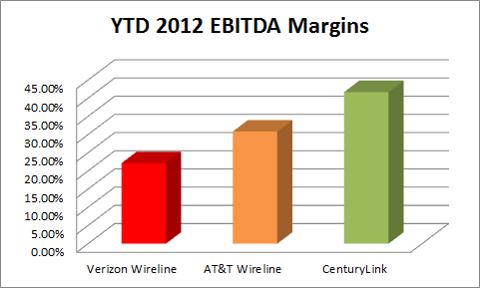 Click to enlarge
Other areas that CenturyLink has outperformed AT&T Wireline and/or Verizon Wireline include the following:
Wireline Access line decline of 5.73% year-over-year for CTL versus 6.8% for VZ and 10.8% for T
Internet Subscriber growth of 3.47% year-over-year for CTL versus 1.4% for VZ and -0.2% for T
Wireline Division Revenue decline of 1.7% year-over-year for CTL versus 2.2% for VZ and 1% for T
Operating Income Growth of 60bp for CTL versus -60% for VZ and 98bp for T
In conclusion, we are disappointed that CenturyLink's solid and decent performance for 2012 was overshadowed by its shocking deep dividend cut. Its wireline performance is a strong competitor to that of AT&T and Verizon and it is a stronger competitor than Windstream and Frontier. We believe that the shocking deep fall that CenturyLink's shares saw on February 14th created a strong buying opportunity for income-oriented, risk averse investors. We like that CenturyLink's dividend yield of 6.3% is still above the 5% on AT&T and the 4.6% on Verizon and that its 2013 performance is expected be stable relative to 2012 levels. We will be following up this report with an evaluation of Windstream and a deeper evaluation of CenturyLink's business unit breakdown.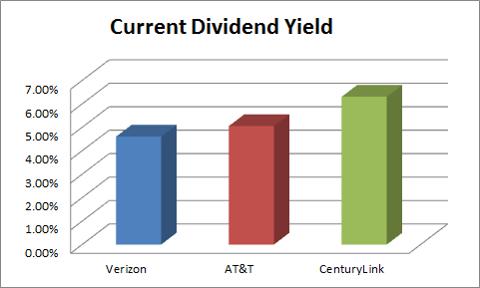 Click to enlarge
Source: Morningstar Direct
Disclosure: I am long CTL. I wrote this article myself, and it expresses my own opinions. I am not receiving compensation for it (other than from Seeking Alpha). I have no business relationship with any company whose stock is mentioned in this article.
Additional disclosure: This article was written by an analyst at Saibus Research. Saibus Research has not received compensation directly or indirectly for expressing the recommendation in this article. We have no business relationship with any company whose stock is mentioned in this article. Under no circumstances must this report be considered an offer to buy, sell, subscribe for or trade securities or other instruments.