On Tuesday, February 19, Sealed Air (NYSE:SEE) reported better than expected results for the fourth quarter of 2012, causing shares in the packaging products maker to appreciate by more than 20 percent intraday, before closing up around nine percent. The gain brought Sealed Air's market valuation to over $4 billion and its intraday spike took shares to a new 52-week high. Below is a recent performance chart for SEE: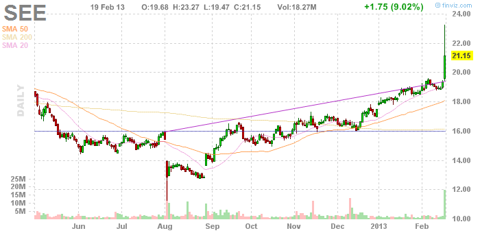 (Click to enlarge)
Sealed Air reported adjusted Q4 earnings of $0.34 per share, beating average Wall Street estimates by five cents. The company's revenue also beat expectations, coming in at $1.98 billion for the quarter. Sealed Air also provided 2013 guidance, indicating that it anticipates annual revenue to fall between $7.7 billion and $7.9 billion and adjusted EPS of between $1.10 and $1.20. Despite the strong upward move by SEE shares, this full-year earnings guidance is actually slightly below already existing average analyst estimates.
Sealed Air is a global leader in industries including food safety, facility hygiene and product protection. The company owns many highly recognizable brands, such as the iconic, and fun to pop, Bubble Wrap and the more recently developed, and less fun to pop, Fill-Air package protection applications. Another well known, once innovative and now ubiquitous use of plastic that SEE owns is the Cryovac branded food packaging system.
In 2011, Sealed Air acquired a cleaning and hygiene solutions business, Diversey. The company is a maker of cleaning and sanitizing detergents, gels and foam, as well as electronic dispensers and cleaning machines, for use in the food-service, healthcare and lodging industries. The deal cost Sealed Air $4.3 billion, including the cost of Diversey's equity ($2.9 billion) and existing debt obligations ($1.4 billion). The purchase was Sealed Air's largest takeover since its $4.8 billion acquisition of the Cryovac food-packaging business from W.R. Grace & Co. (NYSE:GRA) in 1998.
Sealed Air's market valuation faced substantial pressure in the wake of the deal announcement. The company's shares declined by approximately 45% in the 14 months between its announcing the deal to buy Diversey in June of 2011 and bottoming out in late August of 2012. This weakness was caused by many factors, including that many believed SEE overpaid for Diversey and also that some did not believe there were sufficient synergies to justify the acquisition. Nonetheless, there is some significant overlap among the customers, which may facilitate scale advantages in distribution and potentially expanding the scope of customer purchasing.
Another likely reason why Sealed Air declined in 2012 was because of concerns over weakness within Europe and a potential hard landing to the Chinese Economy. Sealed Air's business is globally diversified, with about 39% of its business coming from North America, 33% coming from Europe, 11% from Latin America, 10% from Asia, Middle East, Africa and Turkey, and 7% from Japan, Australia and New Zealand region. The company's global reach should generally be seen as a strength, weak demand from regions with weakening currencies can be a double whammy by both reducing sales and diminishing the value of each remaining sale.
In terms of sources of revenue, the company's Food & Beverage division accounts for about 49% of its total sales, its Institutional & Laundry division accounts for 28% and its Protective Packaging division accounts for 21%. Last year, the company not only merged with Diversey, adding whole new businesses, but it also modified its business segments/divisions in order to include Diversey and subsequently also revised how it breaks down its worldwide business into regions.
The initial catalyst behind SEE's turnaround in late August of 2012 appeared to be the company's announcement that its CEO, William Hickey, would retire in March of 2013 and that Jerome Peribere, a former Dow Chemical Company (NYSE:DOW) executive, would be his successor. Peribere is now Sealed Air's President and COO. Hickey's retirement seemed related to the negative market reaction to the acquisition.
The market not only took the announced CEO change as an acknowledgement of the market's disapproval with the price paid for Diversey, but it also created a perception that Sealed Air may become a takeover target. Some companies that may be interested in all or part of Sealed Air would include DuPont (NYSE:DD), 3M (NYSE:MMM) and Dow, the incoming CEO's prior employer. Nonetheless, at Dow, Mr. Peribere led the integration of its acquisition of Rohm and Haas, so the selection appears more likely related to furthering Sealed Air's integration with Diversey than to selling the business.
Despite Sealed Air's intentions, several larger chemical conglomerates could potentially see value in SEE's many branded applications for plastics and chemical solutions. Some smaller companies that compete more directly with SEE may also be interested in acquiring parts of SEE's business. Some competitors include Bemis (NYSE:BMS), Sonoco Products (NYSE:SON) and Ecolab (NYSE:ECL).
At the end of the third quarter of 2012, Sealed Air ended up announcing the sale of Diversey Japan to an investment vehicle of the Carlyle Group for approximately $373 million. The Company used the after-tax proceeds from the sale to prepay debt. While the sale of Diversey Japan may affect the company's emerging market growth, the company's primary markets and necessary focal points continue to be its North American and European businesses. Therefore, the sale of this unit should help SEE maintain this necessary focus. Moreover, the reduction to the company's outstanding debt helps mitigate the arguably expensive overall acquisition of Diversey.
During Sealed Air's conference call on its Q4 2012 results, the company indicated that sales within Europe were weak, and especially within Southern Europe, while Latin America is a source of growth. The company also noted some de-stocking issues in North America last quarter, but it believes that is not a continuing problem. Jerome A. Peribere commented:
"Let me also give you some flavor in the challenges in Southern Europe: Italy was down 7%, 6% FX related; Spain was down 11%, 5% FX related; Portugal declined 21%, 5% FX related; Greece declined 11%, 5% is currency. And we also noticed higher levels of de-stocking at many of our North America customers during the latter half of the quarter. Fortunately, that trend has not continued and sales in January support our de-stocking observation. Tight put-in supplies in North America also continue to pose a challenge, and these challenges are partially offset by continuing growth in developing markets, specifically Latin America, where we achieved 13% constant dollar sales growth and AMAT with a 9% constant dollar sales growth. And more importantly than just growth, these regions are giving us profitable growth. We completed the sale of Diversey Japan in November and used the net proceeds of $313 million to accelerate progress toward net debt reduction. For the quarter, we reduced net debt by over $480 million."
Sealed Air also indicated that though its raw material costs increased, it is raising prices to offset those higher costs. Moreover, Peribere noted that the company "benefited from $35 million in cost synergies and full year cost synergies totaled over $100 million."
Despite Sealed Air's better than expected results and its apparently working integration of Diversey, the market valuation for the company may have moved too much, too quickly. Shares of SEE have appreciated by over 55% in the last six months and over 20 percent so far in 2013. While it does appear likely that most of Sealed Air's businesses should continue to exist for the foreseeable future, it is entirely possible that continued European weakness and a potentially weakening U.S. equity market may affect the near-term valuation of the company. Based upon its current market valuation and the top of its expected full-year 2013 EPS, $1.20, SEE shares now trade with a forward P/E of 17.6, and the bottom of its guidance, $1.10, would work out to a forward P/E of 19.2.
Such a valuation is not cheap, especially given the potential issues Sealed Air may have in terms of potentially weakening global demand, consumer resistance to price increases and the effects of possible further foreign currency devaluation. Moreover, the company continues to be burdened with about $4.8 billion in debt. Furthermore, investors should note that the company tends to use its cash during the first half of the year and generate most of its cash in the second half of the year, and such usage of cash may make SEE's balance sheet slightly less appealing to short-sighted observers.
Disclosure: I have no positions in any stocks mentioned, and no plans to initiate any positions within the next 72 hours. I wrote this article myself, and it expresses my own opinions. I am not receiving compensation for it (other than from Seeking Alpha). I have no business relationship with any company whose stock is mentioned in this article.