We had a nice sector rally yesterday in the commodity space to go along with the rise in the general market. There is some talk now that one would rather be invested on the equity side of the commodity space rather than the physical side and in our opinion that is how we have always wanted to have our exposure. When one is not dealing in futures there are much better ways to gain leverage to certain commodities via equity transactions and investing instruments. With that said, we must agree with the overall view that as the building boom around the world slows in the coming years that commodity prices will also settle down and in some cases decline. A rather sobering statement this morning, but something one must plan ahead for.
Commodity prices this morning are as follows:
Gold: $1604.00/ounce down by $0.20/ounce
Silver: $29.505/ounce up by $0.083/ounce
Oil: $96.89/barrel up by $0.23/barrel
RBOB Gas: $3.1196/gallon down by $0.0016/gallon
Natural Gas: $3.289/MMbtu up by $0.017/MMbtu
Oil & Natural Gas
It sure is not looking good for GMX Resources (GMXR) which we have discussed from time to time in this article. We even highlighted it recently as the company appeared to be turning a corner but have always maintained that the company's turnaround strategy hinged on their success in the Bakken and whether they could crank production up in that area enough to offset their losses from the natural gas days. The stock hit an all-time low yesterday after it became obvious that the probable answer to that question is no. The Bakken has been a great play but the company's total estimated proved reserves were 35.6 million BOE after adjusting for the SEC accounting and recent sales, but worse still is the liquidity crisis which appears to be ahead. The company reported that they had $46 million cash on hand with $16.8 million reserved and paid in connection with their bonds which are due in February 2013 (see press release here). Apparently the company has been searching for ways to raise cash but has found a lack of interest in funding their needs. It is expensive to drill in the Bakken and with their current cash the company may not have the necessary funding to last much longer without having to do something desperate. Shares finished the day at $3.29/share after falling $1.67 (33.67%) on volume of 1.2 million.
Below is a rather sad chart of how things have gone over the past year for GMX Resources shareholders.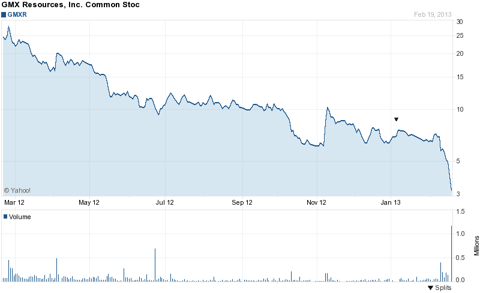 Chart courtesy of Yahoo Finance.
SandRidge (NYSE:SD) is obviously a company with many problems. From a board and CEO that the shareholders want replaced in totality or at a minimum a majority of the members out the door to what appear to be worsening economics in their main asset the company has done a great job at leaving investor with a bad taste in their mouths. The shares do seem to have bottomed out and turned a corner after the recent volatility and rose enough yesterday to close just above the $6/share level. Having a large investors take a rather big stake helps, but so too does a general market rally with the sector being a strong performer. SandRidge was among a handful of stocks which rose yesterday to close above significant thresholds, be they technical and/or psychological.
One area investors have been fleeing, even though there have been some strong performers in the oil and gas sector as a whole, is the MLPs. We have watched some of our MLPs perform poorly over the past few months but were surprised to see Linn Energy (LINE) hit a new 52-week low yesterday before rallying. We were aware of the stock price, but hardly aware that the situation had deteriorated that much over the past few weeks to get us to this point. We would chalk this up to risk being back on in the market and investors moving out of guaranteed returns, in regards to dividends, and moving on to the true capital gains returns everyone wants to achieve, those from stocks rising. This will be something to watch.
Coal
Walter Energy (NYSE:WLT) shares caught a bid yesterday around 2:00 PM after Audley Capital proposed new board members, five in total, for Walter. The press release for this announcement can be found here. This happened on a day when Walter did in fact name a new director to the board and was then forced to respond to Audley's proposal. One can view the company's response here via their press release. The stock performed well and it seems that hedge funds are becoming activist again, which in our book says that they are once again bullish on the outlook for the economy in general. Hedge funds do not risk large sums of money and energy on companies on the way down but rather on the upswing and the fact that investors in Walter Energy are now seeing an interest from this type of fund indicates that the worst must be over. Shares in Walter Energy finished the day up $2.04 (5.38%) at $39.96/share on the news.
Solar
It is getting absolutely ridiculous in regards to the valuation and stock price of SunPower (NASDAQ:SPWR) as the shares continue to rise at an astounding clip. Yesterday shares rose another $1.94 (16.94%) to close at $13.39/share on no news. It appears that shorts are covering and the momentum trade has swung into full effect. We love momentum trades, but due to our disdain for solar and the fraud which we believe it to be when compared to other forms of power/energy we would rather sit on the sidelines than get burned as investors have in the past.
Are we building up for another letdown?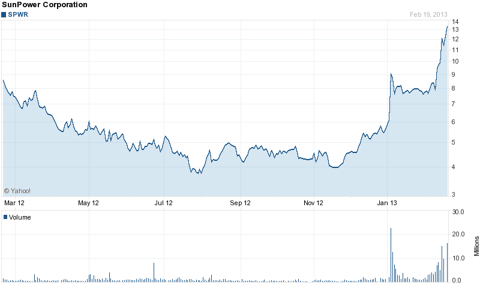 Chart courtesy of Yahoo Finance.
Disclosure: I have no positions in any stocks mentioned, and no plans to initiate any positions within the next 72 hours. I wrote this article myself, and it expresses my own opinions. I am not receiving compensation for it (other than from Seeking Alpha). I have no business relationship with any company whose stock is mentioned in this article.