Sentiment surrounding 3D Systems (NYSE:DDD) has turned into bloodsport. Debate is colored by emotions run amok. The polarization of the opposing views has eroded any space in the middle. The long camp believes the company holds a market leading position in a manufacturing process that will revolutionize industry and bring creation to the home. The short camp tethers itself to valuation, claiming that the froth that characterizes current nosebleed prices of companies like 3D Systems will go the way it came. For all of this, it may be valuable to take a step back rather than a step forward into either camp. Without splitting hairs, DDD's value hinges on expectations of the future, which are subject to enormous uncertainty regardless of what side is ultimately right. As such, it is imminently logical that market supply and demand for the equity will be the strongest force in determining the stock's price in the near and medium terms. And unlike the final outcome of additive manufacturing, 3-D printing, or 3D Systems' place in that market, certain trends have taken hold in the economics of DDD's equity. Analysis of these supply and demand trends may be more valuable than our own opinions on 3D Systems' fate. As company insiders have unloaded shares into the market, institutional appetite has waned, and retail investors have eagerly flocked to fill the gap - a bubble is forming.
Rampant Insider Selling
Conventional wisdom surrounding insider stock purchases and sales is well encapsulated in Peter Lynch's maxim, "Insiders might sell their shares for any number of reasons, but they buy them for only one: they think the price will rise." Between the market's trough in 2008 and 2010, executives and board members of 3D Systems bought over 100,000 shares at prices ranging from $4.37 to $13.19. Yet since, 2010, except for one 200 share purchase, there has not been a single insider buy on the open market. In 2011, the trend reversed itself abruptly - insiders have sold 1.9 million shares to the market while pocketing more than $71 million (Source: Yahoo Finance).
Such precipitous activity cannot merely be an exercise in personal finance. It constitutes an overwhelming and undeniable trend. And it is a trend of certain consequence. Academic research has long documented that clusters of insider sales have strong predictive power over future equity prices. And insider transactions are a potent reflection of the fundamentals of the company. Insider sales of this scale are incommensurate with CEO Abe Reichental's soapboxing that 3-D printing promises to be "as big as the steam engine was in its day, as big as the computer was in its day, as big as the Internet was in its day."
Finally, the insiders of 3D Systems have shown themselves to be savvy market participants in the past, buying shares of the company in the single-digits and selling them at an average price of more than $30 in the past two years. 13 executives and directors of the company have achieved stock compensation of over $67 million in the past two years. Putting this in perspective, the thousands and thousands of common equity holders have the right to net income over the same period of roughly $105 million. Even with Google (NASDAQ:GOOG), which utilizes stock compensation rampantly, insider sales over the past 6 months represent only about 30% of net income during the period. And DDD insiders hold more than 3 million remaining shares due to the company's generous stock compensation program, which they will continue to sell at current prices. Regardless of the phenomenon's predictive power, insider selling has increased supply of shares on the open market by nearly 2 million in the past 2 years.
Institutional Interest Has Dampened
Institutional investors leverage market expertise, infrastructure, and cadres of analysts in an attempt to outperform the market. They are often looked to by investors who attempt to free ride these advantages. Institutional investors demonstrated strong demand for 3D Systems' equity in 2011. Firms managing over $100 million bought more than 32 million shares of 3D Systems and sold 8 million shares, for a bought/sold ratio of 4.04. These firms were a key demand sink in the market. But their interest has dampened in 2012 - they bought less shares and sold more shares than in 2011 for a bought/sold ratio of 1.53 (Source: WhaleWisdom 13F filings). Although institutional investors still bought more shares than they sold, appetite is waning.

Click to enlarge
(Click to enlarge)
The Ever-Eager Retail Investor
The third and last component of market supply and demand is the retail investor. It is the demand of this third segment of the market that has sent 3D Systems shares soaring in 2012 and the beginning of 2013, even as insiders were dumping shares and institutional investors were easing off the pedal. During the largest institutional accumulation phase in 2011, the stock price was relatively flat. It was in 2012, when institutions scaled back their purchases, that the stock went parabolic. Its activity has come courtesy of an ebullient individual investor and momentum traders who have joined in for the ride.

Click to enlarge
(Click to enlarge)
This class of investors has clamored into 3D Systems on the back of sensational past gains from the beginning of 2012. Its accelerating climb has only fed the frenzy. It is this segment which has been responsible for the overwhelming demand mechanics that have seen the stock roar forward. And retail investors have been buoyed by the overwhelmingly positive coverage 3D Systems has received in publications including Investor's Business Daily, the Motley Fool, Seeking Alpha, and the general media. In the past month alone, 3D Systems has been mentioned in a total of 100 article headlines on Yahoo Finance, compared to 25 for Autodesk (NASDAQ:ADSK), a company that is 3 times the size and has a 3-D segment of its own. Heightened media coverage is often the reflection of the public's level of interest. After all, 3D Systems' past financial results and the allure of a revolutionary technology make for an intoxicating story.
Yet it is also this component of supply and demand that has contributed to the tremendous whip-saw seen in the stock in the days after it broke out of its range near the end of 2012. Institutional investors, after countless time spent on due diligence and analysis, are fairly comfortable holding their positions. Retail investors, in contrast, are a skittish bunch. A vocal minority of negative articles has had an outsized effect on the stock's price. After the short-seller publication Citron Research issued its take on 3D Systems, the stock tumbled 10% in 2 days. The notion that one individual's opinion dictated the erasing of $300 million in market value demonstrates just how bewildering the volatility of 3D Systems' equity has become.
At the same time, the company's executives and board have pandered to retail investors, not only through their glowing remarks on the future of 3-D printing, but also through 2 stock splits in 3 years (a 2:1 split in May of 2011, and a 3:2 split announced in February of this year). In terms of valuation, stock splits are merely cosmetic. CEO Abe Reichental offered the rationale that "the stock split will increase the market liquidity and broaden our investor base." Yet prevailing research notes that increased liquidity effects are seen primarily in companies with low institutional holdings, a category 3D Systems does not fall under. Rather, it is an effort to encourage retail investors, who at least to some degree succumb to the psychological fallacy that a lower stock price means a stock is cheaper in absolute terms. And who could forget the company's ad hoc conference call and accompanying presentation to repudiate 2 negative articles recently published on Seeking Alpha? These actions are not standard. Management's care-taking of its stock price and retail investors makes imminent sense given the massive income they have reaped selling shares to the market at current prices.
The Inflection Point of a Bubble
With overwhelming insider selling and a pullback of institutional investing, retail investors have catapulted the stock of 3D Systems into a bubble valuation. Technology research firm Gartner placed 3-D printing at the peak of inflated expectations in its 2012 emerging technologies hype cycle: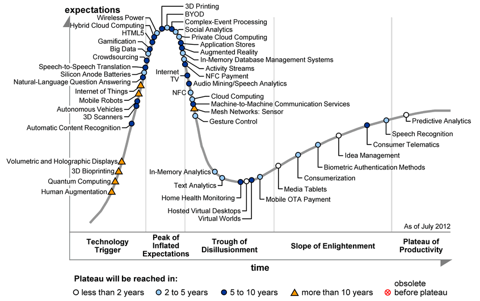 Click to enlarge
(Click to enlarge)
The market has become unhinged from fundamentals and latched itself instead to expectations. Even those expectations are ludicrous, a mentality individual investors have often succumbed to. Industry publications estimate the size of the entire additive manufacturing market to reach $3.7 billion by 2015. At its 52-week high, 3D System's market capitalization exceeded that number by $400 million.
Yet it is easier to identify irrationality than to time its cure. When 3D Systems releases its Q4 results on February 25th, it will most likely meet or exceed analyst expectations. It will do so primarily on the back of revenue from the more than $190 million in acquisitions it has made since it reported Q4 results in 2011, and to a lesser degree through organic growth. Management has potentially tipped its hand regarding quarterly results when it announced a stock split on February 5th. Stock splits often contain a signaling effect that is indicative of management's belief that stock price will continue to grow. When the company announced a split in 2011, it handily beat analyst expectations in its next earnings announcement. Q4 results will most likely stoke the bubble valuation of the company further and act as confirmation to bulls. If this unfolds, the stock run up after results are announced will provide an ideal moment to take a short position, because without sizeable acquisitions, the company will begin to deliver much slower growth in Q1 of 2013 and beyond (analysts expect growth to slow down from 53% in 2012 to 25% in 2013 - I believe this to be on the fanciful side). As this occurs, the market's supply and demand dynamics will gather steam, with insiders continuing to sell, institutional investors taking profit, and retail investors abruptly moving on. Things tend to fall faster than they rise.
Disclosure: I have no positions in any stocks mentioned, and no plans to initiate any positions within the next 72 hours. I wrote this article myself, and it expresses my own opinions. I am not receiving compensation for it (other than from Seeking Alpha). I have no business relationship with any company whose stock is mentioned in this article.