Gold prices nose-dived last week and the price momentum is threatened by the "death cross" - when the 50-day moving average moves below the 200-day moving average. Breaching this technical "sell" signal would be bearish for gold prices.
The rationale behind weaker gold prices is not straightforward, as many central banks continue to expand their balance sheets, set up higher inflation targets and manipulate their currencies. Even the risk of a stalemate in the Italian election does not help. For that reason, many investors consider that the fall is temporary.
Yet, the chart below shows that the trajectories of gold and real rates have reconnected only slightly. But contrary to what many expected, gold did not adjust on the upside to lower real rates. What we have seen is lower gold prices accompanied by higher real rates.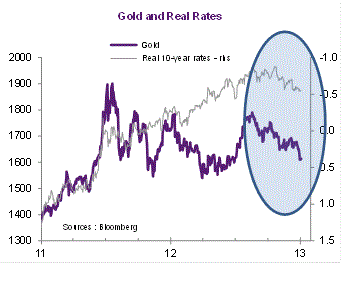 As GOLD/USD falls, what can be expected for the EUR/USD? The chart below shows that Gold and the EUR/USD disconnected in late 2012. Until then a higher EUR/USD was accompanied by higher gold prices (and conversely).
1. A simple explanation can be drawn from their common factor: the weakness (or strength) of the U.S. dollar. According to the chart below, and if the gold price is right, the EUR/USD has some room to collapse. The gold-implied level for the EUR/USD should be close to 1.28. Alternatively, the disconnect may suggest that gold's correction is nearing its end (as the EUR/USD implied level is 1700 USD).
2. A second reading is less straightforward, but no less important: if gold were a real a safe haven, would it increase when the EUR/USD, whose correlation with risky asset is high, is on the rise? Until recently, USD/JPY was the only pair to grow in a risk-on environment. Specific to gold is a positive but low beta to risky assets. As can be seen below, the ratio of gold to oil is tightly linked to SP500 returns. A positive 1-month return for the U.S. equity index is often accompanied by an underperformance of gold against oil. The current reading of the chart is poor but the GOR recent move would call for a higher SP 500.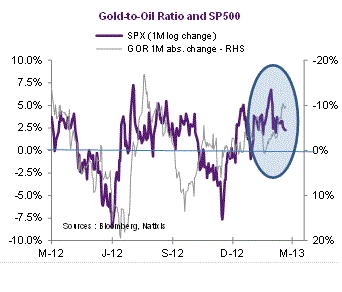 Since the EUR/USD has continued to closely track the SP 500 over the last few months, there is something specific to gold, which is confirmed by the chart below. The gold to iron ore price ratio has disconnected from the SP500/MSCI emerging. I favor the view that in 2013 both series will reconnect as higher growth in emerging markets would lead to an underperformance of US stocks relative to emerging indices (and higher industrial commodity prices relative to precious). But in the short run, the message could be that gold has fallen too much.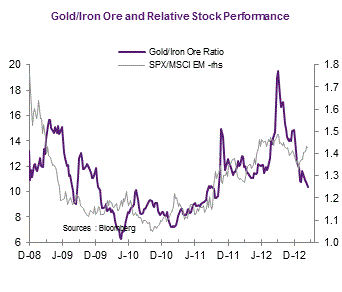 To sum up:
Most of my cross asset charts suggest that the correction in gold prices has been too strong. Even though technical analysis does not rule out a further collapse in the short run, it would be more likely to see a gold rebound in the low bound of the range (1800/1500) in which it has evolved over the last few quarters.
Yet, there seems to be some gold fatigue emerging as well, as gold prices are failing to track the traditional cross asset relationships and drivers (central banks behavior) that have been observed since the beginning of the Great Recession.
I would thus recommend avoiding gold prices when it comes to risky asset pricing. In particular, the gold-implied level of EUR/USD (1.28) is clearly not reliable. If you target such a level you'd rather be ready to see the SP500 falling back to 1450/1430.
Disclosure: I have no positions in any stocks mentioned, and no plans to initiate any positions within the next 72 hours. I wrote this article myself, and it expresses my own opinions. I am not receiving compensation for it (other than from Seeking Alpha). I have no business relationship with any company whose stock is mentioned in this article.