Investors chasing after non-cyclical stocks that pay reasonable dividends have probably missed three stocks that meet these criteria, and offer the potential for long-term appreciation as they ride favorable demographics-the eventual end of the baby-boomer generation.
As you probably guessed the stocks are the business of "death care"- an industry that is expected to benefit from the massive aging of baby boomers. This trend, which began around 2005 as the first baby boomer cohort crossed the age of 60, is expected to last until 2024, when the last cohort crosses the age of 65.
With the portion of the world's population that is over 60 expected to reach 30% by 2025, compared with 20% in 2000, the funeral services and cemetery business is expected to boom.
Here are the companies:
Service Corporation International (NYSE:SCI), specializing in death care services in the U.S., Canada and Germany; Stewart Enterprises (NASDAQ:STEI) and Carriage Services (NYSE:CSV), both specializing in death services and merchandising.
All three companies have outperformed the S&P 500, especially Carriage Services, which has been 120 percent over the last five years; trade at reasonable valuations; enjoy good profit margins and pay a dividend.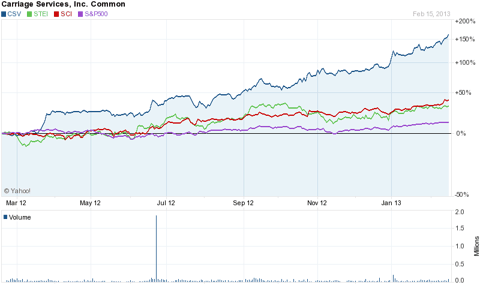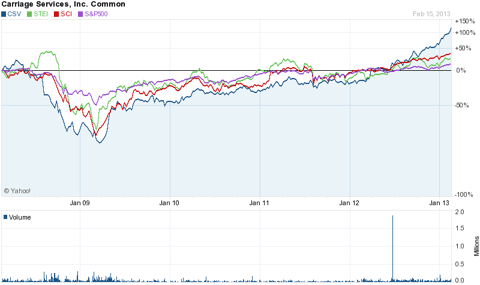 | | | | | | |
| --- | --- | --- | --- | --- | --- |
| Company | Forward PE | Operating Margins | Qtrly Revenue Growth (yoy) | Qtrly Earnings Growth (yoy) | Dividend (%) |
| Carriage Services | 15.46 | 18.41 | 14.10 | -23.5 | 0.60 |
| Service Corporation International | 17.10 | 16.65 | 7.30 | -40.80 | 1.50 |
| Stewart Enterprises | 14.65 | 15.96 | -- | -- | 1.90 |
Source:Yahoo.finance.com
Beyond reasonable valuations and favorable demographics, there is one more factor that makes these stocks attractive: The potential for industry consolidation, as the industry enjoys economies of integration.
A few words of caution: Every industry faces threats and challenges, even the death industry. One of the challenges, for instance, is cremation as an alternative to burials, which can affect negatively the business of all three companies, as can the economy - burials come at different prices, and a weak economy will certainly affect industry profitability. This means that investors should check carefully the financials of each of these companies, as hype should never be a substitute for due diligence in investing.
Disclosure: I am long CSV, STEI, SCI. I wrote this article myself, and it expresses my own opinions. I am not receiving compensation for it (other than from Seeking Alpha). I have no business relationship with any company whose stock is mentioned in this article.