American Capital Ltd. (NASDAQ:ACAS) recently reported its fourth-quarter and full-year results for 2012. Unlike some better-known businesses, American Capital doesn't have an internationally-recognized mobile device brand or makes its money doing something straightforward like renting cars. Understanding the company's performance over the reporting period is complicated by the company's internal complexity, so some examination is needed to make sense of the numbers.
This paper's purpose is to review the salient facts about American Capital and draw attention to the numbers that best illustrate the company's performance.
Apparent Complexity: Risk or Asset?
American Capital invests its own money, like the reader. For a fee, it also invests money provided by others. Some of the investments are aligned in similar industries to promote synergistic effects, and some are intended to have a dramatically different risk profile than the rest of the portfolio. The company's tax characteristics have become complex over the last few years, complicating cross-period comparisons: in the last quarter of 2011, for example, results were impacted by the booking of a substantial tax asset. American Capital's businesses and their opportunities and risks thwart simple examinations.
Critics like Jim Cramer complain that the company is "a black box", its contents unknown to investors, and should be avoided. But it's not so incomprehensible that its oversold bankruptcy risks didn't make a clear opportunity a few years ago. The chart from the last-linked article to today shows just what an opportunity such pessimism provided: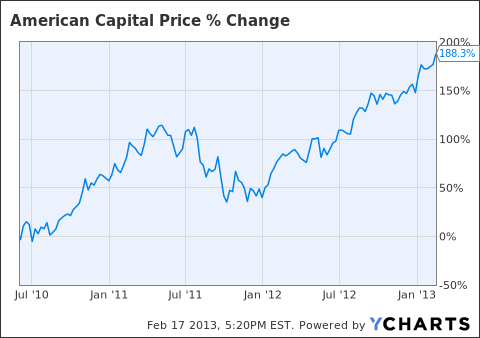 For the patient investor, American Capital's financial reports provide some interesting insight into the success of a business development company ("BDC") that invests in illiquid middle-market companies whose investment opportunities are otherwise inaccessible to the individual investor. Are these assets trivial to value? No. But as described in the article "American Capital: Back In The Business-Building Business", the company's portfolio companies tend to be exited at prices within 1% of American Capital's last-reported "fair values" for the companies. These fair values are periodically determined and reported in compliance with FAS 157, so they can be observed over time by investors. The opacity of individual portfolio companies may not spell doom to the inspection of the firm as a whole, given the ongoing accuracy of the numbers driving the company's net asset value ("NAV").
Because complexity can impact investors' willingness to make a purchase decision, the prospect that the company's opacity could make shares trade at a discount to intrinsic value gives a good reason to delve into the details. And investors' question is always the same: is it a bad deal, or a steal?
Overview
American Capital has been engaged in a share buyback program since the second half of 2011. Because the shares have traded below NAV, per-share NAV actually increases with each repurchase. American Capital's growth in firm-wide assets and NAV-per-share came despite an adversarial environment. But the fact that the share count is changing due to a share buyback program makes firm-wide numbers of less interest to shareholders than the per-share metrics that reflect the value of an investor's particular holdings. Granted, this is often very similar to firm-wide metrics despite buybacks - most companies' share buybacks are so trivial they hardly counter dilution from stock compensation. But at American Capital, the cumulative effect of share buybacks has been to retire 52.4 million shares - reducing the share count at the end of 2012 to 310.1 million issued shares from the pre-buyback share count of 354.7 million shares at the end of 2Q2011 - a reduction in issued shares of over 12.5%. That's a material change.
The buyback included 8.8 million shares in 4Q2012 and 34.8 million shares during calendar 2012. The average share price over the year was $10.39, far enough below NAV that the year's buybacks boosted NAV per share by 77¢. This was done not by taking on crazy leverage, but while repaying $487 million in debt. This didn't leave the company broke: it received $1.498 billion in realizations over the year. And the company isn't liquidating to go out of business: it's entered a number of new transactions, particularly in December. As detailed in the 4Q2012 Shareholder Presentation, 2012 saw $719 million in new investments.
The Numbers
Since American Capital's complicated 2011 earnings announcement, management has performed well. In 2012 NAV per share increased $3.97 - that is, it's up 29% - to $17.84. With share prices about $13.86, the company's NAV discount stands at 22.3%. That means that when an investor buys a share for $13.86, there's another $3.98 in net assets at work for the investor - a phantom 28.7% invested for the shareholder, producing returns even if shares continued to be priced below book. So NAV is up 29% on the year, and buyers get a "bonus" of 28.7% every time they buy shares at their currently depressed values.
What operating income is management earning on this discounted investment? Over 2012, net operating income ("NOI") was $1.16 per share - $1.20 after income taxes. Normally, a company's results "after income taxes" are worse than the pre-tax numbers, but American Capital has been hard at work obtaining the best tax treatment its complicated business is able to obtain from the IRS. The $1.20 in after-tax operating income amounts to about 8.7% of its current share price.
While $1.20 is a bit lower than the $1.26 earned on an after-tax basis in 2011, the comparison of after-tax numbers confuses things slightly. This is because the company had an enormous change in its tax assets in the last quarter of 2011, when the company's growing profits began to make it likely American Capital would make use of its crash-era loss-carryforwards. Until it had a prospect of using the carryforward, the company was barred from claiming it as an asset. But as soon as using the carryforward became "likely" in the eyes of the accounting rules, American Capital suddenly gained a huge tax asset in the eyes of the accounting rules. This wasn't because the last quarter of 2011 was so much more outstanding than other quarters. The road to recovery took time, and every step contributed. But from an accounting standpoint the tax asset went from having "no value" (because without a recent record of profitability it was unlikely to be utilized) to being worth over four hundred million dollars when it suddenly hit the books all at once in the fourth quarter of 2011.
To avoid the purely-accounting-driven nature of the lumpy recognition of tax assets, investors may find it more useful in comparing the profitability of operations (as opposed to the success of tax planning) to compare American Capital's pre-tax earnings per share. When American Capital announced its 2011 results in the beginning of 2012, it announced earnings of 85¢ per diluted share before considering the deferred tax benefit. Of course, this was based on the share count prevailing at the end of 2011. The increase from $0.85 per share to $1.16 per share shows management has grown pretax NOI per share by 36.5%. This isn't entirely the result of growing NOI, though American Capital's NOI is up $80 million. It also reflects the impact of share retirement through the program of repurchasing shares on the open market at prices dramatically below NAV. Whatever the stratagem, increasing NOI 36.5% reflects a real benefit to shareholders.
No Double-Counting
Obviously, the NOI and the NAV can't be added to obtain performance: retained operating earnings become part of the NAV. Likewise, investors shouldn't look at SEC-reported "earnings" and mentally add those to increases in NAV, because much of the "earnings" result not from taxable, recognized income events but unrealized changes in investments held for sale; FAS 157 requires management to include unrealized changes in asset value as "earnings". This is completely different than an investor's math to determine taxable income (which is driven by exits), and different as well from the accounting investors see in companies like Berkshire Hathaway (NYSE:BRK.A)(NYSE:BRK.B), whose portfolio companies aren't held "for sale" and thus are not subject to FAS 157. (Complicating things, FAS 157 requires Berkshire to count as part of earnings changes in the notional value of derivative contracts even though functionally identical insurance contracts receive different accounting treatment.)
The upshot? Investors trying to make sense of American Capital's numbers need to make sure not to double-count the impact of successful business. When a portfolio company's income increases and its outlook improves, the portfolio company tends to increase American Capital's NAV as it increases its operating income. The two aren't unrelated. But since income that's kept by the company also flows into the NAV calculation, the two can't simply be added, or the benefit would be counted twice. Investors should look at NAV to evaluate management's performance in the investment portfolio without trying to "add in" NOI figures.
NOI: Not To Be Ignored
Looking at NOI is important to ascertain whether American Capital is making money in its businesses, or is depending on changes in portfolio company market value to drive earnings. It's also important to ascertain whether American Capital's portfolio companies are in the aggregate self-sustaining, or whether they are consuming resources to keep alive. The positive per-share NOI that shows pre-tax growth of 36.5% is a strong, positive sign that American Capital's portfolio is providing increasingly stronger performance for shareholders.
Earnings: What Is The Growth, Really?
American Capital's earnings of $3.44 per diluted share include both asset growth and operating income. It compares favorably to the $2.74 in net earnings per share in 2011; the overall increase in earnings is a growth of 25.5%. If one considers how much of the 2011 "earnings" resulted from the sudden recognition of an existing tax asset, the impact is even more dramatic. 2011 earnings excluding the tax asset recognition was $1.77 per share; the increase in earnings over that number is over 90%.
It is particularly noteworthy that American Capital has achieved this result without resorting to frightening levels of leverage: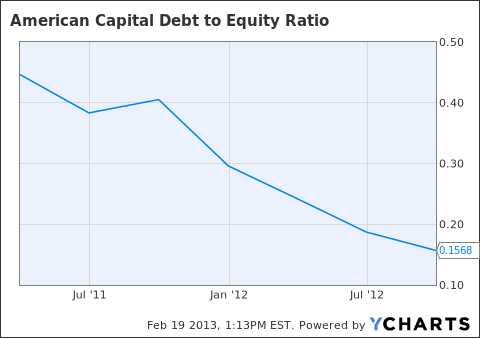 As illustrated by the chart, American Capital's 2012 leverage is actually reduced from the level applicable to the 2011 period management just trounced. Current leverage is also much lower than the 1:1 ratio to which BDCs are regulated.
Making Sense Of The Earnings
BDCs are frequently viewed as dividend stocks. Usually, a BDC pays a dividend driven by its taxable income in the same manner as a Real Estate Investment Trust ("REIT"): each pays taxable income to shareholders in exchange for relief from an obligation to pay taxes directly. Since American Capital has loss carryforwards that consume its taxable income - and has elected a tax structure designed to allow it to continue recognizing those tax assets - the company isn't currently behaving with respect to dividends as a typical BDC. But if subject to the tax treatment of Registered Investment Companies ("RICs"), the company wouldn't be required to pay a dividend based on earnings of $3.44. This is because SEC-reportable "earnings" isn't the same thing as taxable income.
In the case of American Capital, FAS 157 requires the company to treat as "earnings" the unrealized changes in value of investments. Unrealized changes in value of investments isn't an element of taxable income. Realized earnings in 2012 were 38¢ per share - the company-wide realized earnings of $124 million represented a decline of $14 million from 2011. But since American Capital's share price is predominantly driven by NAV rather than taxable income, this matters little to current investors. Down the road, though - when the company's tax assets are consumed and the company pays a dividend - stable taxable income will be more important to investors motivated by dividends.
Before the dividend was suspended in 2008, American Capital had changed its dividend policy from paying based on operating income to paying based on total income. Although REITs can have taxable income driven by predictable things like rents, or interest income from mortgage-backed securities, much of American Capital's income has historically been from deal exits that occur at irregular intervals. Since taxable earnings are driven by irregular events, this raises the prospect that American Capital will eventually have to face the problem of either fixing a dividend to meet annual income expectations but which fluctuates from quarter to quarter in coverage by income...or paying a dividend based on NOI rather than total income. Since last year's after-tax NOI amounts to nearly 9% of the current share price, a NOI-driven dividend might not be unattractive.
It's certainly not unattractive to creditors: during the last quarter, American Capital's debt rating was upgraded from B to B+.
Making Sense of the NAV
Before the crash of '08, it wasn't uncommon to hear management complain on conference calls that the market was valuing the company as a basket of investments rather than giving it an earnings multiple suited to an asset manager. American Capital has done something about this. The careful observer will note that during 2012, American Capital LLC became American Capital's biggest portfolio company by fair value; at the end of 3Q2012, that value was $803 million. The LLC holds all the company's asset management contracts. Steady growth in funds under management have resulted in year-end earning assets under management ("AUM") of $12 billion. The growth of AUM versus American Capital's directly-owned investments is depicted by the latest shareholder presentation: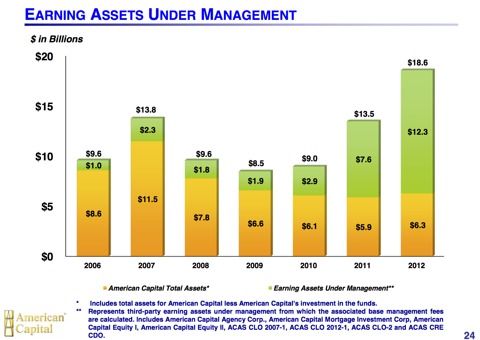 Click to enlarge
This growth has, in turn, driven up American Capital's steady fee income - and the value of its asset-management business. As a result, American Capital gets the benefit of having a valuable asset manager even though the company's valuation is driven by NAV rather than by an assignment of a favorable multiple to the company's earnings. American Capital did have its publicly-traded funds initiate share buybacks last year when shares traded below NAV. This might seem bad for AUM growth. But share buybacks haven't materially impacted AUM; rather, American Capital's higher-paying public fund just announced share pricing on an issuance that promises another half-billion in new AUM. But fee growth doesn't come from selling new ticket stubs: American Capital Agency Corp. (NASDAQ:AGNC) and American Capital Mortgage Investment (NASDAQ:MTGE) continue to announce year-over-year growth in book value per share, which is not only good for shareholders but good for American Capital as a fee-based manager. For perspective, the new half-billion in new equity at MTGE amounts to $625,000 per month in fees, or $7.5 million per year; that's more than two cents per share for ACAS annually - and good fuel for earnings growth as the asset manager.
American Capital's second-largest portfolio company is European Capital ("ECAS"), which had a 2012 year-end valuation of $700 million. ECAS had been publicly-traded before it was taken private in an all-stock transaction in the beginning of 2009. Like American Capital itself, ECAS is internally composed of numerous distinct investments; the performance of its investments drives ECAS' valuation. Despite serving the financially-threatened European market, European Capital's business is concentrated in countries NAV grew €23 million to €1 billion: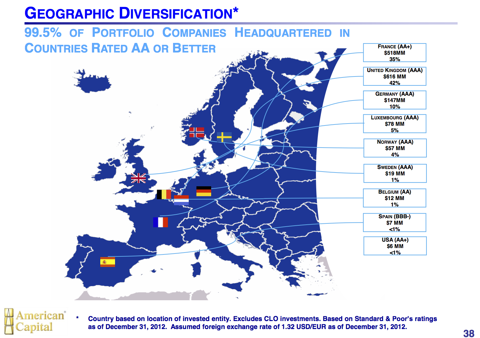 Click to enlarge
Under American Capital's management, ECAS' portfolio has recently grown in value even in periods in which the discount applied to American Capital's FAS-157-compliant "fair value" of ECAS has expanded - as occurred in the second half of 2011. In other words, Like American Capital, ECAS is valued at a discount to NAV, and that discount can change with market conditions. But despite the discount applied under FAS 157, the returns generated by ECAS' underlying investments are as real as the returns generated elsewhere by American Capital's management. In the first half of 2012, ECAS' NAV grew €23 million to €1 billion - a growth of 39.9% from the €715 million ECAS held at the end of the first half of 2011. American Capital hasn't announced the details of ECAS' 2H2012 performance, but from American Capital's 3Q2012 report we know ECAS had "investments in 58 portfolio companies[,]" which is down from the 91 portfolio companies it held at the end of 2011. In calendar 2012, ECAS' growth in "fair value" of $153 million amounted to a 25% annual increase; the fourth-quarter growth of $50 million (27% annualized) was driven predominantly by unrealized appreciation. At the end of 2012, American Capital reported ECAS as having a "fair value" of $700 million, the "fair value" representing 75% of ECAS' NAV. Put another way, if American Capital were to dissolve ECAS and hold its European investments directly - without an interposing entity subject to a NAV discount - American Capital's NAV would increase by $233 million, or 75.2¢ per issued share of American Capital. That 75.2¢ is invested in Europe, growing, and providing earnings; it's just not shown in American Capital's NAV. It is, in a manner of speaking, a freebie.
American Capital's overall portfolio has too many investments to treat individually - but this is a good thing. As illustrated in the last shareholder's presentation, the company's holdings are broadly diversified across industry: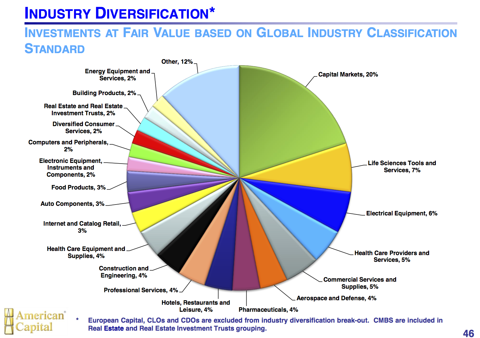 Click to enlarge
Because American Capital had a year-end NAV of $17.84, the assets investors have working for them - if one ignores the double-discount in European Capital - measure about $18.59 per share. Given today's pricing below $14, new buyers are arguably treated to a 33% bonus. That is, for under $14, one gets the investment return American Capital's management is able to derive from $18.59 or so per share. Since the NAV discount in ECAS is driven in large part by the NAV discount in American Capital proves the market assigns to such portfolios, the forces that will eliminate the NAV discount from American Capital will produce a double return as they also reduce the NAV discount American Capital assigns to ECAS.
Downside
Not every investment made by American Capital is a winner. Holdings include some crash-era survivors that are in embarrassing shape: nonperforming loans. When we read that 2012 saw non-accruing loans decrease by $75 million in fair value, we're tempted to wonder whether this means the portfolio has grown even more doubtful and worthless. But the good news is that non-accruing loans aren't just down as measured by their current "fair value" - they are down by $110 million as measured by their cost. Unfortunately, $11 million of this decrease comes from write-offs the company never expects to collect. Another $21 million in newly non-accruing loans (as measured by cost) were added to the non-accruing roster of shame. On the bright side, $118 million in previously non-accruing loans were removed from non-accrual status due to improved performance by the portfolio companies owing the loans to American Capital. This is a move in the right direction.
Another $54 million in loans (as measured by cost) are not listed as non-accruing, but are past due.
When American Capital was more heavily leveraged, the spread between what it paid for loans and what it was repaid was a larger fraction of its NOI. Today, that spread is less important because the company has so little debt. But losing principal to bad loans is a violation of Buffett's First and Second Rules of Investing. Most of this non-accrual results from the aftermath of the liquidity crisis. Investors will want to watch these numbers to see that management has learned its lesson on the debt it extends to illiquid portfolio companies.
The fact that American Capital was able to get a number of portfolio companies refinanced with third party lenders - freeing capital for more exciting work - says good things about those portfolio companies and management's success in shepherding them into successful and competitive financial strength. Syndication of portfolio company debt to third parties in arms-length transactions also reflects the health of the companies and management's expertise in recovering capital that can be more effectively deployed. Particularly as American Capital invests in new ventures with multiple types of investment - equity and various grades of debt - it will be critical that the company enter only investments it understands well enough that it isn't at risk of violating Buffett's First Rule (or his Second).
Focus Should Aid Efficiency
The good news is that many of American Capital's newer investments have been add-on investments in existing (and thus well-understood) portfolio companies. Others have been strategic acquisitions intended to enhance the position of the American Capital Energy Group. By investing in businesses and industries in which American Capital has particular expertise, the company should be able to do more effective underwriting than when hearing a new idea pitch in some field in which managers have no background and no perspective. On a post-investment basis, American Capital's existing expertise in a field will make it easier to deliver quality support to its portfolio companies. A look at American Capital's investments over the past few years shows how their direction is dominated by the company's existing expertise: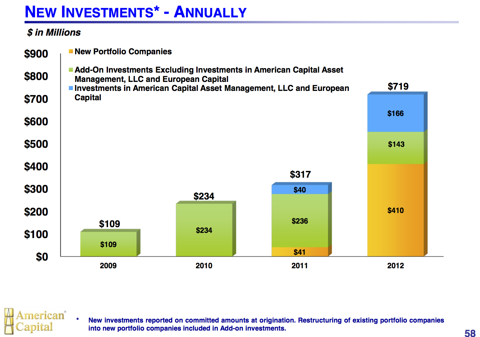 Click to enlarge
The dominance of re-investment in American Capital's areas of existing expertise is underscored when one considers the hundreds of millions of investments in "New Portfolio Companies" that build on an existing portfolio of healthcare products and services companies or energy and infrastructure firms. This is important because American Capital is not a passive investor: it provides extensive support to portfolio companies not only by acting as their investment banker, but by providing operations support. Actual expertise in the field of an acquired company is essential to providing support that is effective. American Capital's post-crash trend toward investing in businesses it already knows allows the company to play to the company's hard-won strengths.
Conclusion
American Capital's outstanding improvements in unrealized gains and losses will combine with the eventual erosion of its tax asset to produce robust taxable income currently concealed by the loss carryforward. Investors will likely see management return the company to a tax structure that requires pass-through dividends - which will be based on substantial gains driven by net assets currently available on the open market at a discount greater than $4.50 (adjusted for the double-discount in ECAS). The NAV discount, coupled with the double-discount created by the "fair value" calculations underpinning the valuation of ECAS, offer investors a margin of safety in investing in a business segment in which retail investors cannot afford to invest directly.
The potential to realize the firm's actual NAV in future valuation is certainly attractive, but the fact that earnings accrue on the undiscounted value is the more exciting value proposition. As Buffet wrote in his 1987 Letter to Shareholders of Berkshire Hathaway , "In the short run the market is a voting machine but in the long run it is a weighing machine." The compounded returns on the discounted equity will be worth much more over time than the amount of the current discount. And if the discount persists, the value of the repurchase program will redound to the ongoing benefit of shareholders. The fact that the firm's earnings derive from a highly-diversified portfolio of investments offers further security: one isn't buying one business, one is buying an army of them.
American Capital has not become a bad deal: with its current performance and at its current discount, the shares remain a steal.
Disclosure: I am long ACAS. I wrote this article myself, and it expresses my own opinions. I am not receiving compensation for it (other than from Seeking Alpha). I have no business relationship with any company whose stock is mentioned in this article.