Introduction
Gold Resource Corp. (NYSEMKT:GORO) is the perfect gold hedge for the dividend investor. It is a gold mining company that currently pays $0.06 per month. Currently selling around $13.50 a share, this stock pays a 5.25% dividend. GORO has no long term debt and its P/E ratio is around 12.
For the dividend investor concerned about inflation, this looks like the perfect stock. It pays a good dividend and also mines gold and silver. If the price of gold and silver continue to rise, the value of this company should rise with it.
The Company and Management
GORO engages in exploration for and production of gold and silver in Mexico. It holds a 100% interest in 6 properties in Mexico. The CEO, William Reid, previously held the position of CEO and Chairman of the Board to US Gold. He now spends all of his efforts with GORO after founding the company in 1998. He holds a BS in physics and an MS in Economic Geology. He, his brother and his son own over 10% of the shares. January of this year GORO announced the appointment of Dr. Gary Huber to the board of directors. Dr. Huber brings over 35 years of natural resource experience to the board. (S&P)
GORO has a payout ratio of 57%. The profit margin of the company is 45% and its ROE is 85%. It reported on 1/17/2013 that gold production for 2012 had increased 37% over 2011. Management projects that production will increase another 11% in 2013. They also expect to increase production again in 2014 by upgrading the mills and targeting higher grade ore shoots.
Outstanding law suit
GORO is currently involved in a lawsuit. The suit alleges the company misrepresented or failed to disclose significant operational difficulties at the El Aquila mining project in Oaxaca, Mexico. The suit maintains the company misrepresented production statistics, revenues and net income for the 1st and 2nd quarters of 2012. The company amended and restated the financial statements for the 3 months ending March 31, and 6 months ended June 30, 2012. This suit only pertains to buyers of the stock between 1/30/2012 and 11/8/2012. The outcome is not certain of this class action suit, but it is limited to a group of purchasers over a short period of time and if the company should lose, should not result in a huge settlement.
Reasons for the Gold Price to keep rising.
S&P maintains that the fundamental outlook for gold is positive for gold producing companies for the next few years. It maintains that the Federal Reserve's commitment to keeping short-term interest rates at near zero through mid-2015 keeps the cost of holding gold down. Gold production has remained stagnant for over a decade. Gold Fields Minerals Service reported that gold mine output rose less than 1% annually from 1999 through 2011. Gold production actually fell almost 2% for the first 3 quarters of 2012. Rising investment demand coupled with little or no increase in production should help lift the price of gold.
Furthermore great volatility of world currencies boosts the demand for gold as a monetary reserve asset. Quantitative easing by central banks and concerns over the solvency of sovereign debt strengthens the desire for hard assets instead of paper money. The threat of debt defaults increases the appeal of gold as a safe haven. S&P projects the price of an ounce of gold will reach the $1930 level this year.
Independent Stock Ratings
The Street Ratings rates GORO a buy with a target price of $15.57. It maintains that the company has several strengths that should help propel the price upward. These strengths are its solid financial position with low debt levels, good return on equity and expanding profit margins. Furthermore the company has outperformed the industry average in all these categories.
Ford Equity Research projects that GORO will perform in line with the market over the next 6 to 12 months. It maintains that the company's earnings momentum is negative. (see graph below)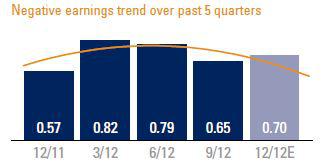 Recommendation
There are inherent dangers in owning mining companies. Workers can go on strike and bring production to a halt. Foreign governments can collapse causing the company to face an uncertain future. The price of gold can go down instead of up and the breakeven level for most gold producers is over $1000 per ounce.
GORO's mines are all located in Mexico. Mexico has been relatively stable over the past decade and looks to be stable into the foreseeable future. The management and board have been dealing with foreign workers and governments for a long time. This increases the confidence level one can have in investing in GORO. As far as a price decline in gold, owning shares in a mine is more likely to cushion one's losses better than owning the metal itself.
Owning a productive gold mining company that is delivering a good return is a better option than owning the metal itself. If gold were to drop $100 per ounce, GORO would still be profitable given its current production and expenses. If the price of gold were to increase $100 per ounce, GORO would be more profitable given its current production and expenses. For this reason, I recommend owning GORO rather than the metal.
If you desire to protect yourself against inflation but see owning metals as dead money, this may be the answer to your dilemma. Gold Resource Corporation offers a hard metal hedge against inflation at the same time it offers a solid 5% dividend.
Disclosure: I am long GORO. I wrote this article myself, and it expresses my own opinions. I am not receiving compensation for it (other than from Seeking Alpha). I have no business relationship with any company whose stock is mentioned in this article.