For-Profit Education is an industry that has been metaphorically tossed in the trash by the majority of investors. We all heard the news at some point or another that President Obama and Congress were cracking down on the industry and we ran for the hills, vowing never to touch the companies again. Then we actually saw what Obama and Congress were cooking up when the Congressional Report was released in late July, slamming for-profits for wasting taxpayer money in the form of government subsidies and robbing students of an education.
If we were scared at first, now we were terrified. There was a major sell off and the industry tanked. Then came the election, when hopes that Romney would win drove prices slightly higher, only to come crashing down again when he lost. Since then for-profits have, for the most part, gone sideways as we wait for updates on accreditation reviews and annual reports. I have had several investments in the industry at one point or another and I think there certainly is potential for some companies, but others should just plain be avoided. The three companies I delved into are detailed below:
1) Bridgepoint Education (BPI)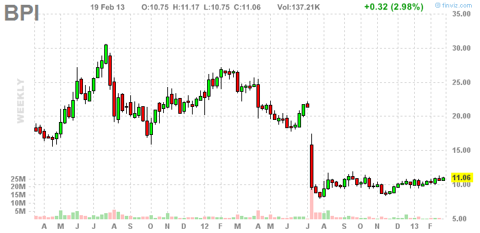 Recommendation: Strong Buy
This is the company I am most optimistic about. It has cash and investments almost equal to market capitalization with no debt. I am always scouring for companies with lots of cash like this as I believe their profitability is hidden in the cash and most investors don't realize it. The cash and investments dilute assets, lowering ROA when actually the company earns a much higher return on its operational assets. Bridgepoint has an ROA over 20% even with the dilution, but after factoring out cash and investments, it's much higher at 49%.
The company has also proven it can grow with earnings growth over 30% per year on average in the past 5 years. Enrollments have stayed steady unlike just about all its competitors who have seen major declines. I focused exclusively on this company in another article because it seemed so promising to me. The company operates two brick and mortar colleges, Ashford University in Iowa and University of the Rockies in Colorado. The vast majority of enrollments are online though and the company was identified in the Congressional report as being one of the lowest cost providers of online education in the U.S.
I definitely recommend reading the sections of the report dedicated to each of these companies as it is really enlightening about the risk involved. The risk, in a nutshell, is that the company was recently denied accreditation from WASC and is now under review by the Higher Learning Commission, its current accreditor. There is also the risk of government regulation for all of these for-profits. Regulation would mean that the companies would have to change their business models and spend more on educational expenses and less on advertising and likely be less profitable. I believe its highly likely that Bridgepoint keeps accreditation because the company is cooperating and taking initiatives to improve educational quality. The risk-reward is very favorable here: you could lose up to 100% of your investment if the absolutely worst case occurs but potentially make 5 or 10 times your money in the best case scenario and I think the latter is more likely to occur.
2) ITT Educational Services (ESI)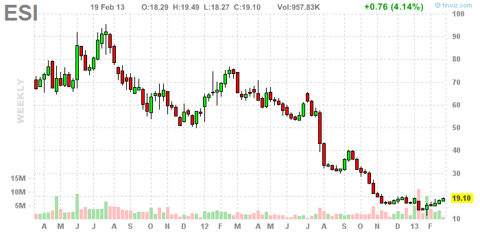 Recommendation: Buy/Hold
I got interested in ESI near its low at $14.25 in mid-January. I liked it then but don't like as much now with the higher price and a forgettable earnings report since then. This company has less cash and investments than BPI and debt to go along with it. Debt/Equity stands at 1.10x. What you're getting here is a company with less accreditation and regulation worries than BPI or most for-profits in general. The company is not sanctioned or under official review and its expense mix leans more towards educational costs already so it won't be hit as hard by regulation. The company's ROA and ROE are both impressive at 20% and 95% respectively. The company has a strong commitment to buy back shares; it knows how to keep its shareholders happy. It is also one of the cheapest for-profits in terms of P/E at 3.32. In Q4, it beat estimates and earned $2.08 per share.
What annoyed me though was that the company announced it will be writing off charges to loan institutions that it created risk-share agreements with in the past to provide students with financing. The defaults on these risk-share agreements are coming in now and the company is paying for it big time. The charges could be as bad as $70 million per year for the next 3 to 4 years. Not only that but new student enrollment dropped 11.4% in Q4 whereas at BPI, new student enrollments have dropped slightly but total enrollment has still increased slightly. Here, the risk is more material and evident whereas at BPI its much more speculative what will happen. The company is quite cheap though and despite the recent climb, I still think it's undervalued.
3) Apollo Group (APOL)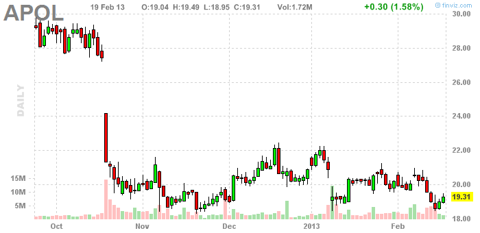 Recommendation: Hold/Sell
Apollo Group is the one of the largest for-profits with a market cap at $2 billion. It is better known as the operator of the University of Phoenix. You should be paying attention to this company if you own any for-profit as it has to lead the turnaround. This is the company that gets the Wall Street coverage; once it turns, the rest will follow. The company is very interested in overseas expansion, which might be a good move as educational quality is lower overseas and it will have less competition. My problem with Apollo is that it hasn't performed well even before this whole mess. Earnings growth in the past 5 years was only 6% per annum and at a P/E today of 6.27, it doesn't even look undervalued. The company recently announced that it has been sanctioned by its accreditor and is under review. It isn't suffering from past risk-share agreements but enrollments have taken a nose dive, dropping 14% in the most recent quarter. (click to enlarge)

Click to enlarge
For me, in order for the risk of accreditation loss to be justified, I need to see some real potential for growth and price appreciation, and that just isn't there with Apollo. ROA stands at a measly 14% and with enrollments dropping like they are and the company recently announcing the closure of half its locations, you probably wont see today's earnings again until the distant future. If the company maintains accreditation, share prices will likely increase 30-40% but that is nothing compared to the increases we'll see at Bridgepoint. If not accredited, this company has much more room to fall.
For-profit education presents us with a diverse lot of companies. Some are incredibly undervalued while others look very plain and unattractive. To invest in this industry you need to be able to distinguish between the two. Reading the Congressional Report is a must, and focus on enrollments and the likelihood of the company maintaining accreditation. See what they're doing to stay accredited. Look for real actions that are going to cost money but also improve educational results; a cheap band-aid isn't going to stop the bleeding this time for these companies. If you do find a company you like, make sure it's worth the risk- make sure it has plenty of room to grow and has proven that it can do so in the past 5 years. Look for hidden gems in the balance sheet too. This is not an industry for the risk averse, but it could potentially make some people a lot of money in the months to come.
Disclosure: I have no positions in any stocks mentioned, and no plans to initiate any positions within the next 72 hours. I wrote this article myself, and it expresses my own opinions. I am not receiving compensation for it (other than from Seeking Alpha). I have no business relationship with any company whose stock is mentioned in this article.