Paychex (NASDAQ:PAYX) is a company that has a lot to gain from the economic recovery that is now underway in the US. In case you're not already familiar with it, Paychex is the second-by-size payroll processing vendor in the United States. The company provides payroll, human resource and benefits outsourcing solutions for small-to-medium sized businesses. Paychex services more than 567,000 businesses.
Paychex is paid on a per-check basis for its main business and its results are closely tied to the health of the US economy and particularly the job market. Since the 2008 financial crisis and the 10% high of the unemployment rate in mid-2009, much of the lost ground has been covered. The economy has started to grow again and the real GDP even surpassed its pre-crisis levels.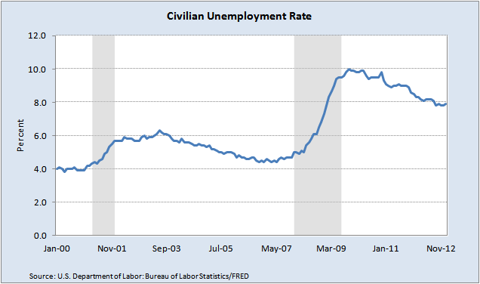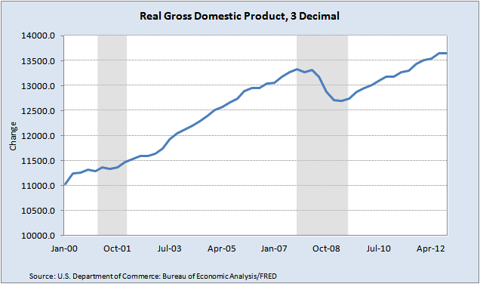 Unfortunately the unemployment rate has lagged behind and hasn't reached its pre-crisis levels yet. Another indicator that the job market is picking up speed is the rapid fall of the average duration of unemployment. Which means that people are able to find jobs faster than they used to for the last couple of years.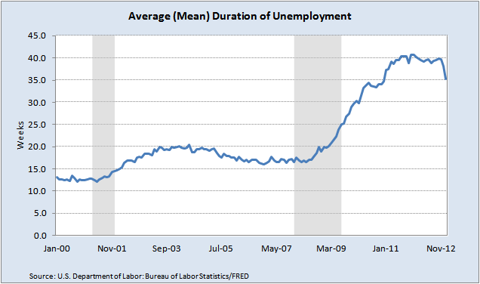 As the economy gets stronger and more and more people are hired, Paychex will make more and more money from small and medium businesses that will ramp up their hiring.
However you may wonder: "Isn't PAYX expensive at 21 times its projected 2013 earnings?". And the answer is no. Given that Paychex has an average 10-year growth rate of 8% that rises up to 15% in post recession periods, I believe that it is just trading at its fair price.
One thing that makes Paychex a truly compelling long-term investment is the strong downside protection it enjoys in periods of economic hardship.
Changing from one payroll processing vendor to another is a very burdensome task and that fact alone gives reason Paychex and its main competitor, Automatic Data Processing (NASDAQ:ADP) great customer captivity. This captivity gives them pricing power over their customers allowing for modest price increases at good times and non-declining prices at recessions.
You can see how that applies below. Paychex was hardly hit by the greatest financial crisis after the Second World War!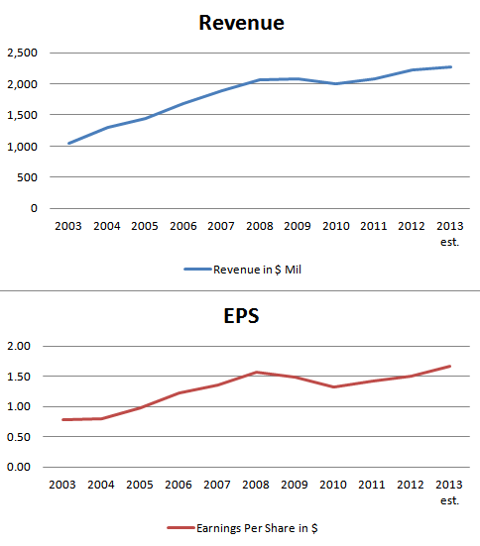 Another bonus for Paychex's shareholders is its $1.32 dividend which currently yields 3.9%. And despite the high payout ratio of more than 80%, this dividend is pretty safe due to Paychex's pricing power and its consistent growth.
I suggest you add Paychex to your watch list and be ready to buy when it dips below $30.
Disclosure: I have no positions in any stocks mentioned, and no plans to initiate any positions within the next 72 hours. I wrote this article myself, and it expresses my own opinions. I am not receiving compensation for it (other than from Seeking Alpha). I have no business relationship with any company whose stock is mentioned in this article.