I've written 2 articles on the healthcare sector lately, one on Pfizer (NYSE:PFE), and one on Novartis (NYSE:NVS). For today's article, I will be looking at GlaxoSmithKline (NYSE:GSK). GSK is a multinational pharmaceutical company, headquartered in London, UK. I will be using GSK's quarterly results, which you can find here. (Note: All graphs were made by me, using Microsoft Excel.)
GSK is currently trading at $45.98, which is just a few percent under its 52-week high of $47.69.
Looking through GSK's quarterly reports, the first thing I noticed was their revenue, which had been around $44 billion each year from 2009 to 2011, had dropped to $42 billion in 2012.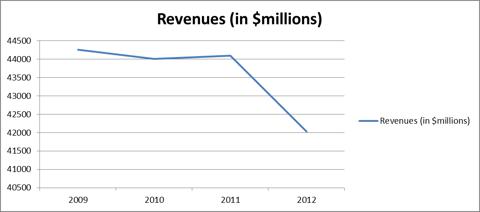 Click to enlarge
While this drop in revenue of about 5% would cause me some concern, I think the fact that operating profit is going down is much more worrying. In 2009, operating profit was $13.1 billion. By 2012, this had dropped to only $11.7 billion, which is mainly caused by the increase in cost of sales going up $1 billion in the same period.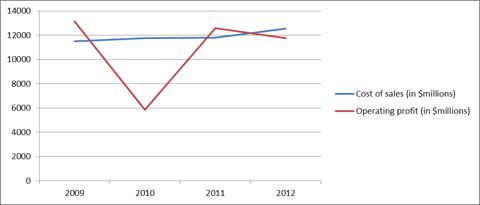 Click to enlarge
GSK has stable research and development costs, going from $6.4 billion in 2009 to $6.3 billion in 2012. R&D costs were slightly higher in 2010 at $6.9 billion.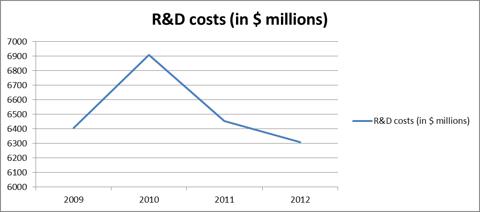 Click to enlarge
One of the things that might attract investors to GSK is its high dividend yield of just over 5%. When we place the dividend and the earnings per share in 1 graph however, we can clearly see that GSK has been paying out more than they've been earning.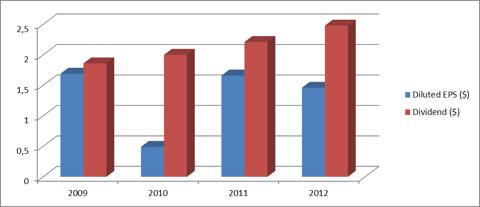 Click to enlarge
So how has GSK been able to pay this much to shareholders? Simply by increasing debt and decreasing cash supplies. The graph below shows how current liabilities have grown over the last years, exceeding current assets for the first time in 2012.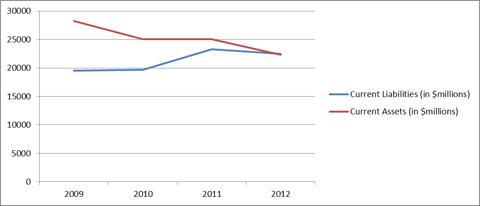 Click to enlarge
Now, with current liabilities and current assets known, we can make a graph showing the current ratio, which is divined as current assets divided by current liabilities. For comparison, I will also add Pfizer's current ratio to this graph.
Note: For PFE's 2012 current ratio I've used the Q3 2012 SEC filing as this was the most recent one available at the time of writing.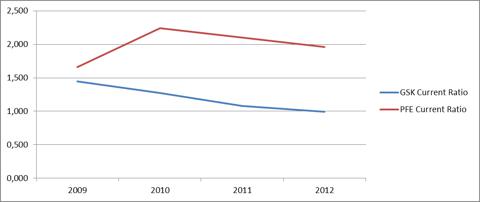 Click to enlarge
PFE's current ratio is around 2, while GSK's ratio has dropped to less than 1.
I think this says it all. GSK's revenue is dropping, along with its earnings, but it continues to pay a higher dividend than its competitors. This is depleting GSK's cash reserves, while increasing debt. Considering all these negative factors, I wouldn't buy GSK at this time.
What's your view on GSK? Please comment below!
Disclosure: I have no positions in any stocks mentioned, and no plans to initiate any positions within the next 72 hours. I wrote this article myself, and it expresses my own opinions. I am not receiving compensation for it (other than from Seeking Alpha). I have no business relationship with any company whose stock is mentioned in this article.