Last week, Brocade Communications' (NASDAQ:BRCD) new CEO, Lloyd Carney delivered his first quarterly conference call and he did not disappoint. The company reported solid Q1 2013 revenue of $589 million and EPS of $0.21, easily beating the Street's estimate of $575 million and $0.16. In addition, the company guided $2 million above consensus for Q2 2013. Equally impressive was Lloyd Carney's backing of Brocade's near and long-term future. I believe that Lloyd's posture brings new visions of growth to value-labeled Brocade. Here's why I think the stock will trade at $6.75 - $7.00 over the next two weeks and at $9.00 over the next few months.
New CEO:
New CEO, Lloyd Carney knows Brocade very well from his five years at Xsigo Systems. As he said on the conference call that "90% of my customers at Xsigo were Brocade customers.

"

He also mentioned that many of Brocade's customers called him to congratulate him on taking the helm at Brocade. A strong sign that he knows the business and has good relationships with Brocade's customers.
The Street consensus for Q2 2013 revenue is $563 million. The fact that as a new, incoming CEO he allowed guidance to stand at $565 million leads me to believe that Brocade has more strength and a greater demand for its products than investors realize.
The last two companies he headed, Xsigo Systems (five years) and Micromuse (two years) were sold to Oracle (NASDAQ:ORCL) and IBM (NYSE:IBM)

respectively

. This leads to the possibility that he could be setting up Brocade as a takeover candidate.
We should see a number of road shows and investor conferences next month as on the conference call, he promised to get in front of investors and explain his vision of where Brocade is going.
Cash Flow:
Brocade generated $59 million in cash in the last quarter and I see that number jumping to $100 - $150 million for the next three quarters for a total of $450 - $500 million for 2013.
Last quarter, Brocade repurchased 8.7 million shares at approximately $5.46 per share for a total of $47.5 million. That still leaves $501 million worth of stock to be purchased in its authorized share repurchase program.
For the first time since the Foundry Networks acquisition in 2009, Brocade is net cash positive of approximately $100 million.
Gross margins at 66% and operating margins at 23.5% are the strongest they have been and a sign that its new products are in strong demand.
Acquisitions:
A stronger balance sheet gives Brocade the ability to make future accretive acquisitions.
Last quarter, Brocade bought Vyatta for $45 million. This was its first acquisition since its massive acquisition of Foundry Networks Inc. for $2.6 billion in 2009. This could be the first in a series of accretive acquisitions that can help it grow its earnings and return growth to the stock. We have seen similar acquisitions by other tech giants such as Oracle Corp., Cisco Systems (NASDAQ:CSCO) and Juniper Networks (NYSE:JNPR).
Chart: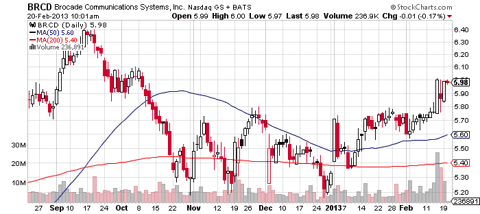 As we can see on the daily chart, Brocade made a triple bottom between November and December and then last week broke above resistance at $5.80 on four and half times average volume. This action sets up a short-term run above 52-week highs to $6.75 - $7.00, and has laid the base for a longer-term move to $9.00.
Valuation:
I have the company earning $0.73 per share in FY2013 and $0.85 per share in FY2014, while the Street has $0.69 and $0.70 respectively. I peg revenues at $2.35 billion for FY 2013 and $2.5 billion for FY 2014, with the Street at $2.3 billion and $2.39 billion.
Brocade currently trades at 7 times my 2014 EPS estimate of $0.85. I believe that Brocade should trade at 10 times my 2014 EPS estimate.
I estimate Brocade will generate cash flow of $600 million in 2014. As such it is trading at 4.75 times my 2014 cash flow estimate, I believe it should be trading at 8 to 10 times my 2014 cash flow estimate.
Brocade is generating enough cash to buy back stock, pay down debt, make accretive acquisitions and still add to its cash position.
Wild Card:
In the current M&A landscape, Brocade is a very attractive takeover candidate. It is especially attractive if the acquiring company uses stock and can keep Lloyd Carney on to run its division. In this scenario, I see Brocade trading at $10 - $11 per share, some probable candidates that have been rumored in the past include Dell Inc. (NASDAQ:DELL), EMC Corp. (EMC), Hewlett-Packard Co. (NYSE:HPQ), Oracle Corp., Cisco Systems, and IBM Corp.
Conclusion:
Brocade was a Wall Street darling in the late 1990's and early 2000's, but lost its way over the past decade as Cisco Systems took command of the space. This past year, Brocade has lowered its debt, bought back stock and added to its net cash off of strong cash flows. The new CEO has a platform that finally seems poised to grow with many new products introduced over the past year. I believe that in March, Lloyd will convey to investors why he believes he can make Brocade a force in the space, and the leader over the likes of Cisco Systems. I'm a believer. Brocade has the goods to be good.
Disclosure: I am long BRCD. I wrote this article myself, and it expresses my own opinions. I am not receiving compensation for it. I have no business relationship with any company whose stock is mentioned in this article.