M&A activity is at its highest level early in the year since 2007 as big acquisitions have come back to forefront in the first seven weeks of the year. Huge proposed buyouts of Heinz (HNZ) and Dell (NASDAQ:DELL) have garnered most of the headlines but activity in the mid and small cap space has also shown increased activity in 2013. I have fortunately benefitted from having two of my smaller small cap positions being bought out at nice premiums since the first of the year. Both Aurizon Mines (AZK) and Netspend (NASDAQ:NTSP) have been acquired recently (Murphy's Law Addendum: the stocks in your portfolio that get acquired always tend to be among your smallest positions).
I believe M&A activity will be strong throughout the year unless the market suffers a serious setback. Activity is being driven by low financing costs, the lack of organic growth in a tepid world economy and by policies from the Federal Reserve that continue to drive investors, companies and funds to move more money into riskier assets. It appears the genie is out of the bottle and it should be a robust year for investment bankers (and who wouldn't be happy with that?). I think more and more mid and small cap companies will be acquired by the end of the year as they provide the fastest growth and have good synergies for larger players that are challenged to accelerate organic growth and/or have needs to fill out their product lines. Here are three companies whose stocks I like on a standalone basis and could provide a nice buyout premium should they be acquired.
Power-One, Inc. (NASDAQ:PWER) designs and manufactures supply products for the renewable energy, servers, storage and networking, telecommunications, industrials, and network power systems industries worldwide.
4 reasons PWER is a good turnaround/merger play at under $5 a share:
The company received an upgrade from Raymond James yesterday. The firm's analyst bumped the shares to "Strong Buy" from "Outperform". The analyst noted that the "shares have barely moved amidst a major rally among solar peers. The solar inverter/power supply maker is "arguably the highest-quality public company in the space." The company makes sense as an acquisition target for a manufacturer that wants to grow its exposure to the alternative energy space.
Power-One has a robust balance sheet with over 50% of its market capitalization in net cash.
Insiders have been net buyers of the shares over the last year.
The shares are trading near the bottom of its five year valuation range based on P/E, P/S, P/CF and P/B.
Zynga (NASDAQ:ZNGA) operates online social games as live services on the internet, social networking sites, and mobile platforms.
4 reasons ZNGA is a solid speculative play at just over $3 a share:
The company has been an unmitigated disaster since coming public late in 2011 at an IPO price around $10 and crossing over $14 a share soon thereafter. However, online gambling initiatives in the states like New Jersey are gaining steam. If any of them pass, it is logical to speculate that a bigger gaming concern would scoop up Zynga which is well positioned to offer online gambling through social media games. The company has less than $1.5B market capitalization after subtracting cash on the balance sheet.
The company has more than $1B in net cash on its balance sheet (approximately half of its market capitalization) and still has $200mm left on a stock repurchase program.
Despite posting small gains/losses, the company is extremely cash flow positive. It should post over $1B in revenues by 2014.
The stock recently crossed its 100 day moving average after spending months consolidating in the $2 level. It is also approaching its 200 day moving average (See Chart)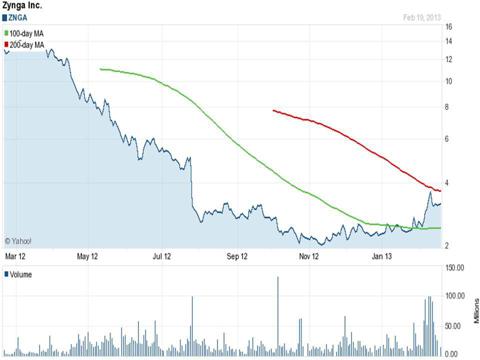 Click to enlarge
Warren Resources (NASDAQ:WRES) is an independent energy company with oil and natural gas production. The company focuses primarily on its waterflood oil recovery programs and horizontal drilling in the Wilmington field within the Los Angeles Basin of California; and on the exploration and development of coalbed methane properties located in the Rocky Mountain region.
4 reasons WRES has upside from under $3 a share:
Only two analysts follow the stock. One has a price target of $4 a share and the other is at $5.25 a share. Both targets are substantially above the current price.
The stock is cheap at just 11% over book value and with a market capitalization trading at three times the past 12 months of operating cash flow.
After experiencing a better than 15% revenue gain in FY2012, analysts expect another 10% sales increase in FY2013.
The stock trades at 11x forward earnings and the company has more than tripled operating cash flow over the last three years.
Disclosure: I am long PWER, WRES, ZNGA. I wrote this article myself, and it expresses my own opinions. I am not receiving compensation for it (other than from Seeking Alpha). I have no business relationship with any company whose stock is mentioned in this article.