By David Urani
The big economic release of the day was January housing starts, which all the headlines are reporting as a shortfall but I'm not worried about it at all. Overall starts were down 8.5% month to month to 890k, yes, but what we're seeing here is a case of noise in the multifamily (5+units) data. Multifamily units had surged in December, causing a 15.7% increase in headline starts, and came back down in January which accounted for the dip. The better indicator to look at is single-family starts, which continued to increase to 613k from 608k and marched to a new 5 year high.
Building permits also rose by 1.8% during the month to the highest level since June 2008. That indicates that the outlook for new construction remains positive. We would also note that we're in the dead of winter when few homes are built anyway so seasonal adjustments are partially to blame for some volatility in the data.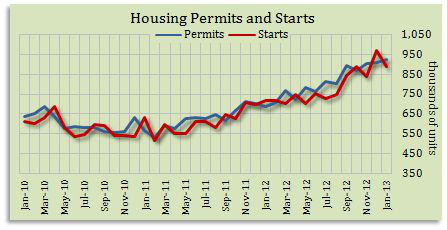 In the end, the housing starts data does not worry me. Toll Brothers' (NYSE:TOL) Q1 report, however, was a little worrisome. The company missed by $0.09 on the bottom line and revenues of $425 million fell short of the $493 million consensus (although still up 32% y/y). A little bit more encouragingly, though, units in backlog were up 57% year over year, an acceleration from +54% in the previous quarter. In dollars, that backlog was up 66%. Consequentially, the outlook for 2013 sales looks good so far.
Versus some of the other builders, Toll Brothers might not seem as strong given that much of the resurgence in the housing market of late has been in first-time buyers as opposed to TOL's move-up clientele (the average price per home in backlog is $665,000). We also have to wonder if the pending tax increases on the wealthy caused their potential buyers to become cautious during the quarter. That being said, Toll Brothers also seems to have relatively little competition in its market niche.
The combination of TOL's report and a little bit of headline fright from the housing starts data (which we think is unwarranted) is weighing on housing stocks, with the Dow Jones U.S. Home Construction Index (below) down 4.2%. It's brought out a lurking feeling from many that the sector has risen too far too fast.