There are many companies in China battling to become the next big thing. Heavyweights such as Baidu, Inc. (NASDAQ:BIDU), Sina Corp. (NASDAQ:SINA), Sohu, Inc. (NASDAQ:SOHU) and Qihoo 360 (NYSE:QIHU) have already established their presence in China. So today I wanted to take a closer look and compare two lesser-known Chinese companies in Dangdang (NYSE:DANG) and Vipshop (NYSE:VIPS).
E-Commerce China Dangdang Inc.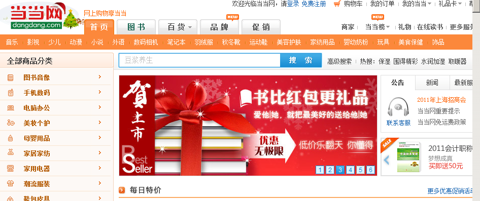 Dang operates as a business-to-consumer e-commerce company in China. It sells books, audio-visual products and electronic publications through its Website, dangdang.com. Dang's website operates as a marketplace program as well, which allows third-party merchants to sell their products alongside products sourced by the company. Think of them as a small but compatible version of the Amazon (NASDAQ:AMZN) of china.
Vipshop Holdings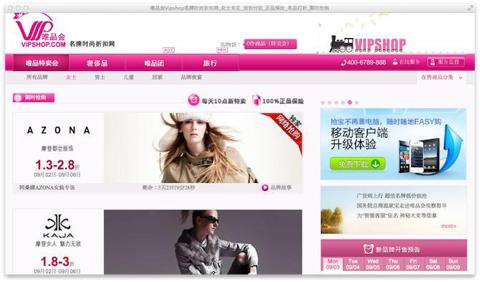 Vips is China's leading online discount retailer. Vipshop offers popular branded products such as apparel for women, men, and children; lifestyle products, sporting goods and other miscellaneous products to consumers throughout China at a significant discount. Think of them as an online Ross (NASDAQ:ROST) or T.J.Maxx.
Diversity Is Key
The best way to protect yourself against risk in the stock market is to not invest at all. However, with risk comes also rewards and the key of overcoming risk is to have a balanced portfolio. A balanced portfolio involves having a diverse group of stocks and bonds and simply not having all of your eggs in one basket. Many investors like to invest in different sectors (Financial, Consumer Goods, Healthcare, Technology) to get that diversity. So for your portfolio sake let's take a look at the fundamentals of these two service and technology companies in Dang and Vips.
| | |
| --- | --- |
| Dangdang | Vipshop |
| Market Cap: $327 Million | Market Cap: $1.23 Billion |
| Closing Price: $4.09 | Closing Price: $24.38 |
| Revenue: $767 Million | Revenue : $497 Million |
| Profit Margin : -9% | Profit Margin : -15% |
| Operating Margin : -10% | Operating Margin :-16% |
| Active Customers: 7 Million | Active Customers: 1.7 Million |
| Cash (mrq): $228 Million | Cash (mrq): $131 Million |
| Debt: $31 Million | Debt: 0 |
| Cash Per Share (mrq): 2.85 | Cash Per Share (mrq): 2.61 |
| Book Value Per Share: 1.73 | Book Value Per Share: 1.46 |
| Enterprise Value/EBITDA : -1.89 | Enterprise Value/EBITDA : -14.46 |
* Data From Yahoo!Finance
The Case For DANG
Dang started last year off with a bang with shares more than doubling - climbing over $11 a share. Dangdang's shares have since retreated back to where they started last year. So what was the problem? Two words, China's Economy. China's economy saw some slowdown last year, which did not benefit Dang because it relies so much on consumer spending. However, China's economy is picking back up and is gaining steam, so is now the time to get back into Dangdang?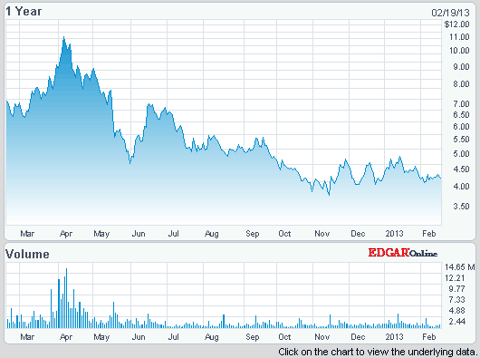 Looking at the table and comparing the two companies head to head, Dangdang clearly would be the better buy over Vipshop. Dangdang has better profit and operating margins (-9%,-10% vs -15%,-16%), more active customers (7 Million vs 1.7 Million) and cash (228 Million vs 131 Million) etc. However, we must remember that those results cover over a year's worth of data. Dang's earnings have been flat to say the least because of the rising expenses of price wars in China. Meanwhile Vips earnings have been on a surge and the stock price reflects it.
With Dang's stock trading around $4 a share, Dang looks severely undervalued to me at these levels. With over $228 million in cash and a market value of just $327 million, is dang really only worth $99 million without its cash? I think not, just look at some of Dangdang's assets with its warehouses & property, customers, trademarks etc.
The Case For VIPS
Vips is fairly new to many investors because it's not even a year old as a public trading company. Vips went public last year (March 23, 2012) pricing its IPO at $6.50, well below the estimates of $8.50-$10.50 that investors had for it. Many investors who initially invested in Vipshop have to be happy with what has transpired over the last six or seven months. From its IPO price at $6.50 Vips is now up almost 400% with its recent closing price of $24.38.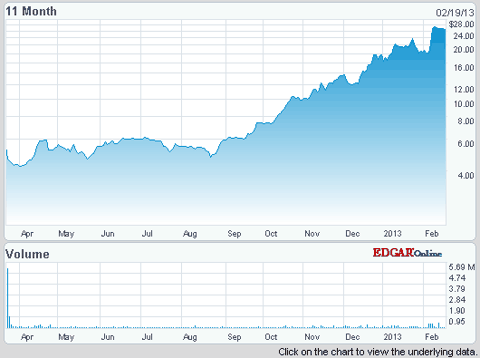 If you saw Vipshop's last earnings report you would see why the price has skyrocketed and quadrupled. From its last quarterly report, Vips nearly tripled its net revenue (up 197%) to $155.9 million. Vips attributed it to its 173.6% customer growth, and a 157.6% spike in net orders. The company also reported its first non-GAAP profit $0.01 per share in its history. Wall Street analysts anticipated a loss of $0.07 per share. If Vips can continue this staggering growth and great margins (which will be tough) it will be on its way to increasing share price even more. With so many recent accomplishments it would hard not to get excited about VIPS. However, I would wait and see what the next one or two earnings reports look like to see if it can keep growing at these staggering rates.
Conclusion
Both are great companies with a lot of room for growth. China, which has an internet population of just over 538 million is projected to have over 800 million internet users by 2015. Not to mention that the internet penetration rate was estimated to be at just 39.9 percent, leaving significant room for growth.
As for the better portfolio play between Dang and Vips, I would have to go with Dangdang. Just look back at the fundamentals in the table above and you will see all the reasons why.
I also believe that Vips' 400% surge wont be able to last while Dang seems poised for a breakout after consolidating the last few months. Dang's short interest has been drying up, which means shorts feel like the ride is about over.
Investors as always are reminded that before making any investment, you should do your own proper diligence on any stock mentioned in this article. Any material in this article should be considered general information, and not relied on as a formal investment recommendation.
I hope you enjoyed the article and look forward to all of your helpful comments and insight. Have a great trading day!
Disclosure: I have no positions in any stocks mentioned, but may initiate a long position in DANG over the next 72 hours. I wrote this article myself, and it expresses my own opinions. I am not receiving compensation for it (other than from Seeking Alpha). I have no business relationship with any company whose stock is mentioned in this article.