Telefonica (NYSE:TEF) is a diverse telecommunications provider in Spain, Europe, and Latin America with products consisting of fixed line telephone services, wire line telephone services, mobile services, broad band internet services, and pay TV services.
Telefonica will announce its full-year 2012 financial results on Thursday, February 28, 2013 at 10:00am EST, but let's review its January to September 2012 results.
Latin America is one of the largest markets for telecommunications in the world. To make a comparison there are about 313 million people living in the United States and about 385 million people living in South America with about 200 million people living in Brazil. Telefonica's Brazilian operations ended September 2012 with 92 million clients accesses, while Telefonica's operations in the countries Argentina, Chile, Colombia, Costa Rica, Ecuador, Guatemala, Panama, Peru, Uruguay, Mexico, and Venezuela, totaled 118 million client accesses for a grand total of 210 million accesses for all of Latin America as of September 2012, which was up 8.2% year-over-year. Telefonica is the major telecommunications company in Spain, but it has expanded its reach (through multiple acquisitions) to other European countries such as Czech Republic, Germany, United Kingdom, Isle of Man, Ireland, Italy, and Slovakia. Telefonica Europe total clients accesses as of September 2012 was 103 million, which was down 2.3% y-o-y.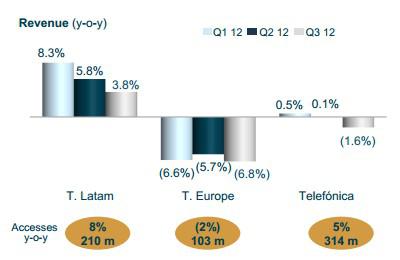 Source Telefonica Investor Relations Results January-September 2012 (pdf)
Telefonica's revenues from January to September 2012 was 46,519 million euros (US 61,773.02), which was slightly down (-0.3%) y-o-y, and can be broken down as follows with Telefonica Latin America accounting for 49% or 22,578 million euros, which was up 5.9% y-o-y, and Telefonica Europe accounting for 48% or 22,512 million euros, which was down (-6.4%), and other companies % eliminations accounting for 3% or 1,429 million euros. As you can see the biggest revenue engine for Telefonica is Latin America, with Brazil being the main driver, having almost half of Telefonica's clients' accesses in this region with 92 million, which was up 11% y-o-y.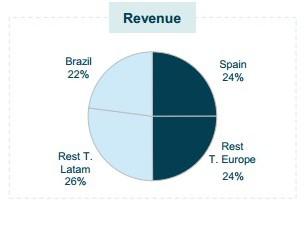 Source Telefonica Investor Relations Results January-September 2012
Telefonica reported 3rd-quarter 2012 earnings of $0.31 euro per share, which was up $0.02 euro per share from the 2nd quarter 2012 and up 0.5% y-o-y. Net income from January 2012 to September 2012 was up 26.4% y-o-y to 3,455 million euros, and as of a result from the elimination of the dividend management was able to free up cash to use to pay down the debt by 5,500 million euros and now debt stands at 56,006 million euros. Management has also been able to refinance 13,000 million euros of debt which will allow Telefonica to further pay down their debt in an aggressive manner.
The primary reason that Telefonica is so cheap is that it is a Spanish company, and there are a lot of concerns about Spain's debt burdens impacting economic growth as well as Spain being in the European Union. Telefonica operations in Spain are shrinking however Telefonica's other global revenue streams, mainly Latin America and Brazil, are increasing at a tremendous rate. Right now I believe Telefonica to be undervalued despite the euro crisis news headlines.
Management maintained its guidance for revenue for 2012 and the financial results are scheduled to be released on February 28, 2013. To take advantage I would suggest taking a long-term perspective and buying Telefonica stock, which currently trades slightly below $13.00 or if you would like to create an additional margin of safety then selling put options on Telefonica would be appropriate. The option play is to sell June one 2013 put at the $13.00 strike to collect the $65 premium. If Telefonica expires above $13.00 in 121 days, the profit on maximum risk is 5.26% (65/1235), equivalent to 15.86% annualized. If Telefonica closes below $13.00 at expiration, the investor will own the stock at $12.35, or 3.8% below the current share price.
Disclosure: I have no positions in any stocks mentioned, but may initiate a long position in TEF over the next 72 hours. I wrote this article myself, and it expresses my own opinions. I am not receiving compensation for it (other than from Seeking Alpha). I have no business relationship with any company whose stock is mentioned in this article.