As I run and analyze scans of the stock charts this Monday morning looking for low-risk high-reward trade opportunities, I'm thinking about CNBC's "House of Cards" presentation on the what, who, how, when, and why of the current financial crisis which amongst many other mistakes made by different people, Wall Street created CDOs from USA's Mortgage backed securities from the Subprime mortgage market, and corporate debt and selling them to anyone around the world that was looking for AAA rated investments. CDOs – Collateralized Debt Obligations. These structured products are highly complicated investments. The debt securities are bundled and re-sold but often buyers don't really know exactly what they are purchasing. Even Alan Greenspan admitted he was befuddled by the CDO. The why of this crisis is most easily answerable . . . money and greed for more of it. For the rest of the story I highly recommend you watch the presentation, and more than once if possible to learn this valuable financial lesson.
I pick stocks to buy or sell based on technical analysis first, then review the current and forward fundamentals to see if there is more support for a buy or sell. When prices are going up, and above levels considered to be normal, how does the market explain and or justify the price rise? A variety of reasons justifiable and not, with the number one reason being greed in my opinion. Example, why did Oil peak out at $148 or so a year ago, and why is it at $40 of so now? The bottom line is greed for it to hit 148, and now its fear that it's down to 40 and below. Is it supply and demand? Well yes, and its fear and greed that fuels the supply and demand.
I would say greed is good in that it has built today's societies to what they are today providing a better life for a majority of people around the world, but greed not kept in balance and used to excess is bad as it can destroy what has been created even faster. Part of the problem for the fear and greed factor is a lack of financial intelligence I see. With more financial intelligence by everyone, excess in the markets might be much less or at least to prevent major financial disasters like this to be averted. So until more people have more financial intelligence, and even more important take action on that financial intelligence, the money game of fear and greed will continue and volatility will be a place for traders to profit from.
My stock pick this week is a major company involved in facilitating financial transactions between buyers and sellers of financial instruments. With the fear in the markets right now, fundamentally I would say there will be less money sloshing around to be invested and traded right now. The company's earnings could be under pressure into the near future caused by this slow down in demand or should I call it demand destruction caused by you know what. Technically, the chart is showing the price is at the top of its recent range also.
Sell Short Chicago Mercantile Exchange (NASDAQ:CME)
Sell Entry: 195.98 to 188.50
Stop-Loss: 197.50 or higher.
Take Profit Areas: 181.02, 173.54 to 166.06, 153.12 to 146.88, 133.31 to 127.87, 92.05 to 88.29
Chicago Mercantile Exchange Company Profile
CME Group Inc., formerly Chicago Mercantile Exchange Holdings Inc., offers a range of products available across all asset classes, including futures and options on futures based on interest rates, equity indexes, foreign exchange, agricultural commodities and alternative investments, such as weather and real estate. The Company is the holding company for Chicago Mercantile Exchange Inc. (CME), Board of Trade of the City of Chicago, Inc. (CBOT) and their subsidiaries. During the year ended December 31, 2007, the combined volume of CME and CBOT exceeded 2.2 billion contracts. As of December 31, 2007, the Company's open interest stood at 54 million contracts and its open interest record was 75.2 million contracts set on August 9, 2007. In January 2008, the Company completed the integration of CBOT's interest rate, equity and agricultural electronic products on to CME Globex. In August 2008, CME Group Inc. announced that it completed its acquisition of NYMEX Holdings, Inc.
Click here to review and Trial the Trading Software I used in determining my short position on CME. Enter I2S in the "coupon code" field to receive the 5% discount.
Click the Chicago Mercantile Exchange Stock Chart for a larger view.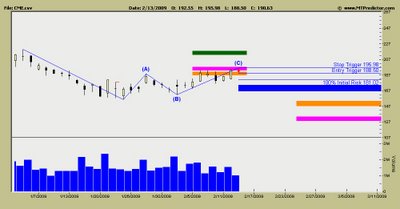 Disclosure: Short NDAQ.