Trying to get invested in a rallying market can be frustrating. If you missed a better opportunity, the last thing you want to do is dive in right before a stock pulls back. One of the things I like to do when recommending new buys is to avoid stocks that are extended, meaning that their rallies have persisted for a while and perhaps gone too far, taking the stock potentially to an area where many investors might take profits.
With this in mind, I decided to screen the S&P 500 for stocks showing some promising trends technically and fundamentally, with an eye as well on valuation. My goal was to find stocks that are performing well but that aren't trading too far from their 52-week lows.
Here is the screen I devised (using Baseline):
Price within 10% of 52-week High
Price within 35% of 52-week Low
MTD Price Return >4%
3-month Price Return > 10% but <25%
YTD Price Return > 7% but <15%
1-Yr Price Return < 23% (S&P 500 + 13%)
Forward PE vs. 10-year Median < 1.5X
Earnings Estimates for 2014: No worse than -2% revision over past 3 months
So, what we end up with is stocks that are doing better than the market in 2013 but that aren't trading at extreme valuations and that aren't too far from their lowest prices in the past year. Further, the earnings estimates are stable or rising. Here is what we get: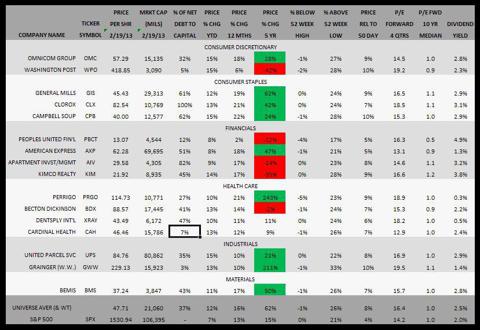 I have sorted the stocks by economic sector (6 of the 10 are represented) and from distance from the 52-week low. I shared some extra information, including net debt to capital, 5-year price return (with those stocks up more than 20% highlighted in green and decliners in red), price vs. 50 dma, the forward PE and the dividend yield.
Omnicom (NYSE:OMC) and Washington Post (WPO) are the Consumer Discretionary names that make the cut. The former is an advertising company that just broke to an all-time high, while the latter is much more than its name suggest (Stanley Education, cable television and television broadcasting) isn't too far from its 5-year low.
General Mills (NYSE:GIS), Clorox (NYSE:CLX) and Campbell Soup (NYSE:CPB) are the Consumer Staples names that make the cut. With the recent Heinz acquisition announcement, interest in these types of companies perked up and is likely to persist. CLX fended off a bid already from Icahn. CPB hasn't been executing very well for quite some time and hasn't been the steady growth machine like the other two, so it gets a discount. CLX trades at 10X EV/EBITDA, while CPB and GIS trade above 11X.
Financials have been hot, leading the market in 2012 and faring well so far this year. Peoples United (NASDAQ:PBCT) has the highest dividend on the list. The S&L, based in Bridgeport, CT, isn't too far from its 5-year lows. American Express (NYSE:AXP) isn't too far from its all-time high near 65 set in 2007. The company had an in-line earnings report last month, gapped down and has moved to a 52-week high. The company is guiding for 12-15% long-term EPS growth and 8% revenue growth. Aimco (NYSE:AIV) is an apartment REIT, a group that is out of favor due to concerns of a more robust housing market. The company grew same-store NOI by 6.5% in 2012. It trades at about 22X AFFO. Kimco Realty (NYSE:KIM) is also a REIT, focused on shopping centers still after a near-death experience in 2008-2009. The company, which is part of the consortium buying the 877 Supervalu centers, has been very active in other acquisitions and dispositions.
I have mixed views on the Healthcare names, as Perrigo (NASDAQ:PRGO) and Becton Dickinson (NYSE:BDX) may be getting a "flu" lift. I actually just sold BDX out of my Conservative Growth/Balanced model portfolio, so maybe it is a buy! Kidding aside, I would add it back in the low 80s and really like what they are doing in emerging markets. PRGO is king of the private-label over-the-counter medicines. It has been on a tear for years.
Many investors will bottom-fish, while others will chase stars. Each of these strategies have inherent risks, such as catching a falling knife or a hot potato. I think that some of the best ideas can emerge from quiet consolidations. In this case, I have screened across technical, fundamental and valuation metrics in order to uncover some stocks that might make sense to investigate further. Dentsply (NASDAQ:XRAY) is a pure-play dental company with a great long-term record of earnings growth, exposure to international markets and focused on consumables. Cardinal Health (NYSE:CAH) is the giant pharmaceutical distributor. It trades at a discount to its two peers, but its record hasn't been as consistent.
In the Industrials, United Parcel Service (NYSE:UPS) is real close to its all-time high from late 2004. Back then, though, it was 25 PE, not 17. They shared some love on Valentine's Day, boosting the dividend by almost 9% and increasing its expected 2013 share repurchases by $1.5 billion to $4 billion. Grainger (NYSE:GWW) is a fantastic company, the one on this list to buy most likely. It just moved to an all-time high and is a great way, in my opinion, to play the new Industrial Revolution. Finally, Bemis (NYSE:BMS), the representative from the Materials sector, is enjoying a mix shift as well as reducing costs. This one just quietly broke to an all-time high.
So, hopefully I have given you a few ideas to ponder. Investing in a rallying market may feel better than investing in one that is declining, but one should be careful not to chase overextended stocks that are vulnerable to correction. In this case, all of the stocks are within 35% of their 52-week lows despite trading fairly closely to their 52-week or even all-time highs. We have restricted the list to companies whose valuations aren't too far from their typical valuations over the past decade and eliminated any companies with rapidly declining earnings estimates. Remember, screening is only a first step. Before investing, you should do your own investigation to identify risks and potential opportunities.
Disclosure: I have no positions in any stocks mentioned, and no plans to initiate any positions within the next 72 hours. I wrote this article myself, and it expresses my own opinions. I am not receiving compensation for it (other than from Seeking Alpha). I have no business relationship with any company whose stock is mentioned in this article.