Given zero bound interest rates, central banks have been using unconventional methods to stimulate growth. This problem is compounded by the large output gaps and anemic growth projected in most of the major economies. While this has had some adverse impact on the exchange rates, it is not the focus of any central bank.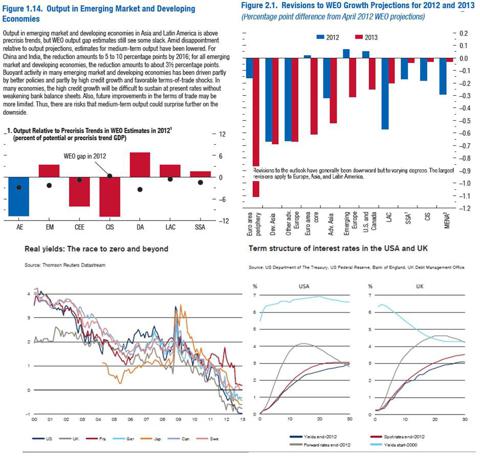 Of late, currencies have increasingly become part of the global monetary policy debate. The Japanese yen (JPY) would be the most obvious case and the sharp weakening of the JPY (NYSEARCA:FXY) could have broader global policy implications. Japan has fired the first round of shots on this front, which could result in a major confrontation from other countries as well. The Fed, ECB and BoE (which have their own QE programs to stimulate growth), along with other emerging markets could follow with verbal interventions, capital controls and interest rate cuts.
I have written about the risk of looming currency war in my previous article "Is Japan Prompting A 1930s-Like Currency War?" Now we will look into four arguments put forth by Niall Ferguson on why the current policies are fundamentally different from those implemented in the 1930s.
1) Major economies were on the gold standard during the Great Depression of 1930s. The exchange rates were fixed in terms of gold and it was obvious as to who was waging a currency war. Moving out of the gold standard was the first step towards recovery and regaining competitiveness. Britain was the first in 1931, leading to a wave of competitive devaluations. It allowed Bank of England to pursue its monetary policies freely, focusing on reviving the domestic growth. They also adopted low interest rates, which led to housing recovery. It would be absurd to accuse one country of currency manipulation today, as we are living in a world of fiat money and floating rates.
2) Things in Japan are in dire straits: It should be noted that the country has not seen any meaningful growth since the end of 1980s, with unsustainably large public debt and unfavourable demographics.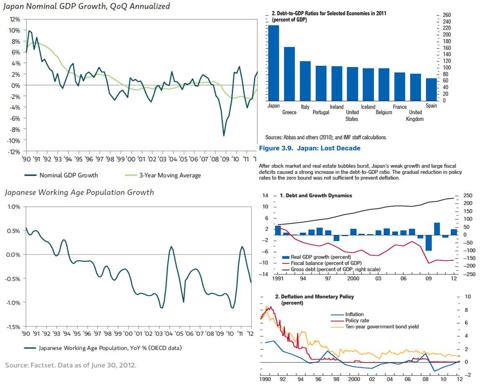 3) Japan's asset purchase plans dwarfs those of the U.S. Federal Reserve's policy actions. Japan has no asset purchase plans for 2013 and the net impact of the purchases promised for 2014 will be limited since most of the money will be used to buy short-term debt close to maturity. The net increase in asset purchases for 2014 will be only Y10tn, equivalent to about 2 per cent of GDP. Fed's balance sheet exceeded $3tn for the first time ever. If the Fed keeps buying assets at the current pace of $85bn a month for the rest of 2013, it will accumulate another trillion in long-term assets: between 6 and 7 per cent of GDP.
4) The tendency of politicians and the public to focus on short-term movements in nominal exchange rates generates much more heat than light. True, Japan's nominal rate in terms of the dollar has weakened markedly since September. Back then, a dollar was worth just 77 yen. Today it's above 90 yen. But that 17 per cent depreciation looks less impressive when you remember that the dollar was worth 158 yen back in early 1990 and apart from a brief period in 1995 it has traded below 90 yen only since the summer of 2010.
Finally if weaker yen remains the core of Japan's plans to revive its export market, risk of currency war looms higher. With anemic global growth and sluggish demand, any revival of Japan's export market would be at the loss of market share for other countries. Japanese companies like Toyota (NYSE:TM), Honda (NYSE:HMC), Toshiba and Mazda (OTCPK:MZDAY) would be the biggest winners at the expense of U.S. (NYSEARCA:SPY) companies like Ford (NYSE:F), General Motors, Caterpillar (NYSE:CAT), General Electric (NYSE:GE) and Deere (NYSE:DE).
Investment Implications: The outcome of Japanese (NYSEARCA:EWJ) actions would be fourfold - a) weaker yen b) growth in domestic demand c) negative interest rates and d) higher inflation. I have written in detail about the investment options available in my previous article "Asia and Japan's Reflation game." Now let us focus on the winners and losers.
Disclosure: I have no positions in any stocks mentioned, and no plans to initiate any positions within the next 72 hours. I wrote this article myself, and it expresses my own opinions. I am not receiving compensation for it (other than from Seeking Alpha). I have no business relationship with any company whose stock is mentioned in this article.