Terra Nitrogen Company, L.P. (NYSE:TNH) is a limited partnership that produces and distributes nitrogen fertilizer products. Its principal products are anhydrous ammonia (or ammonia) and urea ammonium nitrate solutions (UAN), which the Company manufactures at its facility in Verdigris, Oklahoma.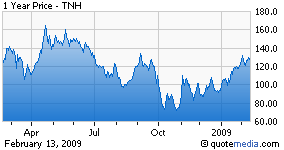 The company reported FY 08 earnings per share of $14.90 compared to $10.90 for FY 07, representing a 36.73% increase. EPS for the MRQ is reported at $3.55, down from $3.59 in the December 07 quarter. Sales are up 41.92% from $636.308 to $903.017 for the year. The five year growth rate for sales is 17.73%.
Gross margins have expanded to $47.84%, well above the five year average of 29.01%. Net margins are hight at 46.77%, also well above the five year average of 27.33%.
Are these high growth rates sustainable? Current, fast-changing prices of agricultural commodities and fertilizers make it risky for farmers to invest in fertilizers. In many countries, it is anticipated that distributors and farmers will experience trouble in accessing credit to purchase agricultural inputs, including fertilizers. Where there are sufficient phosphorus and potassium reserves in soils, farmers are likely to rely temporarily on the reserves. Nitrogen should not be as greatly affected.
Nitrogen supply/demand conditions are tight, driven by strong nitrogen fertilizer demand worldwide. Production outages in exporting countries and delays in the commissioning of new capacity further tightens supply. World grain stocks remain at a record low despite two good consecutive harvests in 2007 and 2008. Projections by the Food and Agricultural Organization of the United Nations and the US Department of Agriculture point to a modest recovery in 2009.
We construct our estimate of TNH's value by developing risk-adjusted capitalization rates for our estimate of free cash flow. The reciprocal of the capitalization rate is the Price/Free Cash Flow multiple.
Risk Premiums
Market Value of Equity 11.65%
Book Value of Equity 13.57%
5-Year Average Net Income 11.19%
Market Value of Invested Capital 12.78%
Total Assets 14.02%
5-Year Average EBITDA 12.23%
Sales 12.83%
Number of Employees 15.68%
Average Operating Margin 9.36%
Coefficient of Variation of Operating Margin 14.31%
Coefficient of Variation of Return on Book Equity 12.75%
Mean Risk Premium 12.76%
Projected Free Cash Flow per Share $35.04
Projected Average Valuation $274.61
Disclosure: The author has no financial interest in TNH.