Introduction
In this article I'm going to be showing the red flags behind the latest Brighton Markets stock promotion, Green Innovations Ltd (GNIN.OB). I'm going to explain why this company is being misperceived by investors and why it's likely most of the information being disseminated by the stock promoters is irrelevant for the future of the stock. In my view the extensive track record of the CEO in terms of corporate failure and terrible stock performance makes it likely shareholders will face a likely loss of 70% or more in the near term, specially given the heavy promotional activity (which has diminishing returns as they run out of prospects), large amounts of free trading shares and technical chart pattern in the stock right now.
The Company
The company describes its business plan as:
"Green Innovations Ltd is focused on filling a void in the eco-friendly, biodegradable product array. As the world continues to trend away from tree-based products in favor of products with smaller carbon footprints, consumers are becoming more educated about the "green" products that are available to them in the marketplace and are consequently demanding higher standards for these products. In order to help satisfy this demand, Green Innovations Ltd, through its wholly-owned subsidiary Green Hygienics Inc., is the exclusive and licensed North American distributor of American Hygienics Corporation 100% tree-free, bamboo-based product line, including personal care and paper-based goods. "
Recently the company was "selected" by Brighton Markets for a stock promotion campaign. Here is one of the reports hosted in one of its sister websites. In the disclaimer they reveal details about the paid stock promotion:

Click to enlarge
Fundamentals
The company's fundamentals are virtually non-existent. According its latest SEC fillings the company has:
$13,000 in cash and $3,000 in other current assets.
$61,000 in current liabilities (a 0.26 current ratio).
Stock holder equity of -$122,000.
$0 Revenues (no business of any kind).
Net income of -$61,000.
There is also has a going concern section in the latest 10-Q:
"These factors raise substantial doubt about the ability of the Company to continue as a going concern for a reasonable period of time. The Company's continuation as a going concern is dependent upon its ability to generate revenues and its ability to continue receiving investment capital and loans from third parties to sustain its current level of operations. The Company is in the process of securing working capital from investors for common stock, convertible notes payable, and/or strategic partnerships. No assurance can be given that the Company will be successful in these efforts."
Even though the company has no business right now they have a market cap of $68M. mainly the result of the stock price increase after the promotion started. Because the company has no track record (current management came into the company in September of 2012 and they altered the business plan) this company is basically a vote of confidence in the people behind it. Who are the people behind the promotion and the company?
The Promoters
The promoters (Brighton Markets) did two other promotions in the last year, IDNG and PUNL: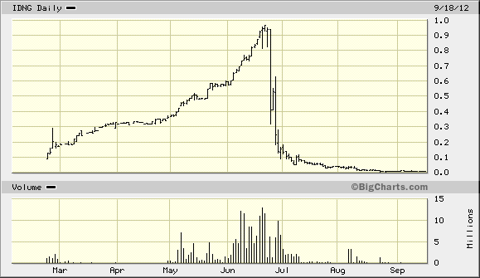 Click to enlarge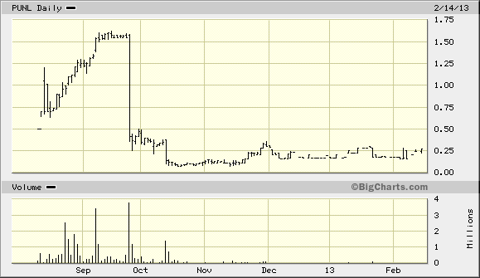 Click to enlarge
Both stocks crashed more than 70% after the promotion, leaving investors who didn't pay attention to their disclaimers with significant losses. There is simply no reason to believe this time will be different.
The promoters are comparing the company to Sarepta (NASDAQ:SRPT) in order to entice naive investors into believing big gains are possible, but the track record of these promoters is terrible at best.
Their reports are filled with big price targets, mentions of a $12B industry but very little information on how they are going to create something out of nothing so quickly (they estimate $24M in revenues this year, up from $0 currently). They essentially play into people's desire to make a lot of money investing just a little (the lottery ticket effect).
So far the promotion has worked as the stock has rallied significantly and volume has exploded, last Friday more than $18M changed hands.
The Insiders
The main insider behind the company is a big red flag. First, the CEO Bruce Harmon is also listed as the CFO, treasurer and secretary of the company. It's simply not credible that a company with so much potential to make millions (the estimate in that report I linked is $13M in net income in 2013) as some of the promoters report claim could achieve such a thing with just one man behind all the main operations. It doesn't even have a board of directors and we are supposed to believe it is on the way into making $120M a year in revenues.
Bruce Harmon has an extensive track record of corporate failure and violations of SEC regulations. He was an officer involved with a company called Alternative Construction Technolgies. ACCY was revoked by the SEC in 2011 (he was already out of the company by 2011 but the violations happened when he was the Chairman and CFO).
He is the CFO and treasurer of Organa Technolgies Group, a stock that has devastated shareholders and now trades on the Gray Sheets.
Bruce was also involved with a company named Omni Ventures (OTCPK:OMVE) which is owned by US convicted felon Michael Guss, aka Michael Syroejine. That stock is down more than 90% over the past year.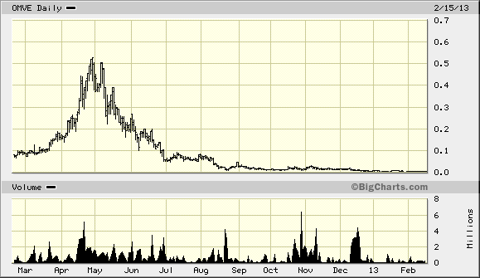 Click to enlarge
Bruce is also listed the Chairman and CFO of a company called eLayaway (OTCPK:ELAY), a company that has so far simply devastated shareholders with a decline larger than 90%: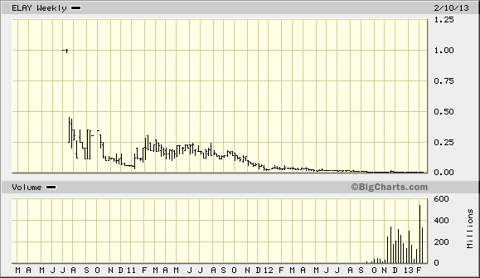 Click to enlarge
He is also the CFO of a company called Immunovative (OTCQB:IMUN):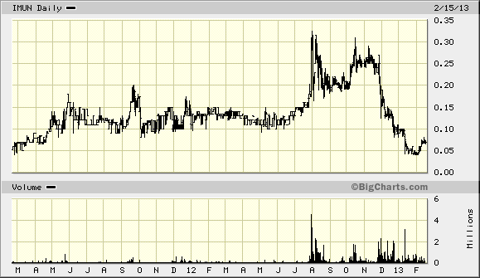 Click to enlarge
Notice how much the stock is down since the volume spike in August last year. During that period, according to stockpromoters.com, the stock was under heavy paid promotional campaigns. Investors who believed stories about significant gains from the stock are now down more than 70%.
Why Is The Company Under a Stock Promotion Campaign?
According to SEC fillings it's possible to deduce that the company has a significant amount of shares owned by its seed shareholders. Harmon owned more than 49M shares when he acquired the company. He then cancelled 45M and exchanged it for a super preferred stock but still owns 5M shares which at current prices is worth more than $10M.
After the acquisition last year the company said it had about 70M in shares outstanding, with the cancellation of 45M there is left 15M to 25M shares that are owned by Harmon and other shareholders (with the rest being the public float). Harmon might not be allowed to sell shares (which is why he cancelled shares and switched to preferred stock) according to SEC rules (change of control) but the other seed shareholders can and will at anytime.
In my view this is the real reason why a company with no audited revenues (there are some claims in its latest PR, but it's not audited), no real liquidity, a going concern section on its 10-Q and just a basic business plan is under such a heavy promotional activity. Large shareholders want to sell their stock and cash in profits. These shareholders acquired their shares for less than 1 cent per share, they are now sitting on a massive profit. No one else would pay (according to the promoters) more than €2M ($2.67 million US) for the promotion. Just a few months ago there was very little public ownership as the stock was essentially owned by the management and seed shareholders.
Technicals
The stock price is displaying a technical pattern that I wrote about before. The stock is going parabolic with acceleration to the upside and strong greater fool mindset among investors who think they can get out before everybody else does.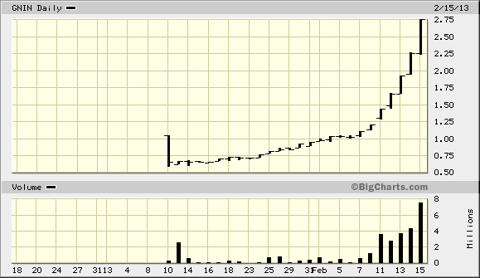 Click to enlarge
Previously I wrote an article showing many examples on why these type of parabolic moves in promoted stocks with heavy retail participation are virtually guaranteed losses for anyone who holds a long position for more than a few days. The stock which I mentioned in that article (OTC:PWEID) has collapsed by more 2/3 of its value in a short period of time leaving momentum players and investors with significant losses. Getting filled in a sell order during these types of declines is notoriously difficult. OTC market makers understand the dynamics at play and often they refuse to fill sell orders at their expense.
Once GNIN momentum reverses or even just slows down there will be a stampede of sell orders and the correction in the stock will be vicious and quick.
Ultimately I believe the stock price will find its true fair value which is value of a public shell with no real business operations but that is registered, with fees paid and is in good standing with its State. I estimate that the fair value of the company in the case is about $5M or about $0.20 cents a share which would represent a decline of more than 90% from current levels.
Conclusion:
This company is essentially a bet on the management and that the promoters stock analysis is correct. The net income estimate of $13M this year is downright absurd given that there is a liquidity problem (auditors doubt its going concern status) and the man who supposedly can make it happen has simply no track record of getting anything done other than destroying shareholder value (as do the promoters), CEO Bruce Harmon simply has no credibility when it comes to operational success and going from $0 to $24M in revenues in one year is extremely unlikely. I believe fundamentally and technically the stock is a bad buy and investors are likely to face significant losses if they hold these shares. Invest carefully.
Disclosure: I am short OTCPK:GNIN. I wrote this article myself, and it expresses my own opinions. I am not receiving compensation for it (other than from Seeking Alpha). I have no business relationship with any company whose stock is mentioned in this article.