On our agenda this morning is to try to figure out what one ought to do with his or her shares of AbbVie (NYSE:ABBV), the split-off from the pharmaceutical company Abbott Laboratories (NYSE:ABT), which occurred at the beginning of 2013.
We did some work on ABT a year ago, at which point we determined that there would be about a 15% upside on the deal if you had gone long at about the time of the announcement, and here is the deal as it looks this morning:
| | |
| --- | --- |
| | $/Share |
| Price as of 4-1-2012 | 61.5 |
| Current AbbVie Price | 38.19 |
| Current ABT Price | 34.3 |
| Total | 72.49 |
AbbVie has had a pretty good couple of days, thanks to the announcement of a share buyback, as indicated by the stock chart: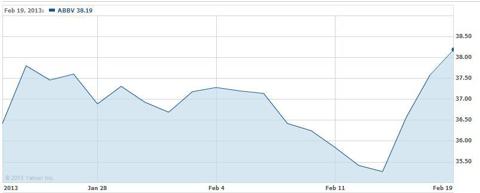 I did an article a few days ago about the forward prospects for the other half of the deal, Abbott Laboratories .
Naturally it would be tempting to cash the whole thing out and walk away, particularly if you are nervous about the upcoming government budget peril, and if you did, you would pocket your 15% appreciation plus another 3% in dividend payments that you received for the past year, so there are worse things that can happen. This is, after all, the age of the 1.2% Jumbo CD.
But, the more interesting question is: What is the upside from here?
It is easier than it was a year ago to get this information. Last June ABT issued a pro-forma financial statement, in which it gave a lot of the detailed financial information that we were missing last April when we did the earlier work. Also, ABBV recently issued its 2013 full year outlook, for sales of select products in its product line.
So, using those two things, we can piece together something that approaches an earnings estimate for 2013 for ABBV, and then maybe deduce the price:
AbbVie's management is looking at a potential "low double digit" sales growth for 2013. The original pro forma called for quarterly revenues of $4.17B, of which the cost of goods sold was 27%, "Research and Development" and "Sales, General and Administrative" were about 15 and 30% of sales, respectively, and the tax rate was about 12.2%, so assuming a 10% sales growth, we can construct a potential annualized financial statement as follows:
| | |
| --- | --- |
| | $Billions |
| Sales | $19.44 |
| COGS | $5.39 |
| RD | $2.99 |
| SGA | $5.81 |
| NOI | $5.25 |
| Tax Rate | 0.12 |
| Net Earnings ($B) | $4.61 |
| Shares (Post-Buyback) | 1.52 |
| EPS | $3.03 |
| PE | 16 |
| Est Stock Price | $48.55 |
The $19.44B in sales is not too far off from the 50/50 split that had been thought when the company split was announced, and the EPS estimate of $3.03 is actually a little higher than the analysts are predicting for ABBV, and is right on the money for the company's guidance of $3.03 to $3.13. The management may be able to accomplish its 10% sales increase without a 10% increase in R&D or SGA, which would account for some possible upside.
So that leaves the question of PE. The multiple 16 above is the average of the trailing and leading PE for the company's rival Johnson and Johnson (NYSE:JNJ), and actually lower than the industry leaders Novo Nordisk (NYSE:NVO) and Allergan (AGN), which are trading in the marketplace at 20 and 30 times earnings, respectively.
So plausibly, if the marketplace respects ABBV exactly as much as it does JNJ, we could still see an additional $10 upside in the stock, taking into consideration the share buyback, which would reduce the number of shares outstanding.
There is a giant headwind for ABBV, however: About 47% of the company's sales consists of one product, Humira, the patent on which expires in 2016. I will have more to say about this later.
In the meantime, you have an opportunity to pick up the stock of a $20B pharmaceutical company, whose sales are growing in the low double digits, with a 70% operating margin. Side benefit: The company has declared a 40 cent per share dividend, so if it is able to maintain that level for a year, we are looking at a 4% dividend yield, which still beats the CD even if the company gets no respect in the marketplace. Feel free to run a stock screener using this set of conditions for any industry, and see what comes up for results.
As we are so fond of saying, the world is full of chaos and there are no guarantees on anything. Also, everyplace I say "if", "could", "should" or "Estimate" above should be considered an opportunity for uncertainty that could send the above estimate out of range.
However, it looks like there is a lot of upside in ABBV even after the good last few days.
Disclosure: I have no positions in any stocks mentioned, but may initiate a long position in ABBV over the next 72 hours. I wrote this article myself, and it expresses my own opinions. I am not receiving compensation for it (other than from Seeking Alpha). I have no business relationship with any company whose stock is mentioned in this article.
Additional disclosure: I went long on ABT about two weeks ago based on the potential upside in that stock as well.