With many junior miners up 200-300% or more off of late 2008 lows, it's tempting to label the move a speculative fervor beckoning for a pullback. The argument has logical appeal, but what if gold holds steady or even rises from here?
To see the possibilities, one need only to pull up relative price charts that compare the price of junior miners, over time, with the price of gold. These charts were decimated last fall, as junior miners lost far more than the metal. It looks like the shares and the commodity are returning to a more normal relationship.
Take three of the so-called "speculative juniors" that many point to for signs of excess in precious metals: Apollo Gold (Amex:AGT), Claude Resources (Amex:CGR) and U.S. Gold (Amex:UXG). The huge gains over the past few weeks don't look so speculative when compared to the underlying commodity.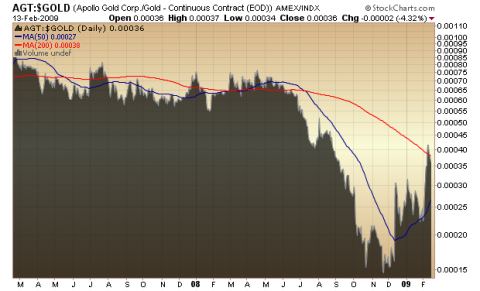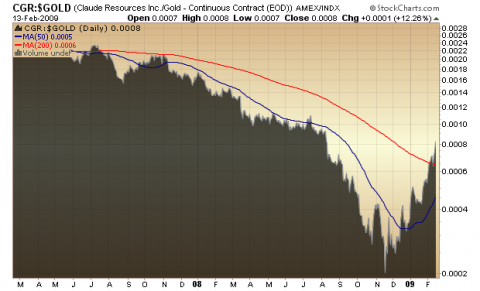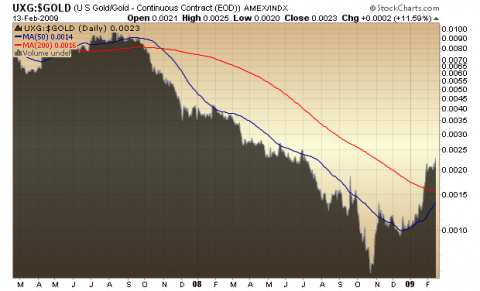 Those relative charts don't look like runaway speculation. Sure, I would prefer if they were not so "V-shaped," as "v" reversals tend to break down. But the broader patterns leave no doubt that the bears pressed too hard in the fourth quarter of 2009, and as a result they are no longer in control.
Bottom line: If gold breaks down, all miners are vulnerable. But if gold can hold its own, I expect the junior miners to attract far more speculative interest. And if the yellow dog takes out last year's highs, we could see moves in junior miners that would shock even the most die hard gold bugs.
DISCLOSURE: Long UXG and several other junior miners. No position in AGT or CGR.