As a follow up to the BorgWarner (NYSE:BWA) earnings last week, I thought it was a good idea to discuss the name in more depth. First the macro economic factors that serve as potential tailwinds, followed by an evaluation analysis.
Macro
Obama has declared fuel efficiency the most important factor in cutting our dependence on foreign oil. Obama has taken unprecedented steps to increase vehicle efficiencies. There are two main ways to achieve the lofty goal of 54.5mpg by 2025 (currently a 116% increase from current 25mpg average), one pertains to the hybrid/electric space and the other deal with improving the combustion engine which can be broken into two subcategories, efficiency and emissions.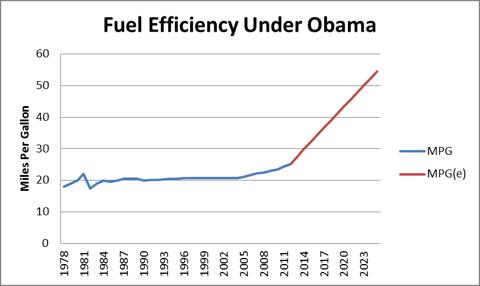 The hybrid/electric space has been a source of hot button debate because of the massive government subsidies required. While innovation in this space is important, this technology is largely unproven and is decades away from viability. For purposes of our investment time horizon any sort of breakthrough in this space will remain on the periphery and is more or less a novelty. The second and much more important prong of fuel efficiency advancement requires large-scale improvement of current engine platforms i.e. gas and diesel. The ways an internal combustion engine can be improved, by percentage possible of efficiency increase are, turbochargers, auto transmissions, thermal systems and VCT. For the sake of time, these methods of engine improvement will have to be taken at face value in terms of their efficacy.
Fuel efficiency data has been collected by our government since 1978. Since then, fuel efficiency has increased at a sluggish average rate of about 1% per year. Following the great recession in which our government essentially bailed out the largest auto companies, Obama set forth to decrease America's appetite for domestic and foreign oil by requiring vehicles to become more and more efficient. Since his election fuel efficiency has increased by 2.3%, but in order to meet his goal of 54.5mpg by 2035 it must nearly double its current growth to an annual rate of 5%. Surprisingly the U.S. is forecasting the most conservative MPG requirements in the developed world, as you can see in the chart from BorgWarner shown below. I think the chart below highlights a potential catalyst, that is the auto makers are being forced to meet stringent MPG targets worldwide and this is bullish for BorgWarner because they build powertrain parts designed to increase fuel efficiency in gas and diesel engines.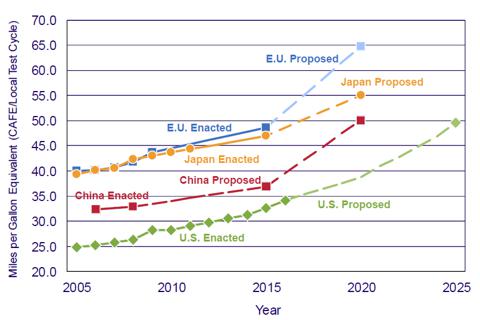 The second catalyst is the bottoming and subsequent improvement in SAAR auto sales numbers. There is a wide belief that SAAR Auto sales have bottomed and hit full recovery mode. This can be seen in the first chart below which compiles Bloomberg historical data and Morgan Stanley estimates. They estimate auto sales hitting 17.9m in 2014, just below the peak hit in 2000. If these numbers are correct, we are in the middle stages of what is a big comeback in the automotive market. The factors influencing SAAR auto sales improvement are an aging fleet, improving consumer credit and a more favorable auto loan environment. As the second chart shows, cars and trucks on the road are now older than they have ever been in over 15 years. Aging vehicles could provide a huge catalyst for a prolonged recovery in the automotive industry. In order to replace their aging cars consumers need access to financing. While the credit markets remain tight, auto loans are more accessible than other loans in the current recovery environment (please see the latest Federal reserve report that outlines the favorable auto loan environment). It is furthered by chart 3 that shows a continued depressed interest rate environment.
1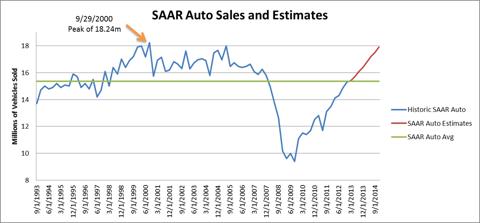 2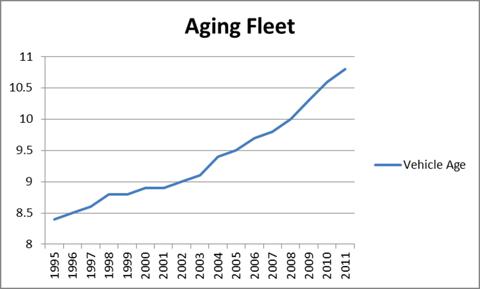 3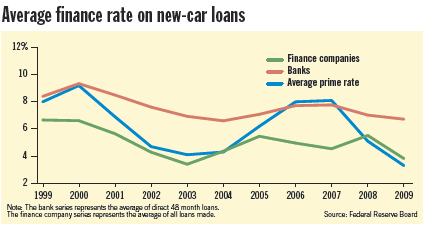 Micro
I would now like to outline the reasons I like BorgWarner as a way to play an improving automotive market. BWA has positioned itself to take advantage of an automotive market at the early stages of intense innovation. It is my opinion that BWA gets a larger benefit from the positive outlook for the auto industry because they will be providing more of their current components as auto makers continue to sell more vehicles and they will be benefiting from large R&D investments by the big auto makers to create more fuel efficient drivetrains. In chart 1 below you can see they are globally diversified with their revenue split ~50% in Europe, 26% in the Americas and 24% in Asia. Beyond global diversification, they have exposure to virtually every auto maker and their largest contract is with VW which is one of the strongest manufacturers with a great portfolio of brands. BWA is forecasting gaining $2.3b in net new business in the next two years, attributable to efficiency requirements, this represents 32% of FY2012 record revenue of $7.18b…this fact is impressive in itself. Chart 2 maps out the allocation of $2.3b in net new business which will be, $46m in Americas, $69m in Europe, and $1.15b in Asia. Chart 3 then breaks down product investments with the lions share, 48% in turbochargers. As you can see in chart 4, turbochargers are estimated to drive immense growth in BWA over the next 5 years. This in my opinion is going to be the most popular method of increasing fuel efficiency in the future. Some companies, like BMW, Bentley and Audi, are already successfully implementing advanced turbo technologies.
4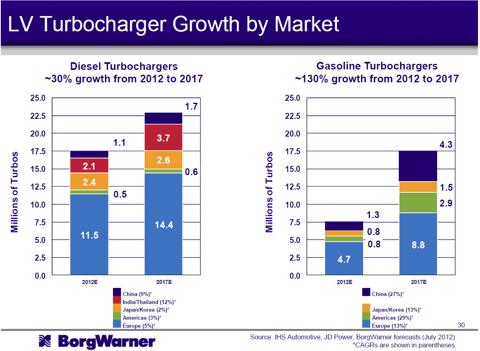 It is my opinion that this collection of macro factors will buoy the auto industry in the next 3-5 years and it should continue to outperform. Notwithstanding headline risk, the sector looks like an interesting place to be.
Valuation
Applying the current macro factors discussed above to BWA, the name appears to be relatively attractively priced. BWA is currently trading at 14.3x 2013 earnings of $5.30 as of 2/15/2013. Below summarizes valuation comparison between BWA and its competitors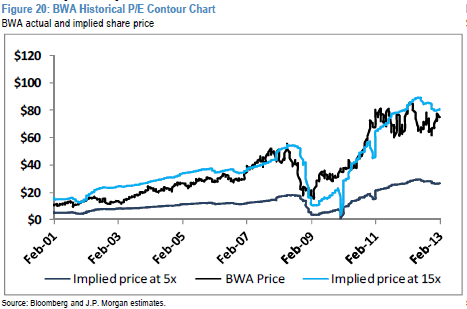 Last year, BWA underperformed the industry average of 2.4% and significantly underperformed the 13.4% of the broader market (S&P)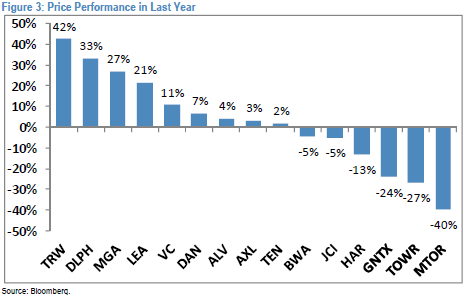 BWA makes a lot of cash, currently trading at 7% FCF/Sales compared to the industry average of 2%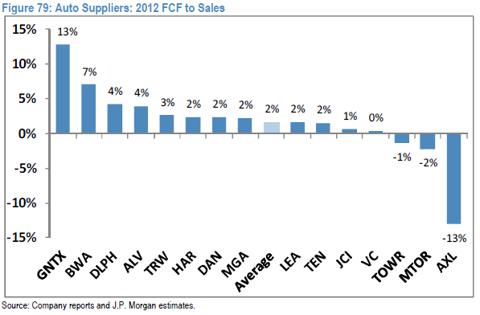 They are expected to grow strongly into 2014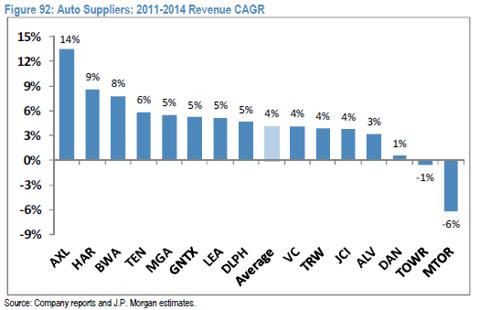 Although the automotive sector is rife with pension liability, BWA balance sheet remains strong and unfunded liability is not a driving concern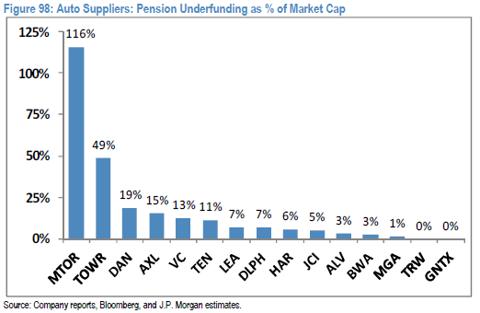 Lastly, a snapshot of their vitals from Morningstar.com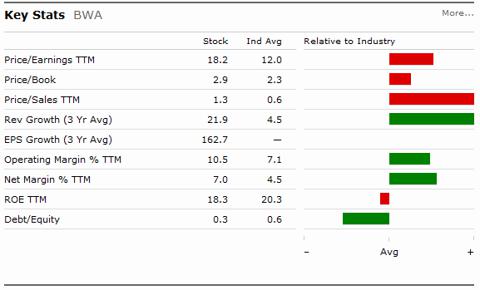 Disclosure: I have no positions in any stocks mentioned, and no plans to initiate any positions within the next 72 hours. I wrote this article myself, and it expresses my own opinions. I am not receiving compensation for it. I have no business relationship with any company whose stock is mentioned in this article.