Investing success has many routes, but none are as good at regularly reducing risk and increasing potential return than selecting a "neglected" growth stock. These wallflowers need not be ugly, but can be the hidden gem that so many want to find, with the company succeeding and the stock languishing. Cyberonics (NASDAQ:CYBX) appears to be one of those currently, with the company flashing all the desirable growth signs, while the stock wallows in investor angst about a recent short seller inspired sell-off.
Note: Previously, I wrote about Cyberonics to counter negative conclusions in a short seller report (Cyberonics - Short-Selling Creates Buying Opportunity and Cyberonics Jumps As Short Sellers Come Up Empty). In this write-up I focus on Cyberonics' strengths and why the stock looks particularly attractive.
Cyberonics looks like a growth stock should
Cyberonics has what growth investors desire:
A growing industry (medical devices)
Desirable, high quality, patented products
Strong pricing with a high profit margin
Recognized presence in its market segment
The possibility of expansion beyond its current markets
Significant R&D-based growth
Competent, proven management
High free cash flow for use in pursuing growth opportunities
A sound balance sheet
An attractive stock valuation
Cyberonics' financials confirm its growth characteristics
The following graphs show Cyberonics' growth and strengths (notes are included in each to highlight the important points illustrated).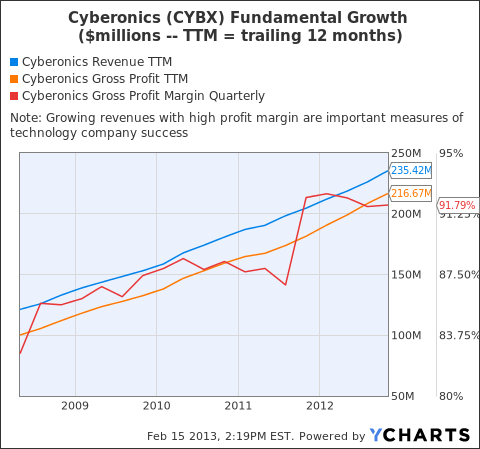 CYBX Revenue TTM data by YCharts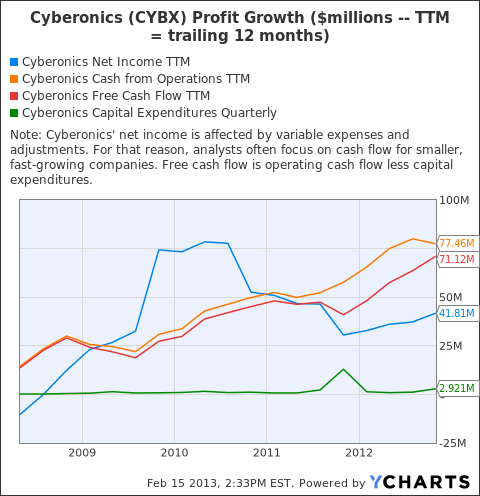 CYBX Net Income TTM data by YCharts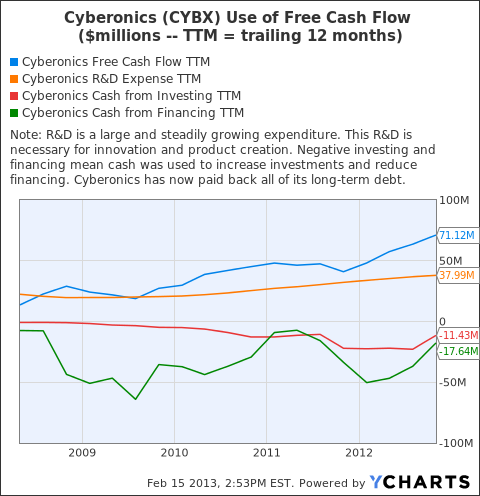 CYBX Free Cash Flow TTM data by YCharts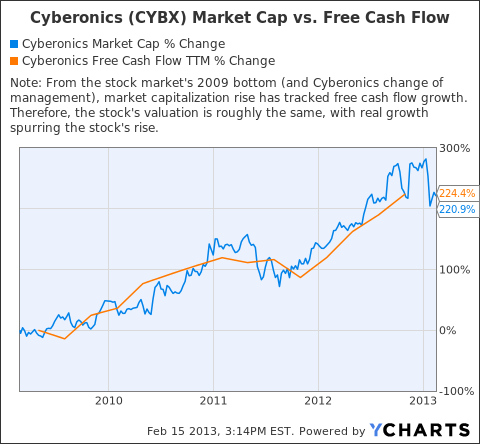 CYBX Market Cap data by YCharts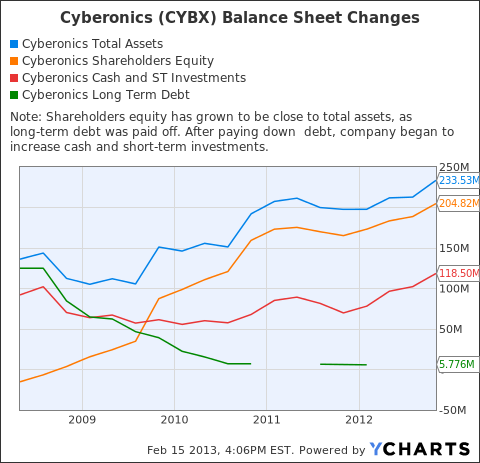 CYBX Total Assets data by YCharts
Comparison to "competitors"
Cyberonics is in the sector-industry of Healthcare - Medical Appliances and Equipment. The table below shows the comparison with similarly classified companies, highlighting the desirable characteristics for growth stocks. Cyberonics gets high marks in this comparison.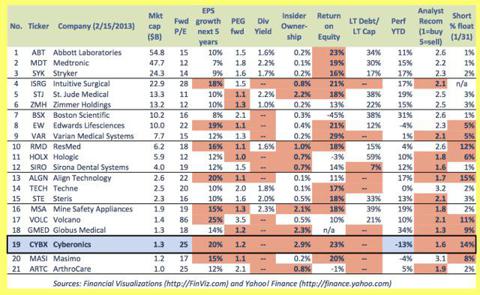 What about that short position?
Absent serious company problems, large short interest can be an accelerant should a stock begin to rise and short sellers rush to cover their positions. In Cyberonics' case, there seem to be no negatives. Moreover, it appears that some (most?) of the increased short position was covered in early February.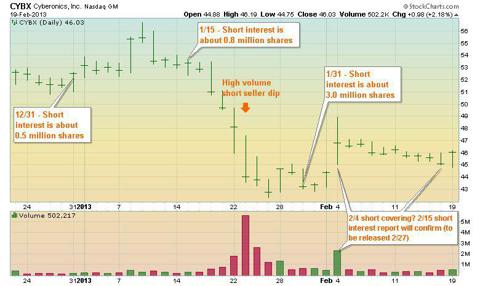 (Stock chart courtesy of StockCharts.com)
Earnings reports have produced price rises
Carrying a short position into an earnings report is risky. Cyberonics' report history is a case in point. As the graph shows, the stock rose appreciably following the last five quarterly reports (each of which was better than expected). Importantly, if the same result occurs Friday, it could remove any investor hesitation remaining from the short seller drop.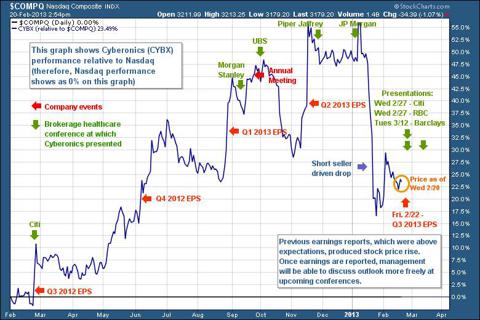 (Stock chart courtesy of StockCharts.com)
On the cusp of being recognized?
CYBX has the look of a "neglected" stock, without broad ownership and recognition. Such stocks have a way of being found, particularly when management tears itself away from running the business (and overseeing the interesting R&D projects) to talking with Wall Street. That seems to be what is happening as evidenced by the presentation schedule shown on the previous graph. (Online access and recordings are available at the Cyberonics Investor Relations website.)
Importantly, of all the healthcare conference presentations to which Cyberonics has been invited to present, only Piper Jaffray currently has analyst coverage of the company. In fact, it has only ten Wall Street analysts following it (compare that number to Medtronic, which has about 25 analysts). With Cyberonics' visible success and now-broadening exposure, it is likely to pick up more analysts - just the thing to expand investor interest and take CYBX out of the "neglected" category.
The bottom line
Cyberonics is a well-constructed growth package. The company and its stock contain the growth characteristics desired by investors. Naturally, there is always uncertainty attached with a smaller company focused on specific products for segmented markets. However, that specialization is also a benefit, allowing management to focus its efforts and the company's resources.
Cyberonics is well beyond the start-up phase and has come through its earlier challenges in excellent shape with proven success. It now appears to be on a growth path that could extend for some time. As a bonus, the recent bout of short selling notoriety has the stock selling at about its 2009 market bottom valuation. With optimism returning to the stock market, CYBX could see a valuation boost beyond the company's fundamental growth rate - perhaps beginning with Friday's earnings report.
Disclosure: I am long CYBX. I wrote this article myself, and it expresses my own opinions. I am not receiving compensation for it (other than from Seeking Alpha). I have no business relationship with any company whose stock is mentioned in this article.
Additional disclosure: Positions held: Long U.S. stocks (Besides Cyberonics, also hold Resmed, included in the table)