There are many ways to assess whether the market is undervalued or overvalued. And after looking at all the available data, analysts would still disagree. We will look at a variety of fundamental and technical market indicators and try to determine if the preponderance of the evidence weighs in one direction or the other.
Fundamental Overview
Key fundamental ratios for the major indexes are shown in Table 1. A simplistic analysis shows that the P/E ratios are below the historic average level for all indexes, however yields are still relatively low by historic standards.
click to enlarge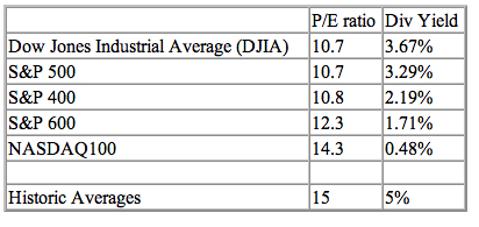 Table 1: data as of market close, Feb 13, 2009 source: Yahoo! Finance
Interestingly, the fundamentals indicate that investors have an appetite for risk. Tech stocks and small caps are being rewarded with the highest P/E ratios and these stocks deliver the lowest yields. Investors are pricing large cap stocks with higher yields more conservatively, possibly indicative of the uncertainty.
Of course, such a simplistic interpretation is not sufficient for market analysis. Stock prices discount the future and should trade based upon what earnings will be over the next few years. The picture here may be grim.
Merrill Lynch analyst David Rosenberg recently revised his earnings forecast for S&P 500 stocks down to $28 in 2009. That puts the P/E for the S&P 500 at 29.5. He also projects operating earnings of $55 for 2010. He wrote:
"For those looking for a silver lining, at least we are going to have a deeper bottom to bounce off. Applying a classic recession-trough multiple of 12x against a forward EPS estimate of $55 would imply an ultimate low of 666 on the S&P 500, likely by October if our estimate of the timing for the end of the official downturn is accurate."
His forecast represents a possible 20% decline in the stock market from current levels.
Applying Rosenberg's estimate to a different valuation model offers a slightly more bullish scenario. The "Fed model" uses the interest rate on the ten-year Treasury note to develop a market forecast. The current yield of 2.88% implies that the market can support a P/E ratio of 34.7 for 2009 earnings. This gives a fair value of 971 on the S&P 500, or more than 17% higher than the current level. However, there is an average 16% risk premium priced into stocks according to this model, which places the current level of the S&P 500 at fair market value.
Looking at valuation models applied to individual stocks, there is some room for optimism. Again relying on simple approaches, we find that there are about 2000 stocks trading below their historic fundamental values. Specifically, 2010 stocks have a P/E ratio less than the average P/E ratio they have traded at in the past five years. This is more than half of the 3,970 stocks that have a P/E ratio greater than 1, indicating they have earnings over the past year.
Using the P/S ratio to measure fair value, we find that 8,211 stocks have reported at least some sales in the past twelve months. (As an interesting trivia note, there are more than 1,200 listed securities with no sales at all in the past year.) Of companies with sales, 5,054 (61.5%) are trading below their average P/S ratio.
Growth investors often look for "Growth at a Reasonable Price" (GARP) and try to buy stocks whose earnings growth rate is greater than their P/E ratio. There are 1,677 GARP buy candidates.
Overall, we conclude that market valuations are not excessive and there are a surprising number of stocks that should interest value and growth investors at current levels.
Disclosure: No positions