Last week I had a question from one of my biggest fans, my oldest daughter. She is a senior in high school and she wants me to help her pick a stock or two for her fantasy stock portfolio. In addition, she wants me to visit her class in a few days to talk about stock picking. Wow…now that's pressure!
What REIT stock can I recommend that will pay out consistent AND increasing dividends while also growing in value? I must be able to demonstrate that buying intelligently is akin to segregating bona fide winners from hazardous losers. It's not worth preaching about my Grahamian education if I cannot figure out what a REIT is worth, and then paying less for it.
I could take the easy way out and explain that Federal Realty (NYSE:FRT) has paid and increased dividends for 45 years in a row. That would get my daughter's classmates really excited when they see the cool FAST Graph with the lovely shaded blue area (dividends paid).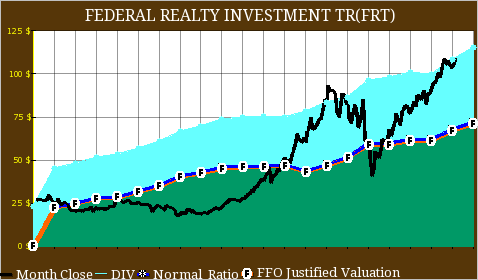 But wait a minute. How do I explain a price tag of $109.30 and a P/FFO of 24.3. Better yet, I want my daughter to win the stock picking contest and if she invests in Federal Realty at these prices (and a divided yield of 2.7%) she could end up as the class clown.
Note: I really do love Federal Realty and although I think the CEO, Don Wood, is doing a fabulous job, Mr. Market loves the shares much more than me.
Before you ask me, I have already recommend Realty Income (NYSE:O) for my daughter's portfolio. She purchased fantasy shares a few days ago. I told her from the outset that she needed to be patient and consider the history lesson she was taught. As John Quincy Adams said,
Patience and perseverance have a magical effect before which difficulties disappear and obstacles vanish.
But more so, it is hard to explain to an eager 17 year old that buying shares in "the monthly dividend company" today is much like buying a glass that is half full. That overly optimistic approach - buying O shares that are trading at $44.70 per share with a P/FFO of 19.3 - is not going to help my daughter win the stock picking contest.
So I tried to rationalize my daughter's fantasy pick in Realty Income by explaining the "margin of safety" principle. To quote a more relevant investor, I provided the following Warren Buffett quote in hopes that I could explain the importance of value picking:
You do not cut it close. That is what Ben Graham meant by having a margin of safety. You don't try to buy businesses worth $83 million for $80 million. You leave yourself an enormous margin. When you build a bridge, you insist it can carry 30,000 pounds, but you only drive 10,000-pound trucks across it. And that same principle works in investing.
I even sounded off one of my favorite lines from the legendary investor, Sir John Templeton:
Bull markets are born on pessimism, grown on skepticism, mature on optimism and die on euphoria. The time of maximum pessimism is the best time to buy, and the time of maximum optimism is the best time to sell.
Then I showed my daughter the FAST Graph (below). I explained that the shaded light blue area represents dividends paid and the chart had one of the most beautiful snapshots ever - 19 years of dividends paid AND increased. I even pointed out that O was one of just a handful of REITs that did not cut or suspend dividends during the Great Recession and that the portfolio was highly diverse with over 3,525 individual properties.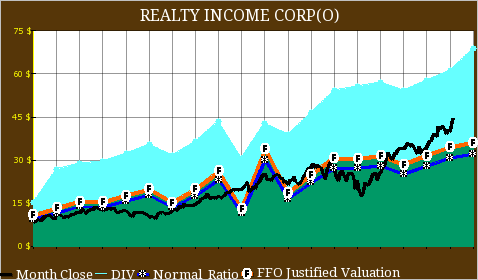 But I also pointed out that O would have been a steal in January 2009 when shares traded at $19.27. She would have made (returned) over 142%, beating the S&P which returned over 83% in the same period. I'm glad O is in her fantasy portfolio but with a P/FFO of 19.3 she won't win the contest unless I can find her a winner.
Omega Healthcare Is The Horse to Ride
Back in November I wrote a Seeking Alpha article (Omega Healthcare: Is The Highest Paying Dividend REIT In The Healthcare Sector Sustainable?) in which I explained the value proposition for the highest paying dividend REIT in the health care sector:
Though the Medicare rate cut will figure in underwriting for future acquisitions, Omega Healthcare (NYSE:OHI) is a strong healthcare REIT with a sound rent coverage ratio. With a well-balanced revenue platform, Omega's operators should have adequate cash flow to pay the rent and the highest paying dividend REIT should continue to maintain a sustainable dividend platform.
After researching Omega and fielding well over 75 comments, it became increasingly clear to me that investors like the stock because it is one of the few "wonderful" REITs that can be "bought at a moderate price."
Bingo! Maybe Omega is the horse that could carry the race for my daughter's stock picking contest. After all, Lauren (my daughter) needs a "crown jewel" that can throw some nice dividends but also provide a strong buffer - a margin of safety - against market fluctuations.
Since the beginning of calendar year 2005, Omega has been a paragon of operating efficiency. REITs are most appropriately valued based on the cash distributions they are capable of distributing to their stakeholders. In order to deliver an attractive level of cash distributions, a REIT must be capable of producing solid funds from operations (FFO). Omega Healthcare has generated a very predictable and consistent level of FFO growth, as clearly depicted in the FAST Graphs™ below (the orange line marked with an F).
Moreover, it is also clear from the price (the black line) and FFO (the orange line) correlated graph below that the price HAS closely tracked FFO. The blue shaded area represents Omega's dividends distributed to shareholders. This consistent level of growing income distributions is an important aspect of the investment merit of this healthcare REIT. Therefore, based on the company's distributable cash flow, Omega represents a very attractively valued REIT at today's levels. It may not be dirt cheap, but the 6.5% current, and above-average growing yield, in today's low interest rate environment, should not be ignored.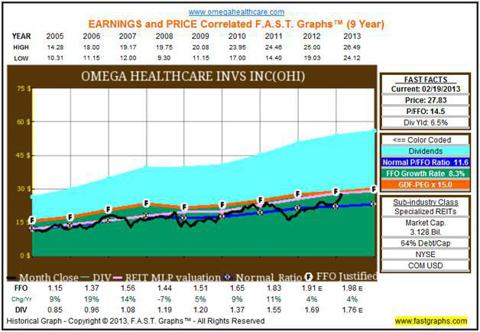 When you examine the historical performance associated with the above FAST Graph you discover how attractive an investment this quality REIT has been. Capital appreciation has averaged 11.1% per annum, which is significantly greater (more than three times higher) than an equal investment in the Standard & Poor's 500 during the same time period. But even better yet, since the dividend distribution is such an important attraction of investing in REITs, we discover superiority there as well.
Since the beginning of calendar year 2005, Omega Healthcare would have generated $876.32 worth of dividends on an initial $1000 investment, as compared to only $145.63 from dividends through an equivalent $1000 investment in the S&P 500. But perhaps more importantly, a quick glance at the dividend cash flow table shows that the average growth of that dividend has exceeded 11% per annum. Investors deserve a raise in pay each year, and for the past eight years Omega Healthcare has delivered in spades. Finally, we see that Omega Healthcare has generated a 15.5% compounded annual total return since the beginning of 2005 that is 3 ½ times higher than an equal investment in the S&P 500.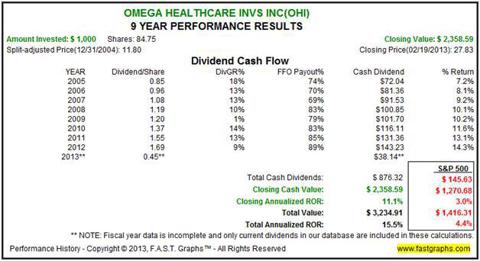 The Latest and the Greatest
Now recall I wrote a detailed analysis on Omega Healthcare about three months ago; however, I wanted to take a look at the most recent results. Maybe there is something good or bad that tells me to back off.
Omega's most recent Adjusted FFO (for the fourth quarter) was $0.58 per share ($64.9 million). 2012 adjusted FFO was $2.19 per share, a 16% increase over 2011 adjusted FFO of $1.89 per share. Looks good so far…
Omega increased its quarterly common dividend to $0.45 per share. This is a 2.3% increase from the last quarter and a 10% increase from the fourth quarter 2011. The dividend payout ratio was 78% of adjusted FFO and 87% of FAD. In the recent earnings call, an analyst asked Taylor Pickett, Omega's CEO about possible dividend increases in 2013 and he answered:
As a Board, we look every quarter and I has mentioned in our guidance that our expectation would be a payout ratio of 75% to 85% of adjusted FFO and something less than 90% of FAD. And kind of look at that math, if we hold to that guidance I would expect you would see dividend increases as we move through the year.

Omega closed out 2012 with a core asset portfolio of 476 facilities, with over 53,000 operating beds distributed among 46 third-party operators located within 33 states. During the fourth quarter Omega completed five separate acquisitions with three different operators totaling $237 million.

The acquisitions involved 17 SNFs with 2050 beds and 2 ALFs with 268 units. The weighted average cash yield on these acquisitions was just over 10%. For the year ended December 31, 2012, Omega completed new investments of $510 million. The investments involved a total of nine separate transactions with five different operators totaling $468 million.
So Why Is Omega Going To Provide the Greatest Ultimate Reward?
My daughter asked:
Dad, why is this little known health care REIT going to be help me win the contest?
I fired back a quote from my legendary mentor and coach, Ben Graham:
You are neither right nor wrong because the crowd disagrees with you. You are right because the data and reasoning are right.
To add, I explained that the "margin of safety" concept is a simple but powerful investment tool that could minimize risk while also maximizing returns.
My daughter then asked:
So what is the risk of owning Omega?
I then replied that the biggest risk is the known operator cuts and that the highest risk is due to Medicare and Medicaid reimbursements. I explained that cap rates have compressed in all of the other property sectors but yet the skilled nursing cap rates have not (compressed). So, Omega (and the peers) have been able to buy assets at attractive prices, due to the higher risk profiles of the underlying assets. Here is what Taylor Pickett said during the recent earnings call:
I think it's perceived risk. From our perspective, we feel comfortable, we can underwrite that risk into - in the way we look at our assets, but they are certainly perceived risks out in the market. And there are probably fewer dollars chasing assets today than they were two years ago.
My daughter went on to ask:
So dad, are we going to win? That's all I want to know.
I said to her:
At $27.83 a share our principal is sound. I expect the share price to increase over time. Omega returned over 36% year-over-year and over 25% in the last 90 days. With a 6.5% dividend yield I see no reason that Omega cannot return at least 30% this year (23.5% growth and 6.5% dividend). There is still plenty of runway left and management has done an excellent job of maintaining and growing the all important dividend.
To add, I quoted the legendary Sir John Templeton:
To buy when others are despondently selling and sell when others are greedily buying requires the greatest fortitude and pays the greatest ultimate rewards.
In closing, I like our chances. No, I don't have "skin in the game" (I don't own shares); however, I would like to help my oldest daughter win. As an aside, I am taking her to The University of North Carolina at Chapel Hill tomorrow. She was recently accepted there. Way to go Lauren. Win or Lose, You're the Best.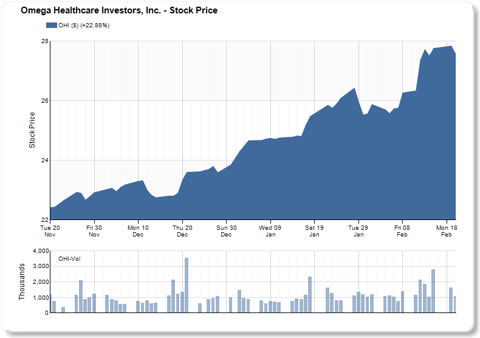 Special thanks to FAST Graphs.
Disclosure: I have no positions in any stocks mentioned, and no plans to initiate any positions within the next 72 hours. I wrote this article myself, and it expresses my own opinions. I am not receiving compensation for it (other than from Seeking Alpha). I have no business relationship with any company whose stock is mentioned in this article.