The letters used to spell Ford (NYSE:F) were once known as an acronym that stood for Found On Road Dead, however, the company has come a very long way to fix its reputation. Everyone I knew back in the early 90's was using that acronym, but if you talk to the same people now they tell you that Ford has some of the greatest running and best designed vehicles around. This awesome turnaround in the company, America's need to replace an aging fleet of cars (I am one of those people), and Europe (yes, I said it, Europe) are some reasons that have me buying shares lately, and I'll make a compelling reason for why I will continue to buy it as opposed to its competitors GM (NYSE:GM) and Toyota (NYSE:TM).
Valuations
By taking a look at the valuations of the companies first, we'll be able to determine which one might be the least expensive. In terms of present valuations, Ford appears to be the clear winner here having the lowest P/E ratio of the trio while Toyota is the most expensive (but still fairly valued). But as a long-term investor, it really isn't about what the price is now but what it's going to be in the future, which leads me to look at the PEG ratio and from this parameter, it's very simple to deduce that Ford is also the least expensive of the bunch when looking into the 5-year crystal ball. However, the disconnect I see is the EPS growth for the next 5 years where Toyota is expected to grow their earnings almost 4 times more than Ford, but this is due in large part to the Japanese government's efforts to reduce the value of the ¥en, whereby allowing major Japanese exporting producers to sell their products in the States at the same dollar amount it's always been sold at, but when it's converted back to the ¥en the company technically made more earnings. That's why in mid-January while shares of Ford and GM were dropping on weak comparable sales, shares of Toyota began to increase when Mr. Abe declared that he wanted a weaker ¥en. The increase in Toyota's share price is reflected in its current P/E ratio, and as I mentioned it's the most expensive on that data point.
| | | | |
| --- | --- | --- | --- |
| Ticker | P/E | PEG | EPS Nxt 5 yr |
| F | 2.94 | 0.28 | 10.53% |
| GM | 9.48 | 0.79 | 12.06% |
| TM | 19.72 | 0.45 | 43.45% |
*all information in this table is from finviz.com and current as of 19 Feb13.
Financials
On a financial basis, the things I look for are the dividend payouts and are the companies capable of supporting them. In my humble opinion, GM is dead to me at this point because it doesn't offer a dividend. So that only leaves Ford and Toyota, with a 3.08% and 1.33% yield respectively. Ford boasts a payout ratio of 4.33% while Toyota sports a 24.7% payout, this leaves Ford with lots of room to increase their dividend payout for the next few years if macroeconomic challenges don't change things dramatically. But where Toyota beats Ford in this matchup is the Free Cash Flow, which is where I look to for a company to payout its dividend, Toyota pulled in $3.28B while Ford was at -$5.8B as of 30 Sep12 (all information from ycharts.com and current as of 19 Feb13)!
| | | |
| --- | --- | --- |
| Ticker | Yield | Payout |
| F | 3% | 4.33% |
| GM | - | - |
| TM | 1% | 24.70% |
* all information in this table is from finviz.com and current as of 19 Feb13.
Technicals
Ford is close to support at its 50-day moving average while the relative strength index indicates it is in oversold territory. Looking for conformation using the MACD chart, it does indeed show that Ford is somewhat forming a bottom here with the black and red lines flattening out now. As you can see, the stock itself is flattening out. I believe it will test the 50-day resistance level and then move higher. I have been accumulating shares in the company for a few weeks now during the flattening out process and hope that I've done enough homework to know that it can only go higher from here.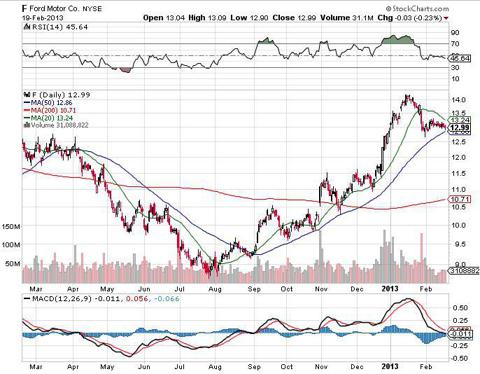 Europe
Last but certainly not least, Europe. We all know the news from Ford out of Europe is not good, taking an additional $2B hit for the 2013 calendar year on operating costs of doing business in Europe. We all know the labor laws in Europe almost make it absolutely impossible for any company to lay off its employees and that's why the company is taking the hit. However, I subscribe to Warren Buffet's saying, "Be greedy when others are fearful, and be fearful when others are greedy." With that said, almost everybody is afraid of the recession that Europe is in right now and whether or not it will spread like the flu shortly and that is precisely the reason why I believe that Europe will actually be on better footing, sooner rather than later too! I believe this hit that Ford is taking from Europe will only play out until end of Q3/early Q4 of 2013. We've always learned to buy when things are cheap and sell when they are expensive, and right now Europe is cheap and it's shown by American companies snapping up European ones, meaning companies believe that Europe is in the process of bottoming and it will be off to the races again to much loftier levels from here.
Conclusion
At the present time, near future (1 year), and deep future (5 year) Ford looks very inexpensive among its peers and has my attention right now. I am already long the stock and look to continue adding to my position. Please do your own homework, I'm only an engineer. Only you are responsible for your actions.
Disclosure: I am long F. I wrote this article myself, and it expresses my own opinions. I am not receiving compensation for it (other than from Seeking Alpha). I have no business relationship with any company whose stock is mentioned in this article.