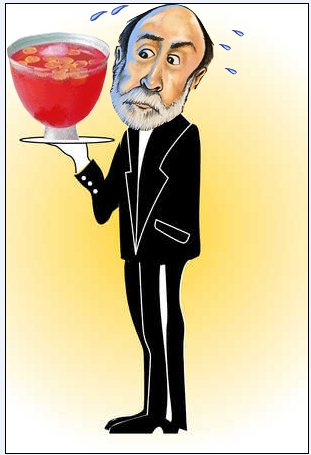 Markets were worried early in the day when another disappointing housing market report (Housing Starts) was released after Tuesday's Home Market Index disappointment. This combined data caused homebuilders (NYSEARCA:ITB) shares to fall sharply (-5.79%) after previous outsized gains.
In addition, "currency wars" are in full swing and this has caused the dollar (NYSEARCA:UUP) to rally. In turn, the dollar rally caused commodities, priced in dollars generally, to continue its decline along with corresponding ETFs including (NYSEARCA:DBC) -1.10%, base metals (NYSEARCA:DBB) -1.14%, copper (NYSEARCA:JJC) -1.54%, and gold (NYSEARCA:GLD) -2.51%. Crude oil (NYSEARCA:USO) -2.29% saw a two-second raid on markets from sellers as shown in the chart below near 11 AM.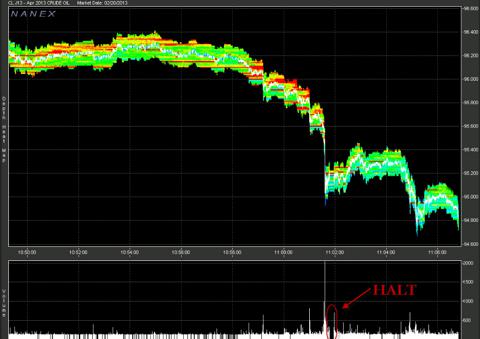 We've also seen some disturbing and extraordinary conditions develop between some markets. The following table and chart typifies how markets are becoming distorted most likely due to ZIRP and QE activity. Using poor Caterpillar (NYSE:CAT) sales as an example, Zero Hedge shows the divergence from normal pre-Fed policy relationships have changed.
CAT sales:

Note the obvious divergence among normally linked markets and sectors.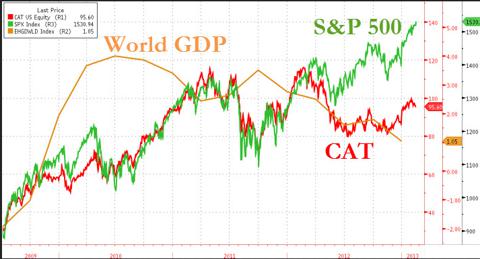 We've handled gold reasonably well by staying out it for the most part since September as displayed in the annotated chart below. Once again, a weekly DeMark 9 count precipitated our long exit and move to the sidelines. Unfortunately we've been unable to find our way into the short side yet.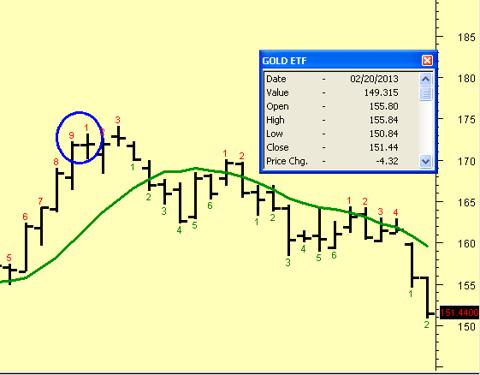 A good read for you from our colleague David Gillie offers his ETF midweek look at markets Wednesday morning. In the commentary he cleverly reviews several dozen ETFs and their current status including U.S., overseas, leveraged and alternative market sectors.
Stocks succumbed to selling after minutes were released. Tech (NYSEARCA:XLK) led the way lower (-1.35%). As I've been saying these past few weeks, the light volume melt-up had become accident prone from any combination of events that would draw sellers in. FOMC minutes combined with currency wars and a dollar rally did markets in on heavier volume providing a Black Swan-like event. With the decline in stocks, bonds (NYSEARCA:TLT) rallied slightly.
As expected volume rose on selling as stops were hit on the way lower. Dip buying was not seen since the Fed offered little encouragement. Breadth per the WSJ was negative.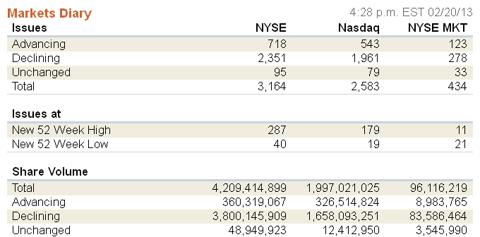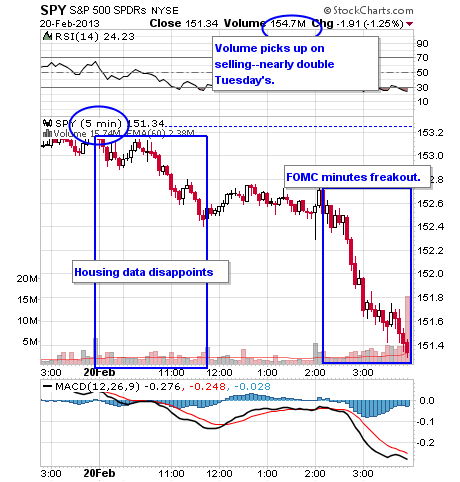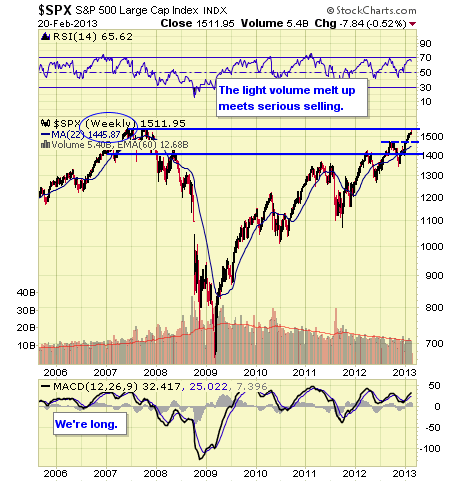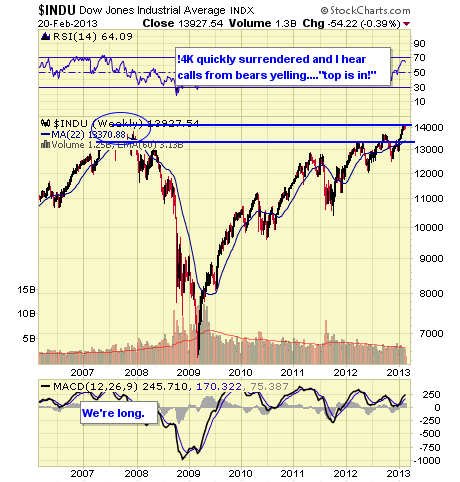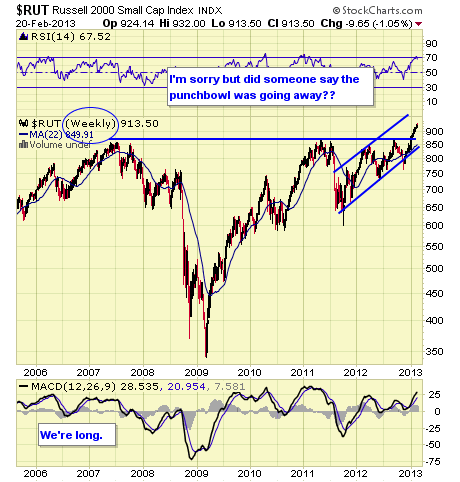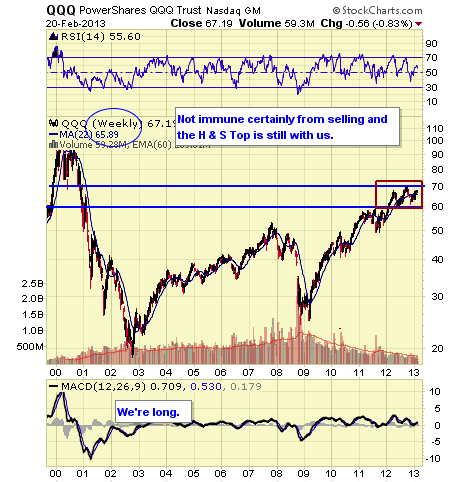 Continue to U.S. Sector, Stocks & Bond ETFs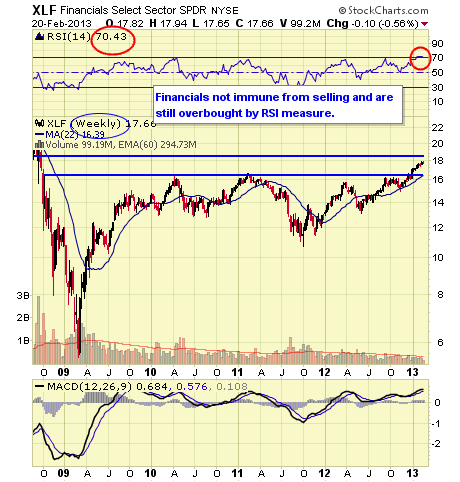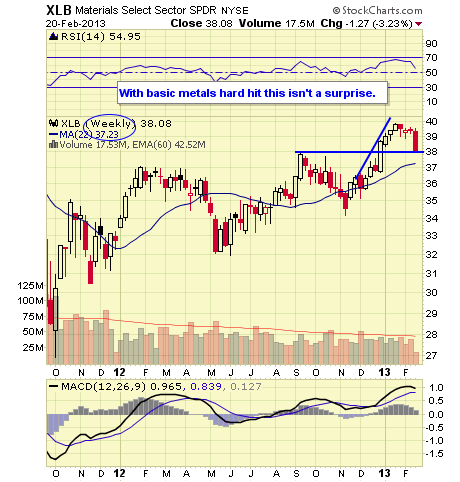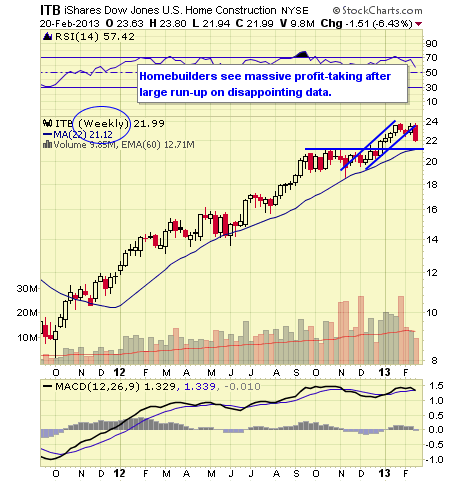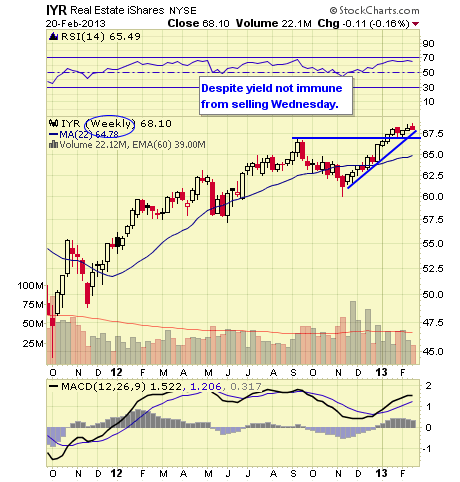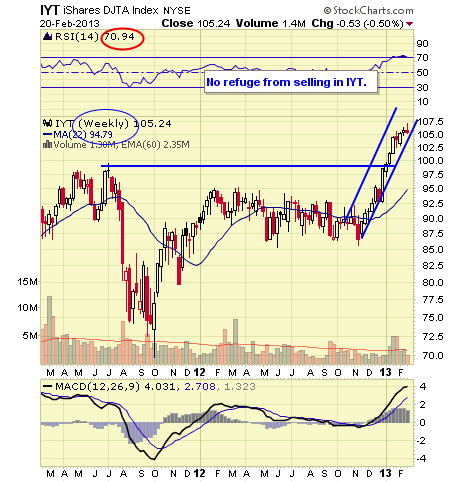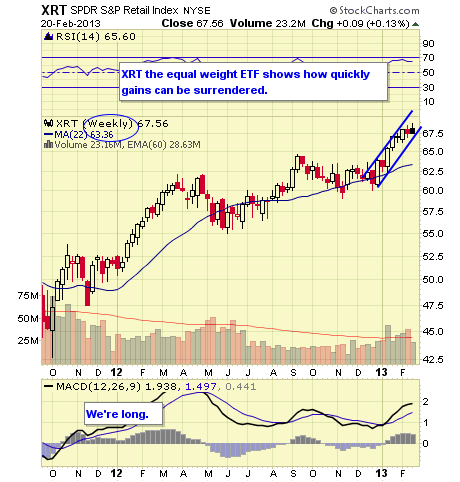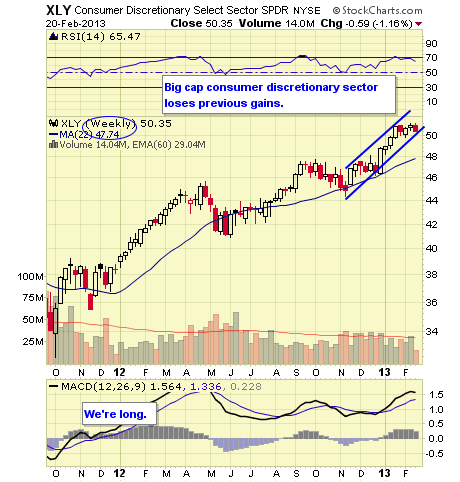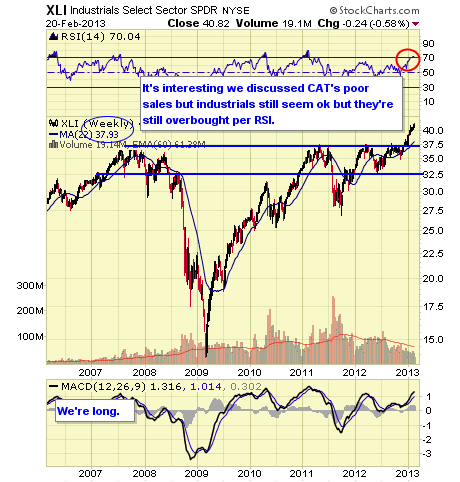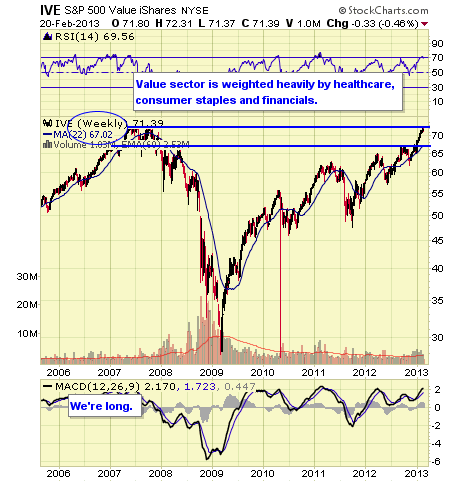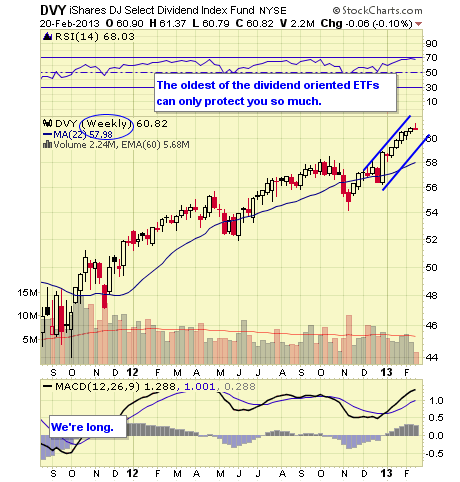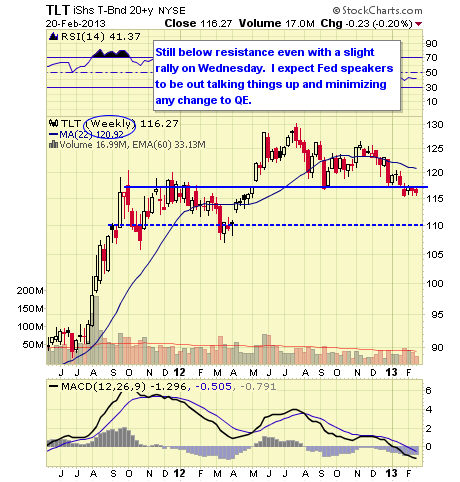 Continue to Currency & Commodity Market ETFs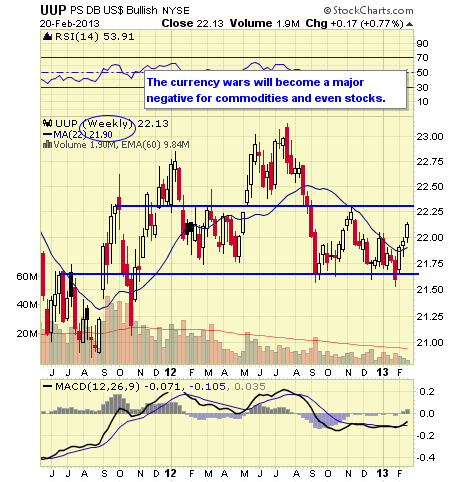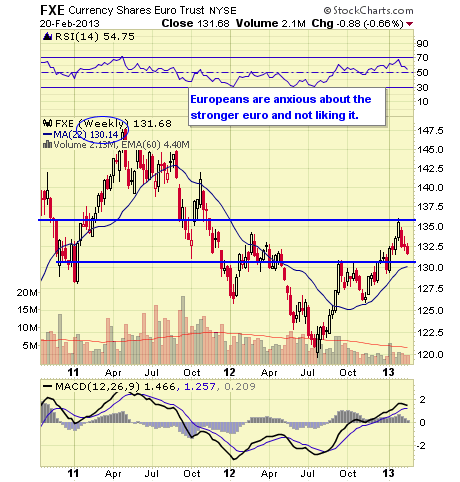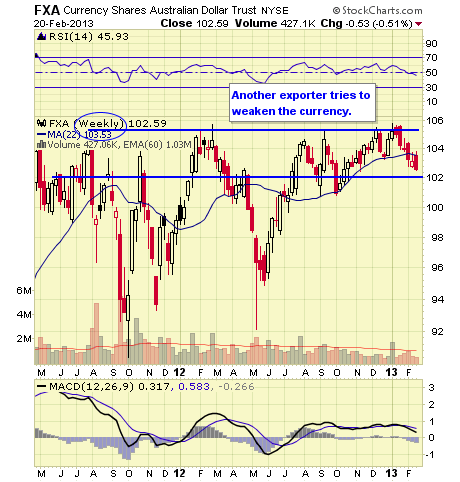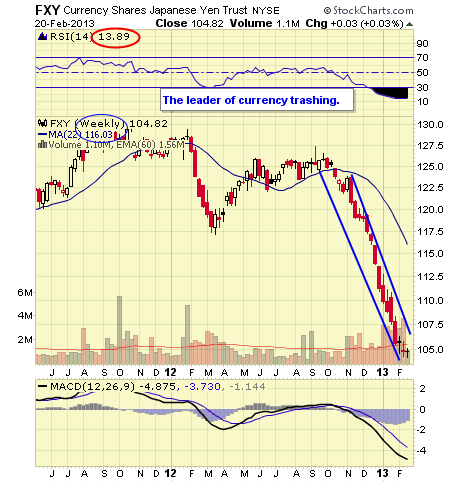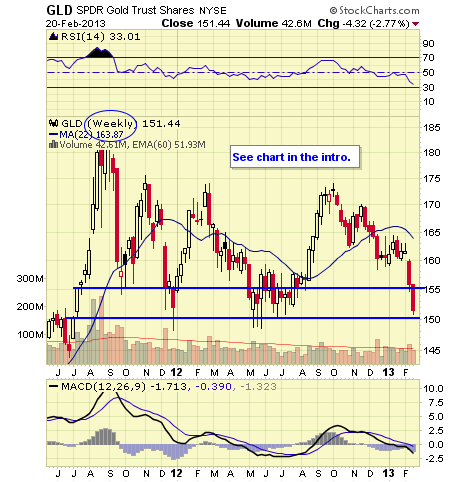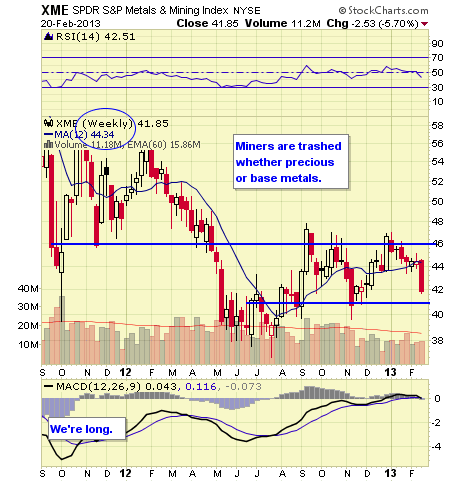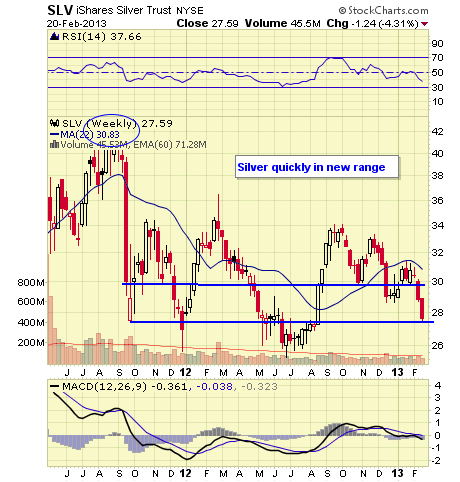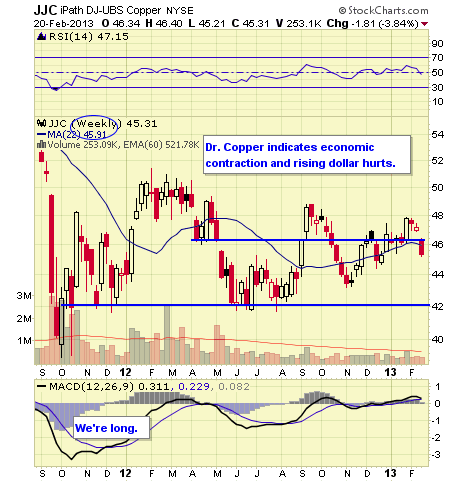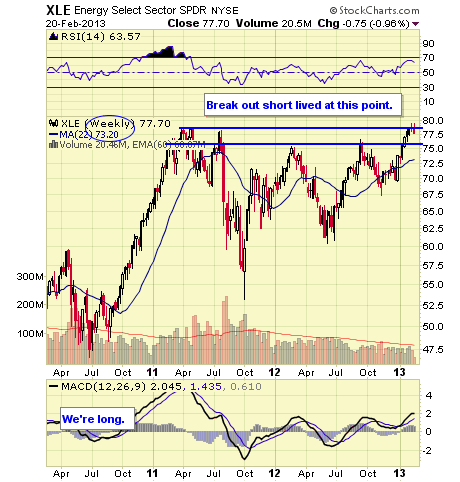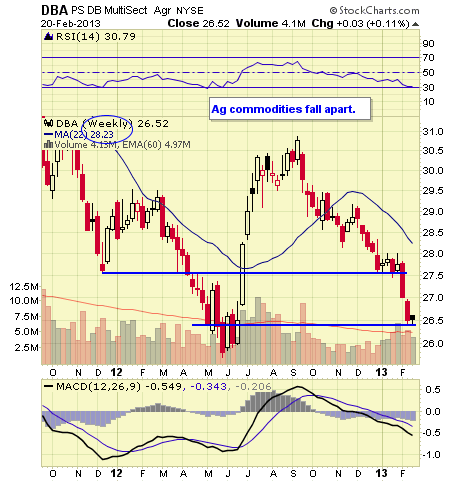 Continue to Overseas Sectors & ETFs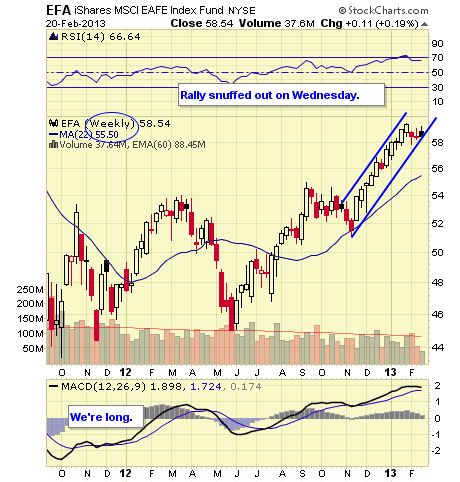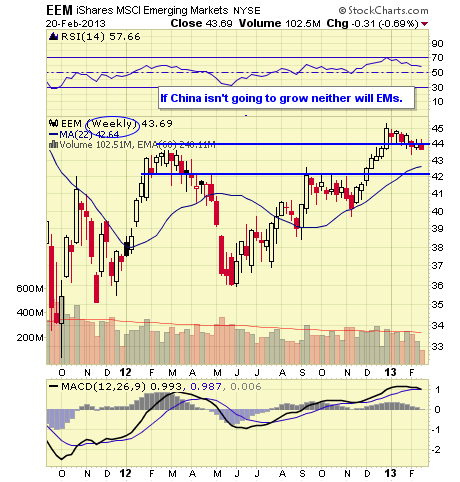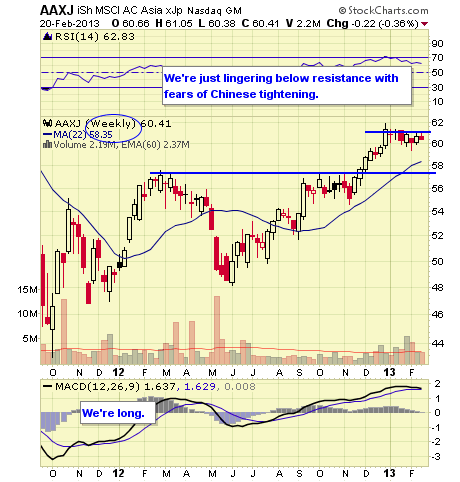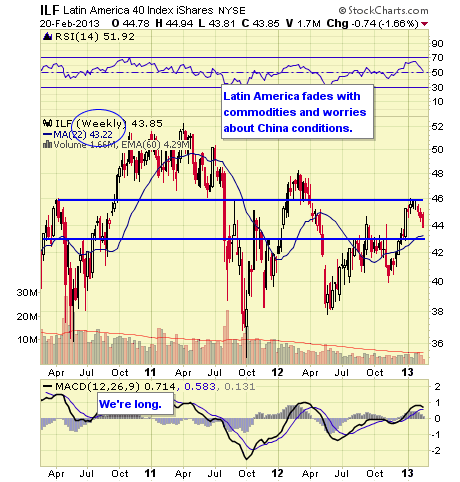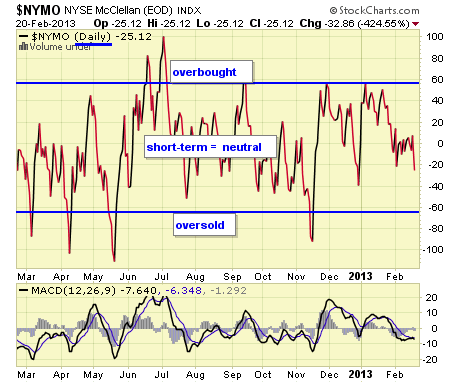 The NYMO is a market breadth indicator that is based on the difference between the number of advancing and declining issues on the NYSE. When readings are +60/-60 markets are extended short-term.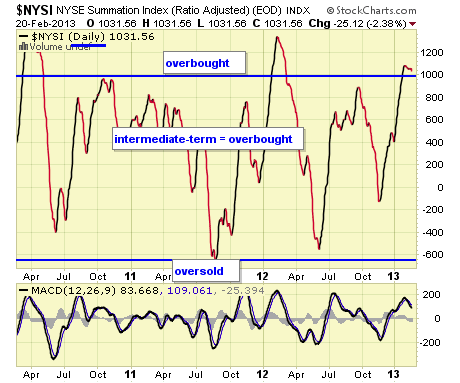 The McClellan Summation Index is a long-term version of the McClellan Oscillator. It is a market breadth indicator, and interpretation is similar to that of the McClellan Oscillator, except that it is more suited to major trends. I believe readings of +1000/-1000 reveal markets as much extended.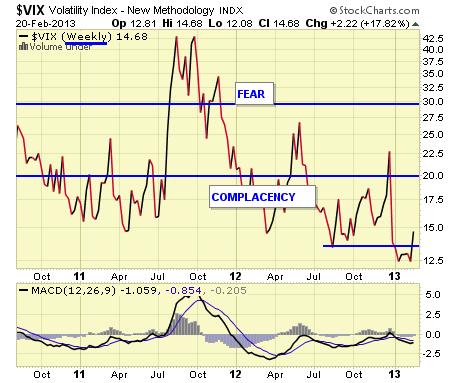 The VIX is a widely used measure of market risk and is often referred to as the "investor fear gauge". Our own interpretation is highlighted in the chart above. The VIX measures the level of put option activity over a 30-day period. Greater buying of put options (protection) causes the index to rise.
Concluding Remarks
There's a multitude of events converging which are negative. The sequester, some deteriorating housing data, currency wars, China's economy and a possible end to QE are negatives.
The very idea that QE might come to an end or be moderated threw QE-addicted investors for a loop Wednesday.
There's more to this week than we can imagine since we may open lower Thursday on follow-through selling. It will be up to dip-buyers to come to the rescue.
Disclaimer: The ETF Digest maintains active ETF trading portfolio and a wide selection of ETFs away from portfolios in an independent listing. Current "trading" positions in active portfolios if any are embedded within charts: Lazy & Hedged Lazy Portfolios maintain the follow positions: VT, MGV, BND, BSV, VGT, VWO, VNO, IAU, DJCI, DJP, VMBS, VIG, ILF, EWA, IEV, EWC, EWJ, EWG, & EWU.
The charts and comments are only the author's view of market activity and aren't recommendations to buy or sell any security. Market sectors and related ETFs are selected based on his opinion as to their importance in providing the viewer a comprehensive summary of market conditions for the featured period. Chart annotations aren't predictive of any future market action rather they only demonstrate the author's opinion as to a range of possibilities going forward. More detailed information, including actionable alerts, are available to subscribers at www.etfdigest.com.
Disclosure: I have no positions in any stocks mentioned, and no plans to initiate any positions within the next 72 hours. I wrote this article myself, and it expresses my own opinions. I am not receiving compensation for it. I have no business relationship with any company whose stock is mentioned in this article.