What do footwear companies hold in store for us from February until April option expiration? Using historical analysis of stocks can often show seasonal patterns that can be used to understand market trends. The following article will examine if there are any significant historical trends to pay attention to in footwear stocks that would be key to traders and investors. At the end of the article, I will try to gather the information into some trades.
For our investigation, we looked at the average gain, the maximum gain vs. maximum loss, and the percentage of times different stocks have increased or decreased during the February to April option expiration time frame for the past 10 years. The equities covered for footwear were Brown Shoe Co. Inc. (BWS), Crocs, Inc. (NASDAQ:CROX), Deckers Outdoor Corp. (NASDAQ:DECK), DSW Inc. (NYSE:DSW), Finish Line Inc. (NASDAQ:FINL), Foot Locker, Inc. (NYSE:FL), Genesco Inc. (NYSE:GCO), Nike Inc. (NYSE:NKE), Steven Madden, Ltd. (NASDAQ:SHOO), Skechers USA Inc. (NYSE:SKX), and Wolverine World Wide Inc. (NYSE:WWW).
Below you can find the average gains for the past 10 years provided the company has been around for those 10 years.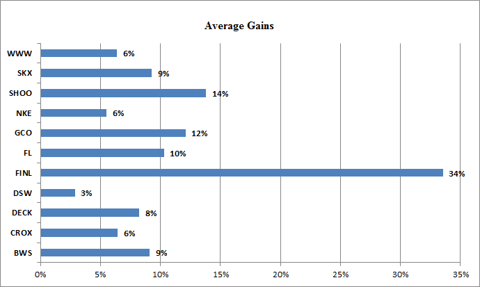 From the chart above, we can see that from February until April option expiration the returns of all stocks are bullish. The data presented is similar to the recent article posted on apparel retail stocks. Both show a bullish seasonal development for retail as we near Spring. The obvious outlier is FINL with a 34% avg return. The returns for FINL are very high because the company posted positive returns of 177.5% in 2008, 65.1% in 2009, and 48.8% in 2010. With such high returns, especially in 2008, the average return is skewed to a high number. Taking attention off of FINL, we see other great returns in SKX, SHOO, GCO, FL, DECK, and BWS. While DSW had a positive gain during this time frame, it underperforms its peers. With the data presented above, we move on to the next important chart - the maximum gains vs. maximum losses. This chart give us more information on how to trade the stocks.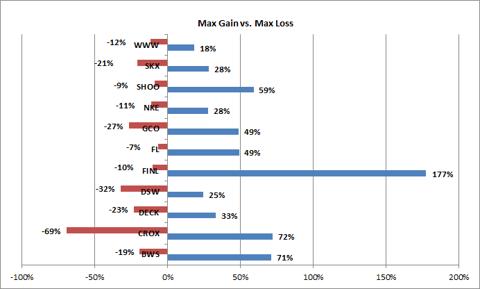 From this chart we can see that the maximum gain for 10 of the 11 stocks presented have been larger than the maximum loss. This is an important observance since it gives possible justification why we saw so many positive average gains in the previous chart, though we'll need to see the percentage of times the stocks increased for a full conclusion. Once again we see FINL has a strong outlier. The 177.5% return in 2008 was the company's highest return during this time period. Some of these companies are historically more volatile than others. For example, GCO, DSW, DECK, and CROX have a wide range between their max gain/max losses during this period. On the other hand, companies such as SHOO, FL, FINL have a low max loss and high maximum gains, making them attractive candidates to go long.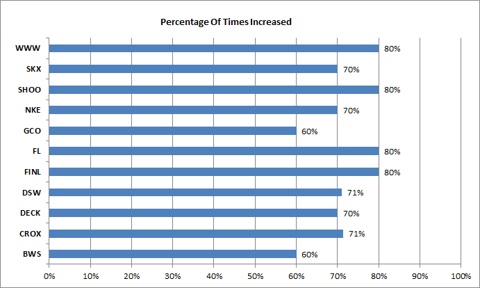 From this chart, we can see once again that SHOO, FL and FINL are out-performers as they posted positive gains for 8 of the past 10 years during the Feb-Apr option expiration period.
Turning our attention to fundamentals, both SHOO and FINL have 0.00 debt-to-equity ratio while FL also has a very low 0.06 value. FINL has a very attractive 12.26 P/E ratio when compared to the estimated 5yr EPS growth rate of 11.00%. If the data above repeats itself for FINL, then we will want to enter the position soon as technically the stock just closed above the 20/50 SMA's after a brutal downtrend since September. Thus, we could see the beginning of a raging uptrend in FINL. I suggest a long position in the stock with a stop loss at 17.50. As for FL, again we see an attractive P/E at 13.79 vs. the 5yr estimated growth rate of 12.13%, but technically it's trending sideways and I don't see the stock trading out of a range of $32-$35 until earnings on March 8th. As for SHOO, this stock technically broke out above strong resistance in January. Support is now at $45, and the stock is fair valued. The P/E is neither too rich nor undervalued at 18.43 while the 5yr expected EPS growth rate stands at 11.30%. Earnings for SHOO are on Tuesday, February 26th so if you're bullish this may be the opportunity to take a long position before next week. While DSW and CROX showed some skeptical data, it's hard to be bearish on the stocks. Technically, CROX has been roughly trending sideways since June, but that could change after earnings on Wednesday, February 20th. While CROX did miss its last earnings it was the only time it did not beat in the past 13 earnings reports.

Thus, I would not bet against CROX going into or after earnings because as you can see above footwear retail stocks seem to be across the board strong during this time frame.
The data above must of course be combined with all the chart values presented so as not to cloud our judgment. By simultaneously looking at all 3 charts and analyzing overall bullish bearish sentiment I suggest the following trade.
Trade #1: Long FINL
Trade #2: Long SHOO
Charts and fundamental data come from Finviz.com and Tradingeconomics.com
News from: www.theflyonthewall.com
Disclosure: I do not own any investments in BWS, CROX, DECK, DSW, FINL, FL, GCO, NKE, PSS, SHOO, SKX, or WWW and have no plans to initiate any positions within the next 72 hours. I'm long AAPL, short SRS, UVXY, and VXX. I may insert footnotes to show my references for certain information.
Business relationship disclosure: The Oxen Group is a team of analysts. This article was written by Giorgio Ferrero, one of our writers. We did not receive compensation for this article (other than from Seeking Alpha), and we have no business relationship with any company whose stock is mentioned in this article.